It's Monday night at the Yellow Church, and as usual the Just Meditation group sits together, in guided and then silent meditation.
In total, it's only an hour, but it's the most meaningful hour of my week.
I struggle at the best of times with intrusive thoughts, remembering the past, and plans for the future.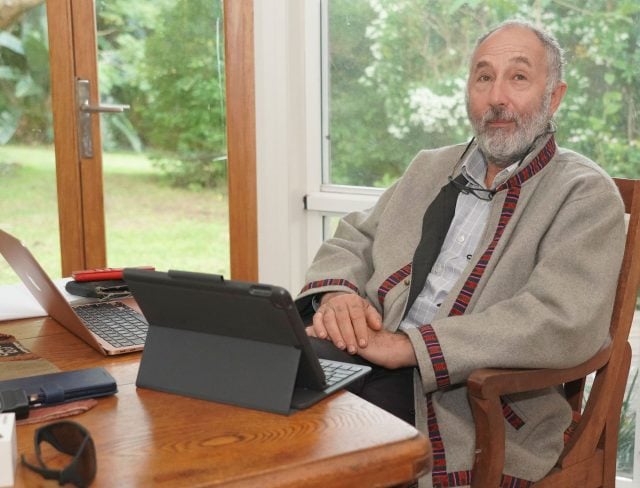 Sometimes, I write my whole Echo column in my head, or plan a cross-examination, instead of watching my breath or my mind or my thoughts or eking out dollops of loving kindness.
Some imagine that guiding the meditation every third week is an offering.
For me, I confess, it can be an escape.
And since the flood, to be honest, I cannot do anything at all except sit in silence on the outside, while my inside froths and bubbles with muddy discombobulation.
It has been such a roller-coaster of terrible sadness, aching despair, rushes of joy, gasps of hope, love for my community, and rage at the machine.
I accept my frantic mental gymnastics, and instead find succour by looking around at my co-meditators and gather strength and calm from their strength and calm.
My dear friend J had his hand on his heart and tears rolling down his cheeks – so in the thick of it is he.
S – she has a halo it seems, and fluorescent muddy feet, and I'm not even micro-dosing.
I love this space, these walls, this floor which has seen so much yoga and music, weddings and funerals.
I have not been 'amazed' or 'surprised' by the community spirit and action.
Magnificent? Yes.
Impressive? Absolutely.
But not 'extraordinary' at all.
Because caring, giving, sharing, hugging is actually our natural default mode.
The big con is individualism, neo-liberal money obsession, materialism, ego and selfishness.
Innate in all of us is an instinct of community, a deep knowing that craves justice and wants to ease pain in our neighbour.
Do unto others, the golden rule of all religions and the standard raison d'être of each of the frantic, tired helpers, be they Main Arm youngsters on their trail bikes, cleaning crew at Coraki, developers herding temporary accommodation cats, or brassiere deliverers at Broken Head.
How heartening it has been to see this community in inherent naked kindness. It is a practice run for what is to come.
I have arrived at this view on the essential goodness of human kind by making a soup of (in order) Engles, Carlos Castaneda, Peter Singer, Joanna Macy, Jesus, and the Buddha.
With a garnish of Jack Kornfield.
I'll save you some time – private property is shit, choose a path with heart, helping strangers is ingrained and sexy, love the earth, love each other, we are all connected and the absence of all suffering is a delusion.
Phew. That's everything I know right there.
My soup tastes like spicy magic.
So, instead of meditating, I sit and wonder who are not helping.
Are they counting their houses and laughing at the 'silly folk helping sillier folk' who are stupid enough to live in flood/landslip/isolated areas?
Or what about those who don't have the common decency to walk down the damaged streets, adorned with rotting piles of livelihood and lifetimes, for fear of a media slip-up.
Or those who pontificate that the flood was caused by cloud seeding paedophiles in an effort to punish the unvaccinated.
Don't look down.
Or those who use the great deluge to row their own pet version of shifting dirt – be it dam, levy, or dredge. It is not that karma will beat them with cancer or mould or snakebite.
They are missing out already by bypassing what it actually means to be human.
Our revenge is their narcissism.
How they must suffer their attachment to self!
And before I know it, the Yellow Church gong is being smoothly struck, and I'm sure everyone else actually mindfully meditated, while I was riding the wild monkey mind.
I try to make a serene un-smug modest face that radiates a message of satisfaction and calm – 'Oh gosh, what a deep meditation I just did'.
Everyone slowly moves from tranquil to alert and smiles, and we namaste and some hug and we all thank the beautiful woman who ran this week's session, exhausted as she is from acres of strangers' mould, silt and grime.
I first met her 38 years ago, helping some young people with breathtaking levels of selflessness and sacrifice.
From her kindness grew love. From our love grew family. From the family grew more love and little dancing feet.
Family who, to my great pride, helped others in this climate change disaster.
Blessings on the helpers; may you be free from suffering and the causes of suffering. May you sleep soundly without fear.
You have already inherited the earth.
(Just Meditation, Yellow Church in Mullum, Mondays, 6 to 7pm, gold coin donation, all welcome).
Retired magistrate David Heilpern as one of The Echo's monthly columnists. David is the author of several law-related books, journal articles and reported judgments. He was the youngest magistrate in Australia, when appointed in 1998.