The North East Forest Alliance (NEFA) have said that the NSW government's Koala Strategy released last Friday is set up to fail.
The strategy 'will do little to turn around their extinction trajectory as it is not stopping logging and clearing of koala habitat, which, along with climate heating, are the main drivers of their demise,' said NEFA spokesperson, Dailan Pugh.
'The NSW Koala Strategy is set to fail because it does not fulfil the most fundamental requirement of stopping existing koala habitat from being cleared and degraded, and lacks a strategic approach to identify the highest priority lands for protection and revegetation,' he said.
Not enough protection in place
The best-case scenario under the strategy involves leaving 5–10 small potential koala feed trees per hectare and waiting for a koala to leave the tree before cutting it down – in core koala habitat areas – this is what the strategy proposes, according to Mr Pugh.
'We know that koalas preferentially choose larger individuals of a limited variety of tree species for feeding, and losses of these trees will reduce populations. So, protecting and restoring feed and roost trees is a prerequisite for allowing populations to grow on public lands,' explains Pugh.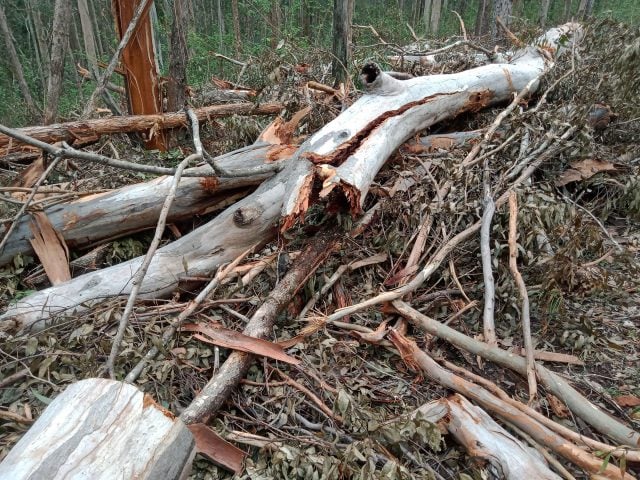 Protecting public land essential
The importance of protecting public land through projects like the proposed Great Koala National Park and Sandy Creek Koala Park south of Casino are key if real protections and recovery plans are to be put in place.
'The most important and extensive koala habitat we know of in NSW is in the proposed Great Koala National Park, encompassing 175,000 hectares of State Forests south of Grafton and west of Coffs Harbour. Similarly on the Richmond River lowlands the most important and extensive area known is the proposed Sandy Creek Koala Park, encompassing 7,000ha of State Forests south of Casino. These are public lands that we know are important koala habitat that need to be protected from further degradation if we want to recover koala populations,' says Mr Pugh.
Koala Wars
'There are many other areas of important koala habitat on State forests in need of identification and protection from logging. The centrepiece of the NSW Koala Strategy is to spend $71 million on private lands, buying properties and implementing conservation agreements over [a total area of] up to 22,000 hectares.
'This will not compensate for the Liberals' promises to the Nationals, as peace terms in the 2020 Koala Wars, to remove the requirement to obtain permission before clearing core koala habitat, to end the prohibition on logging core koala habitat, to open up all environmental zones for logging, and to stop core koala habitat being added to environmental zones.
'Throwing money at piecemeal protection of private land, while allowing some of the best koala habitat to be cleared and logged will not save koalas.
'Similarly, their strategy to spend $31.5 million to restore and plant new koala habitat could help, but only if they first stopped clearing and logging existing koala habitat.
'Rather than the proposed piecemeal approach, what we need for private lands is for the government to fund local councils to prepare comprehensive Koala Plans of Management (KPOM) that identify where the core koala habitat and important linkages are, and then to direct funding to best protecting those lands.'