Recently the Northern Rivers of NSW and Southeast QLD were devastated by flooding disasters of great magnitude and severity. Secret Sounds Flood Aid has been organised to help jumpstart the recovery, including a major auction.
Secret Sounds recently announced a range of fundraising initiatives to assist with recovery across the region, with a target of raising $1 million in one month and a commitment that 100% of money raised will go directly to flood affected communities.
'I live in this region" said Secret Sounds Co-CEO Paul Piticco. 'My nearest town is Murwillumbah and it has been devastated. Local schools, friends' homes and businesses, lives and livelihoods all just swept away by the floodwater.
'This story is repeated in Lismore, Ballina, Mullumbimby, Coraki, Brisbane and many other communities. The recovery, physically and especially mentally, is going to take a long time and will need lots of support so I am very pleased Lifeline is providing targeted and specialised assistance for everyone that has been affected.'
Music steps up
'It has been an extremely tough two years for the music business but we are still here and still banding together to help our communities,' said Mr Piticco. 'Please join us. Give generously, buy a ticket, buy a shirt, make a bid and support however you can to get these families and towns back on track.'
Co-CEO of Secret Sounds Jessica Ducrou said, 'This is deeply personal for us. Many of our team live and operate businesses in the region and some of them have been directly impacted. We have also run our events in the area for decades.
'We are part of this community and we're heartbroken to see the pain that's being felt right across the region.'
Splendour in the Grass and Falls Festival Byron have kicked off the fundraising with a $100K donation each ($200K in total). Bank of Queensland has also jumped on board as a key sponsor to help make the concerts happen.
Martine Jager, Bank of Queensland's Group Executive Retail Banking said, 'From Gympie to Lismore, and many areas throughout Queensland and NSW, we've seen the devastation the floods have had on our people, customers and their local communities.
'We're so pleased we could come together and help those who have been impacted, while also supporting the music industry which itself has faced many challenges from the pandemic. We're proud of this partnership so let's all do what we can to get onboard, buy a ticket and support Aussie music and communities.'
How to get involved
From fundraiser gigs and limited-edition merch items to auctions, there's a range of ways the public can get involved to help the cause. Already there have been gigs from major artists including Flume, Bernard Fanning and Wolfmother.
'Where The Muddy Hell Are You' t-shirts and hats will be available across the fundraiser month.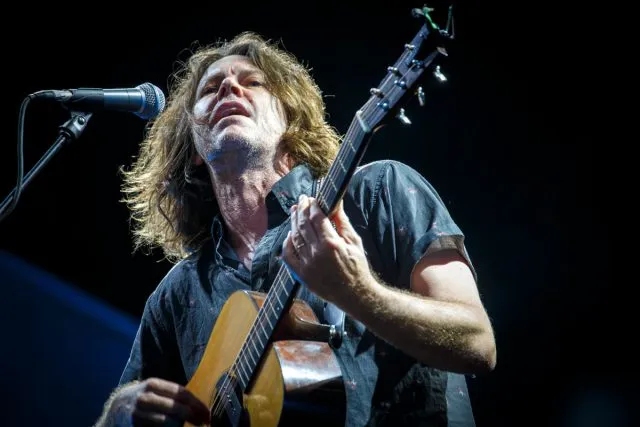 Now there is a major auction, with all money raised to be distributed between four organisations providing direct support where it is needed – Lifeline, GIVIT, Koori Mail Bundjalung Community Flood Relief and Northern Rivers Community Foundation.
Auction items
18 holes of golf for 2 people with Bernard Fanning and Pat Davern of Grinspoon
1 x day recording Session at Airlock Studios with Powderfinger guitarist Ian Haug + Accommodation
2 x One of a kind artwork by Troy Cassar-Daley
20 x Secret Sounds All Festivals Super Pass (A festival pass that includes VIP access and camping to Splendour and Falls plus more exciting 2022 secret sounds festivals to be announced soon!)
1 x Australian 2021/22 Vodafone Test Series vs England Signed Bat
1 x Double pass to AFL Toyota Grand Final 2022
1 x Tennis Lovers Package (includes 2x Women's Semi Finals Tickets, Dinner for 2 in player restaurant, Exclusive behind the scenes tour for 2, 2x Official AO Gift Packs)
1 x Double pass to Ed Sheeran 'The Mathematics Tour' in Sydney
1 x Double pass to Justin Bieber 'Justice World Tour' in Sydney
1 x State of Origin Experience for 2 + Signed Jersey – includes 2 Diamond (best category) tickets, to your choice of match: GAME I: Sydney (Accor Stadium, Wed 8 Jun 2022) GAME III: Brisbane (Suncorp Stadium, Wed 13 July 2022), Additional money-can't-buy experience at the match, details to be confirmed + Signed jersey from your State of Origin team of choice (unframed)
1 x 2 Night's Stay at Graciosa Byron Bay
1 x Secret Sounds Touring Golden Ticket
1 x One on One Songwriting Session with Darren Middleton (Powderfinger)
1 x QUIVR Beginner DJ Course
1 x Ultimate Aerobatic Flight with Gold Coast Adventure Flights
1 x Signed Cymbal from Jon Coghill of Powderfinger
1 x QT Gold Coast's 'Check Into Extraordinary – The Rockstar' package
Find out more and get involved at the Secret Sounds auction website: floodaid.secretsounds.com. So far over half a million dollars has been raised.
Happy bidding!