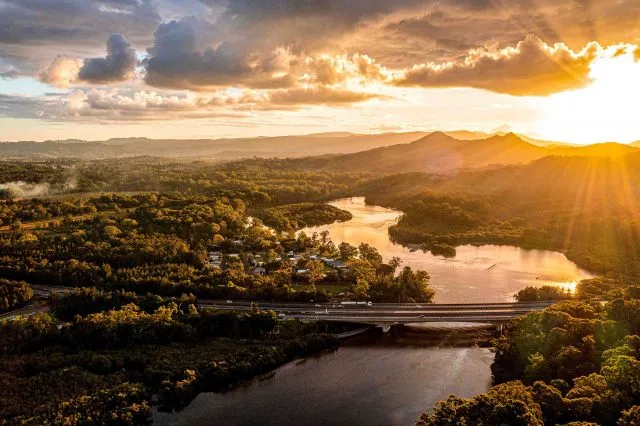 With the floods still on the mind of those impacted in the Shire's north, a local charity and its partners have launched an interactive online map of the Brunswick River to raise awareness and hopefully bring it back to full health.
Degraded riverbanks are just one factor which is known to contribute to increased flooding levels, and over decades, the river has become more polluted. 
The River Warriors project is in partnership with government agencies, local environmental groups and Positive Change for Marine Life (PCFML). PCFML have expanded from its Byron Shire projects and now also work on international projects around waterway remediation, waste management and marine pollution.
12-month project
Northern NSW Wetlands and Coastal Programs Coordinator for PCFML, Dane Marx, says the 12-month Bruns River project involved kayak-based surveys of the river banks, which established mapping of erosion, access points and native and exotic vegetation.
He told The Echo, 'Water sampling and marine debris hotspots were also monitored and included in the mapping. The Brunswick River Warriors Storymap is the product of this work, and provides an interactive online map of the ecological health of the waterway'.
'It highlights the many threats that it currently faces, as well as solutions to some of these pressing challenges'.
From the online report, it reads: 'The Brunswick River today is fringed by a mixture of both native and exotic species, although invasive camphor laurel (Cinnamomum camphora) dominates much of its banks. There are several sections that have been replanted with native species, and stretches of mangroves remain intact in some areas'.
Data-sharing
Mr Marx says the collaboration included data-sharing with a number of project partners, including representatives from government, business and recreational users. All contributors heavily influenced the final mapping platform, he says, 'including NSW DPI Fisheries, Byron Shire Council and Brunswick Valley Landcare'.
'It supports a wide range of actions to improve the health of the waterway – including an online form that allows anyone from the community to upload photos and information on issues along the river in real-time, utilising GPS technology'.
The new mapping tool, says Mr Marx, has already resulted in securing part-funding for a new community-based restoration project, that will commence in the latter half of 2022.
Visit www.pcfml.org.au/bruns-storymap for more information.