The formal record of the extreme rainfall and flooding was released today by the Bureau of Meteorology (BOM) with some areas of south-east Queensland and north-east New South Wales having five times their monthly average of rain. 
The 'Special Climate Statement 76 outlines that several rainfall records were broken between 22 February and 9 March 2022, with more than 50 sites recording more than one metre of rainfall in one week,' says the BOM.
'In the last week of February, parts of south-east Queensland and north-east New South Wales had rainfall 2.5 times their monthly average with some regions recording more than five times their monthly average.
'After two years of La Niña conditions, the rain fell on saturated catchments leading to flash and riverine flooding extending from Maryborough in Queensland to Grafton in New South Wales.'
Climate change in action
This is the impact of climate change and the warming of our atmosphere as pointed out by earth-system scientist Dr Willow Hallgren in 'Unprecedented' but not unpredicted in The Echo's recent Sustainability Feature.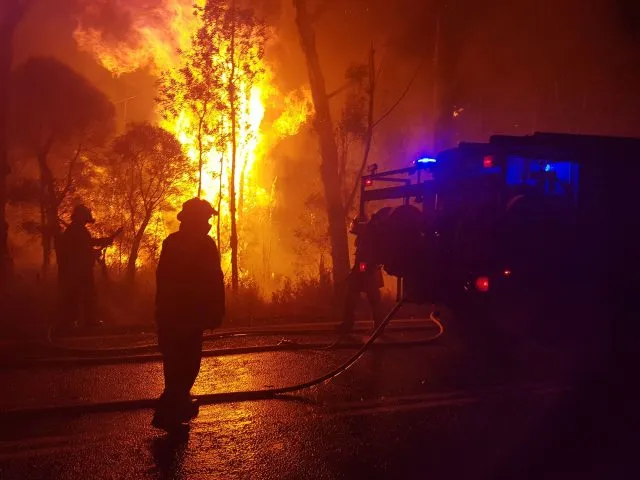 'In 1990, The Intergovernmental Panel on Climate Change (IPCC) First Assessment Report warned that "climate change causes increased frequencies of droughts and fires", and that "losses (of forests) by wildfire will be increasingly extensive". It predicted that "fire severity will increase", and also stated that "the predicted changes in climate may also affect the frequency and intensity of coastal storms and hurricanes",' Dr Hallgren explained. 
'In 1995, the Second IPCC Assessment Report identified many potentially serious climate change impacts and confirmed that "warmer temperatures will lead to a more vigorous hydrological cycle; this translates into prospects for more severe droughts and/or floods in some place". It reported that "several models indicate an increase in precipitation intensity, suggesting a possibility for more extreme rainfall events".'
Fast forward to 2019 and Australia was 'in the grip of the most severe drought on record', pointed out Dr Hallgren. 
'Our rainfall was the lowest since records began; many towns ran out of water and had to truck water in. This drought, along with "unprecedented" extreme heatwaves, saw much of eastern Australia burn in the Black Summer bushfires, the extent and ferocity and impact of which were "unprecedented". 
'Fast forward two years (through a global pandemic!) and so far this year is currently the wettest on record in many parts of Australia. "Unprecedented" rainfall has contributed to widespread, devastating floods along the already La Niña-sodden east coast, not once, but twice in a period of just over a month. While no single flood is directly attributable to climate change, physics dictates that as our atmosphere warms, its capacity to hold moisture increases (at an increasing rate) – it can hold around seven per cent more moisture per degree of heating. As Australia has warmed by 1.4 degrees since temperature measurements began this means that weather systems are being supercharged by all that extra heat and moisture in the atmosphere.'
Flood records broken
The BOM states that during the last week of February 'For many areas, this was the wettest week since at least 1900. Some areas of south-eastern Queensland had their highest flood peaks since 1893, though the lower Brisbane and Bremer rivers and Lockyer Creek peaked below the levels of both January 1974 and January 2011 floods.
'In parts of northern New South Wales, flood levels broke previous records. Wilsons River in Lismore peaked at a record high level, estimated to be 14.4 m on 28 February. The previous record was 12.27 m in February 1954.
'The rainfall was the result of a combination of weather systems over eastern Australia and the Tasman Sea, where a large volume of humid tropical air moving onshore over eastern Australia was lifted in the atmosphere to produce heavy rain and thunderstorms.
'In recent decades, there has been a trend towards a greater proportion of high-intensity, short-duration rainfall events, especially across northern Australia.'
♦ Read Dr Hallgren's full article 'Unprecedented' but not unpredicted or explore The Echo's Sustainability Feature here.