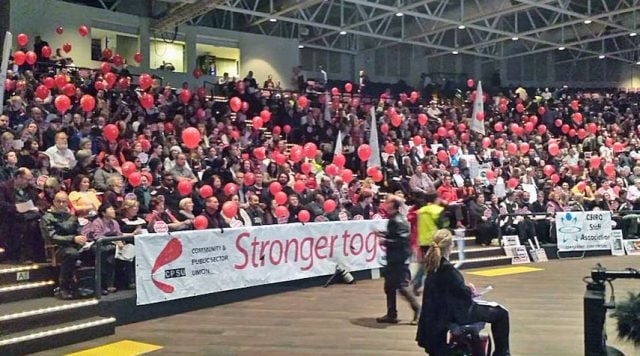 Wages have been capped for the public sector in NSW, which includes park rangers, school support staff, child protection officers, civilian workers in police, and Service NSW staff and 40,000 prison officers, for 11 years and with rising inflation, they are calling for a 'Cost of living' pay rise. 
The NSW public sector union (the PSA) has announced a 24-hour mass statewide strike on Wednesday, 8 June, by critical workers, if the NSW government won't come to the party with a 5.2 per cent pay rise. The strike will be called the PSA Day Action.
'Public sector workers in New South Wales have had their wages capped for 11 long years and now they're being asked to cop inflation too – something has to give,' said Stewart Little, general secretary of the Public Service Association.
'With today's economy, Dominic Perrottet's 2.5 per cent wage increase limit is now acting as a real wage cut – even if workers negotiate the maximum rise possible it will still be harder to pay their bills.
'Politicians on Macquarie Street get an extra $30,000 every time they join a committee and they're asking prison officers and child protection officers to cop a pay cut after a decade of stagnation? It's just not something our members can accept.'
Mr Little says he has written to the Premier Dominic Perrottet 'outlining the case of a wage increase ahead of the current 5.1 per cent rate of inflation' giving the government until the end of Monday 6 June to respond with an acceptable wages offer.
The Public Sector Union believes there is widespread public support for the concerns of public sector workers — especially in light of the pandemic.
'During Covid our prison officers have stared down riots in our tense, locked down jails,' Mr Little said.
'Child protection officers have responded to ever-increasing rates of domestic and family violence, owing to pandemic stress.
'School support officers have kept our kids learning, whether at home or in socially distanced classrooms.
'SES and RFS workers have delivered life-saving services to those in floods, bushfires, and other natural disasters.
'Service NSW staff have helped us all navigate changing health regulations, while other officials have made sure support is available to keep small businesses going.'
Mr Little also emphasised that a win for public sector workers would be a broader win for the NSW economy.
'A pay rise for public sector is economically smart because public sector wages get pumped straight back into the economy and stimulate growth, particularly in regional NSW. They also set the benchmark for wages generally,' he said.
'Our state is generating plenty of wealth but it's not making its way down to people who do real work for our community. That has to change. As the largest employer in the country, Premier Perrottet has more power to fix Australia's wage crisis than any other leader.'
If the government doesn't provide an acceptable wages offer by the end of Monday 6 June Mr Little says that members will walk off the job across the state during the strike on Wednesday 8 June.