Love them or adore them, there is no denying that the Knitting Nannas Against Gas and greed (K.N.A.G) made, and still make, a lasting impression on those who would dig up the earth's resources for profit and other nefarious agendas.
Nanna Clare says it's been 10 years since the guerilla espionage not-so-sweet little ladies now started their ruthless needling of Metgasco. 'And, of course, the state "unrepresentative member for Lismore", Thomas George. Where are they now?'
The Knitting Nannas arose with the dawn of CSG mining in the Northern Rivers and co-founder Nanna Clare says that a true Nanna fact is that they knitted 'Thommo' in every Thursday including Christmas days from the end of June 2012 to the Thursday of the 2017 flood. 'We moved from there to our old friend KHo's (Kevin Hogan) office until the 2022 floods.'
Nanna Clare says that during the past 10 years Nannas have had many an adventure with friends and foes in our battle against CSG mining in the Northern Rivers and further afield. 'At one stage we had 40 plus Nanna loops across Australia and overseas.
'We have been yelled at, told to get a clucking job and/or to get our tits out, we have been driven at and hit by utes, and sworn at by Honourable Members of Parliament.
'Nannas have been arrested, charged and locked up. They have attached themselves to very big trucks, smaller trucks, gates and Devices.
'Fortunately, we have lost very few Nannas to the big yarning circle in the sky, which goes to show little old ladies are tough as old boots.'
To celebrate the tenth Nannaversary, K.N.A.G held a knit-in at the site of their old foe's office on the corner of Conway and Carrington Streets in Lismore on yesterday. Nannas from Grafton, Sydney, Bellingen and Kyogle also came to sit, knit and eat Nanna treats and they were joined by some Poppies and Kiddies.
Nanna Clare said talking to The Echo had taken the wind out of her. 'Time for a nap.'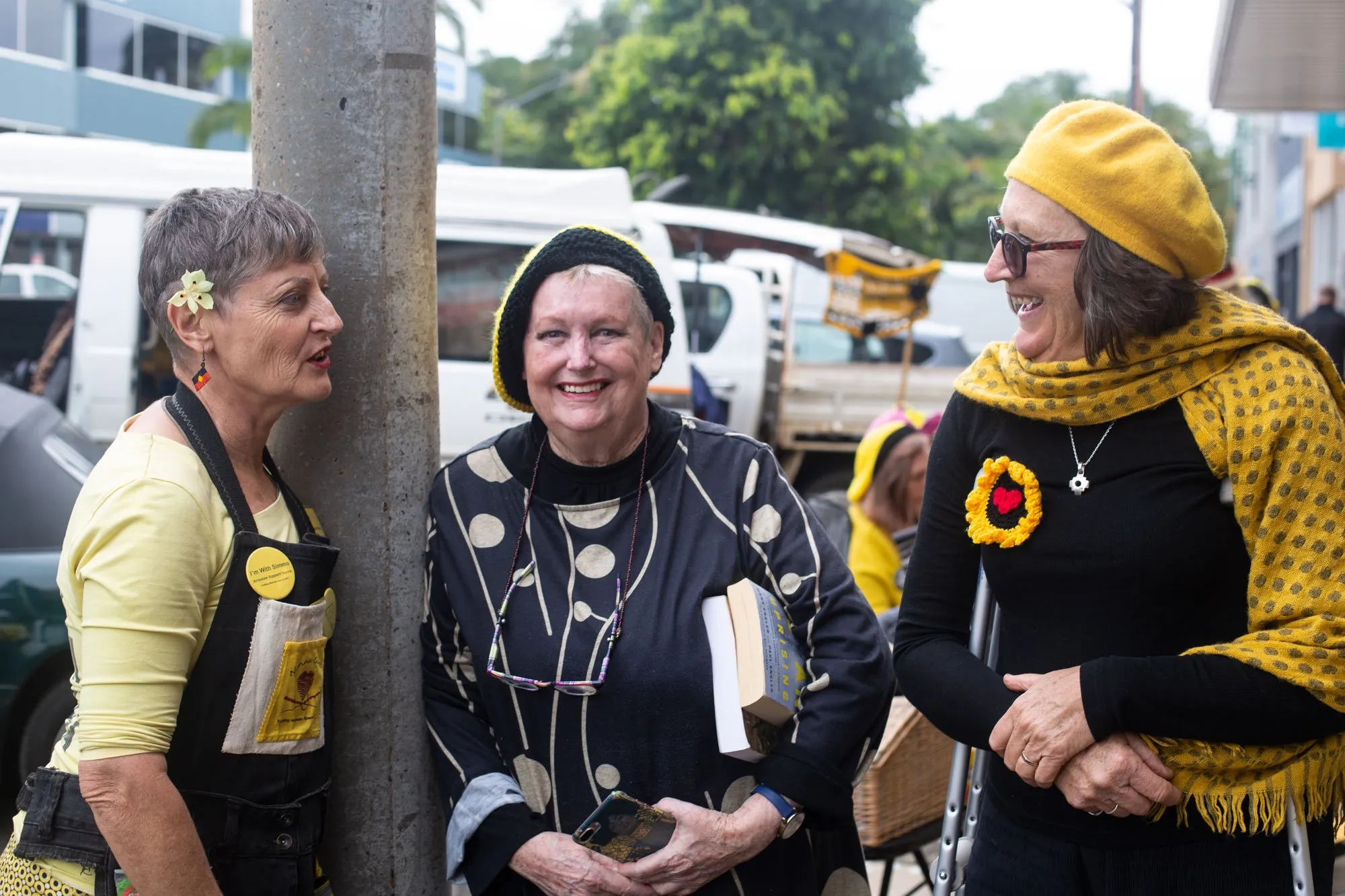 Actions Timeline
8 June 2012: KNAG was born – Clare Twomey and Lindy Scott at Shannonbrook Ponds
30 June 2012: First KN knit-in outside MP Thomas George's office. These knit-ins continued weekly (Thursdays) up to the big Lismore flood of 2017.
June 2012 to January 2013: KN conducted well site tours around Casino.
12 August 2012: Knitting Nannas Clare, Lindy, Frances, Jenny, Yvonne, Jally and Louise Bridging the Divide bus tour around the Tara/Chinchilla gas fields.
September 2012 onwards: Roadside vigils outside the Metgasco Depot in Casino weekly for many months
4 November 2012: 2012:Knit-in along the route of the Seismic Testing equipment
November 2012: NR Nannas travelled to Tamworth for the State Parliament sitting.
March 2013: First of many fundraisers, starting with Rock The Gate concert at LWC to raise funds for the health testing of Tara residents. Many meal cookups fundraisers at Lismore City Bowlo also.
April 2013: NR and QLD Nannas participated in the first of annual visits to Acland for ANZAC day memorials. Nannas knitted/crocheted wreaths etc each year for placement on the memorial.
26 May 2013: Franklin Horses ride to Canberra. NR Nannas, Dr Geralyn McCarron etc travelled down to Canberra for the arrival of the horses at Parliament.
June 2013: NR Nannas joined other NR residents to travel to Canberra for a rally at Parliament House.
13 June 2013: Northern Rivers Portrait Prize ceremony. Rhonda Baker's portrait of Clare was bought by art curator Philip Bacon and was gifted back to the Lismore Gallery for showing.
July 2013: Nannas screened Promised Land at BCC cinemas to raise funds for the CSG battle.
December 2013: Glenugie blockade and camp presence until when police aided the rig to enter the drill site on 7 January 2014.
January 2014: Doubtful Creek blockade and camp presence.
February to May 2014: Nannadome was setup at Camp Liberty where nannas provided NannaCare to arrestees and protectors up to 18th May when Minister Anthony Roberts cancelled the licence.
5 August 2014: Northern Rivers nannas went to Sydney to assist the establishment of the Sydney Knitting Nannas and Manly Knitting Nannas loops.
Australian Youth Climate Coalition (AYCC) declared Knitting Nannas Climate Heroes for 2014.
October 2014: Gloucester AGL blockade. NR Nannas travelled to Gloucester to assist with establishing the Gloucester Knitting Nannas loop. NR nannas participated in this blockade over the period to when AGL withdrew.
2014: First of many trips to support the Gomeroi and North West protectors – Pilliga protest to keep Santos out of the Pilliga.
28 February 2015: Dogs Against Gas gathering and fundraiser.
March 2015: First Knitting Nannas Against Gas 'Inter-nanna-national Conference' was held in Lismore, attracting approx 75 nannas from across NSW and QLD.
1 July 2015: Nannas travelled to Chinchilla to support John Jenkins in his court appearance.
12 September 2015: Nannas participated in the international project 'Ground Beneath Our Hearts' at Bentley.
7 November 2015: Nannas participated in the Liverpool Plains 'Harvest Festival'
18 January 2016: Pilliga Leewood Water Plant 3 Nannas locked on and were arrested.
21 February 2016: Pilliga Push protest action in Pilliga
27 August 2016: KNAG Conference in Chinchilla.
25 August 2017: KNAG Conference Narrabri.
1 December 2017: KNAG 100th week Protest in Martin Place, Sydney.
1 March 2018: Nannas in Brisbane outside Art Gallery
8 March 2018: International Womens Day action at NSW Parliament: United to Protect Our Water – No Water No Life.
August 2018: KNAG was jointly awarded Australian Activist of the year 2018 with Annie Kia.
August 2018: KNAG Conference in Newcastle area.