It is now six months since the 28 February floods and businesses and residents are still trying to get back on their feet and recover. Tweed Shire Council has now released figures on the recovery costs for Council and the figure is four times higher than the devastating flooding of Ex-Cyclone Debbie in 2017.
Currently the cost to council infrastructure is estimated at $100 million with $80 million of that being damage to council's road infrastructure. There were ten significant landslips requiring extensive geotechnical analysis and repair. A total of 2,900 jobs have been logged for flood repair on the Tweed Shire road network of which 53 per cent are completed, including 80 per cent of emergency works. However, the remaining repairs are the most complicated and it is anticipated it will take at least two years to complete all the works. These figures do not include the thousands of potholes across the Tweed caused by the water inundation.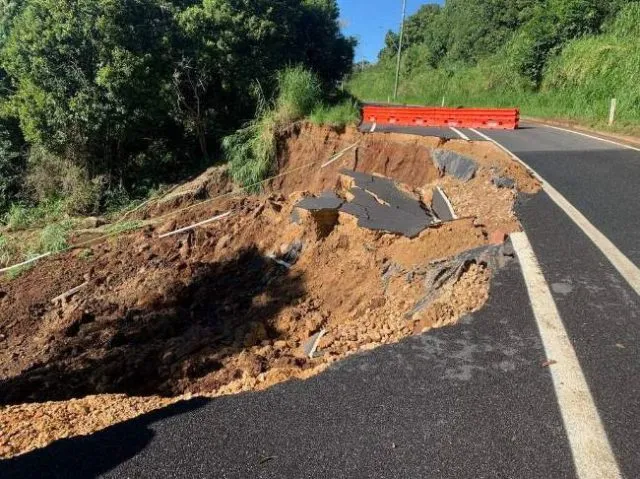 A council spokesperson said that, 'Other key statistics reveal more than 75,000 tonnes of mud debris have been collected to date – with the figure still rising – while an additional 26,000 tonnes of flood waste including household goods was collected in the immediate aftermath of the flood.
'A total of 90 Council buildings and facilities were inundated during the flood, including the 50-metre swimming pool at Murwillumbah, the main Council depot at South Murwillumbah and the Visitor Information Centre at Murwillumbah.
'Property damage to private residences and businesses is also staggering. More than 2,100 homes were damaged in the flood, with 500 deemed uninhabitable. The impact on businesses has been estimated at more than $57 million by the 193 businesses who voluntarily completed a flood impact survey conducted by Council in the weeks after the flood.'
Though directly controlling the weather is not an option Mayor Chris Cherry has said recognising the ongoing and increasing impacts of climate change and building back resilient flood infrastructure is a key strategies in moving forward. 
'We can't do much to control the weather but we can plan better to make sure we are ready for any future events given the anticipated impact of climate change,' Cr Cherry said.
'We want to build back better and are calling on the State and Federal governments to support funding for mitigation projects such as future land swaps for business and residential areas so we can move off the floodplain.
'It is now six months on, and our community is calling out for answers. We can't afford to wait any longer – people need answers now about how to plan their futures.'
Cr Cherry praised the Council staff who have worked tirelessly to help the community in their recovery efforts.
'Our staff are working as quickly as possible, within the resources available to them, to help the community recover from this disaster,' she said.
'I ask the community for their patience and understanding while we continue with this important work across a wide range of Council services. We are working collaboratively with our counterparts in the NSW Government to get certainty for people and strengthen our community's resilience.'
To keep up to date with Council's flood recovery efforts, visit tweed.nsw.gov.au/recovery-dashboard.