We've experienced a number of difficult years on the Northern Rivers and the east coast of Australia as we've lurched from crippling drought and bushfires to 'unprecedented' destruction from flooding. The Australian Bureau of Meteorology (BOM) has now confirmed that we are heading into a third year of La Niña at the same time as multi-organisation report United in Science 2022 has stated that, 'Without ambitious action, the physical and socioeconomic impacts of climate change will be devastating'.
Another La Niña
For the third year in a row the east coast of Australia, including the Northern Rivers, will experience a La Niña year.
The Bureau of Meteorology has declared 'a La Niña event is underway in the Pacific Ocean and communities in eastern Australia should be prepared for above-average rainfall over spring and early summer'. 
Dr Andrew Watkins, BOMs head of long-range forecasts said, 'During La Niña events, waters in the eastern tropical Pacific Ocean are cooler than normal, and waters in the western tropical Pacific Ocean warmer than normal. This causes changes in wind, cloud and pressure patterns over the Pacific. When this change in the atmosphere combines with changes in ocean temperature, it can influence global weather patterns and climate, including increasing rainfall over large parts of Australia.'
Models have forecast this La Niña will be weak to moderate in strength, likely to peak during spring and ease during summer.
'La Niña is not the only driver influencing this wet outlook. To our west, a significant negative Indian Ocean Dipole (IOD) event is underway. We expect the IOD influence will reduce in late spring or early summer,' Dr Watkins said.
'The Southern Annular Mode (SAM) is also in a positive phase, and likely to remain positive into summer. Positive SAM during summer pushes weather systems south, which increases the chance of rain in New South Wales, eastern Victoria and southern parts of Queensland,' he said.
The BOM is reminding people that with the catchments already wet, the flood risk remains, particularly for eastern Australia.
'Uncharted territory of destruction'
The last seven years have been the warmest on record and fossil fuel emission rates are now above pre-pandemic levels after a temporary drop due to lockdowns. The United in Science report states that, 'emissions reduction pledges for 2030 need to be seven times higher to be in line with the 1.5 °C goal'.
UN Secretary-General António Guterres stated that 'This year's United in Science report shows climate impacts heading into uncharted territory of destruction. Yet each year we double-down on this fossil fuel addiction, even as the symptoms get rapidly worse'.
'Floods, droughts, heatwaves, extreme storms and wildfires are going from bad to worse, breaking records with alarming frequency. Heatwaves in Europe. Colossal floods in Pakistan. Prolonged and severe droughts in China, the Horn of Africa and the United States. There is nothing natural about the new scale of these disasters. They are the price of humanity's fossil fuel addiction,' he said.
The report highlights the immediate need for reducing greenhouse gas emissions (GHG) and bringing 'aspirations' inline with 'reality'.
'Collectively, countries are falling short of meeting their new or updated pledges with current policies,' states the report summary.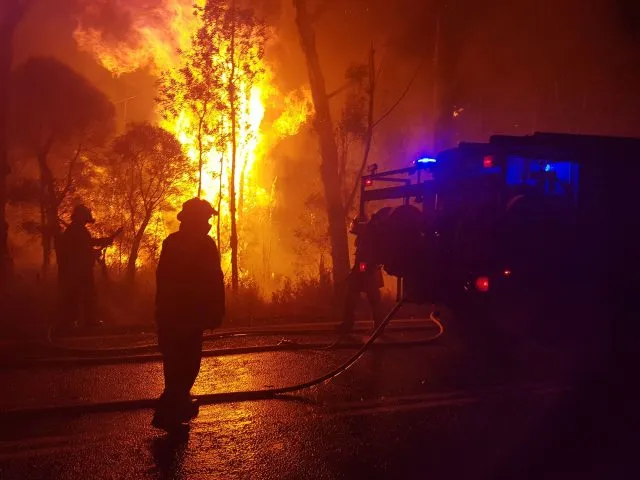 'The number of weather, climate and water-related disasters has increased by a factor of five over the past 50 years, causing US$ 202 million in losses daily.
'As attribution science continues to improve, evidence of the link between human-induced climate change and observed extremes, such as heatwaves, heavy precipitation and tropical cyclones, has strengthened.'
The reports is clear that billions of people are highly vulnerable to the impacts of climate change as we have seen here with droughts, the Black Summer fires and the recent floods that local Northern Rivers are still trying to recover from. 
'The science is clear – urgent action is needed to mitigate emissions and adapt to our changing climate,' says the report. 
♦ The United in Science 2022 report was compiled by the World Meteorological Organisation (WMO) under the direction of the United Nations Secretary-General to bring together the latest climate science-related updates from key global partner organisations – WMO, Global Carbon Project (GCP), UN Environment Programme (UNEP), Met Office (United Kingdom), Urban Climate Change Research Network (UCCRN), UN Office for Disaster Risk Reduction (UNDRR), World Climate Research Programme (WCRP, jointly sponsored by WMO, IOC-UNESCO and the International Science Council (ISC)) and the Intergovernmental Panel on Climate Change (IPCC).