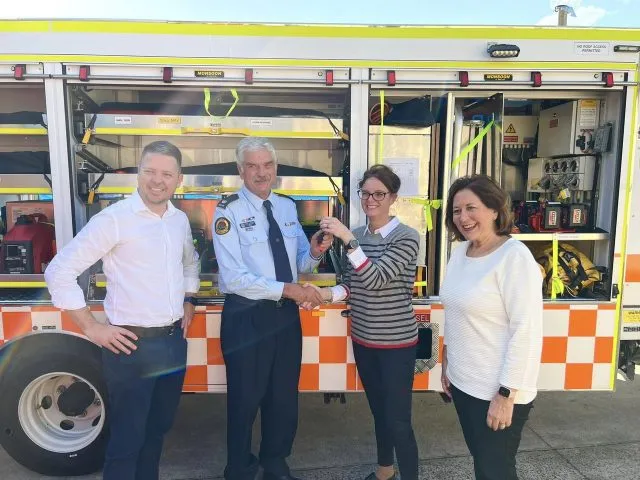 As people on the Northern Rivers last week endured the anxiety of severe storm warnings and pre-dawn emergency alerts, a visit from the state's emergency services minister was barely announced.
Emergency Services and Resilience Minister Steph Cooke was in the Ballina shire for delivery of a new State Emergency Services [SES] heavy duty rescue truck for the  primary rescue unit.
The state funding announcement for the Ballina shire was the second in less than a month to be made by a visiting member of the NSW coalition government with little to no advance public notice.
Government avoids media post-disaster when visiting Northern Rivers
Earlier this month, local government minister Wendy Tuckerman came to announce funding for coastal management at Shaws Bay, with a media release sent on the morning of the associated conference.
Most mainstream reporters in the region were engaged that day covering a major court case in the Tweed shire, leaving The Echo and Bay FM Community Radio* as the only news outlets to send a reporter and quiz Ms Tuckerman on official flood recovery responses and the future of the Lismore City Council after calls from the mayor for it to be sacked.
Questions over the government's so-called disaster recovery continue to agitate people on the Northern Rivers, with many still effectively homeless and others unhappy about a lack of community consultation when allocating temporary emergency housing villages.
It's understood fewer than a hundred people have been accommodated in the government's emergency housing pods more than seven months after disasters hit the region.
Some of the villages aren't expected to be ready until early next year.
Former Lismore City Councillor Eddie Lloyd was spruiking a change.org petition this week calling for government ministers to come to a public disaster response and recovery meeting.
Ms Lloyd told ABC North Coast on Tuesday morning the community was suffering in limbo without clarity from the government on how buy-back and land-swap schemes might work.
But the emergency services minister managed to avoid questions from the media about the ongoing flood recovery when she came to the Northern Rivers last week as it seemed media weren't invited to her SES truck presentation in Ballina.
Gov't invites Nats candidate to funding announcement instead of elected MP
The elected member for Ballina, The Greens' Tamara Smith, confirmed she was also uninvited, as she had been to the Shaws Bay funding announcement.
Minister Cooke was instead joined by The Nationals' candidate for Ballina, Josh Booyens, along with Ballina Mayor Sharon Cadwallader, who was once a member of The Nationals.
With a state election due to happen next year, the inclusion of a candidate at a government funding announcement rather than the elected member has raised accusations of a political agenda at play via so-called 'pork-barrelling'.
'It's incredibly disappointing to see the previously bi-partisan Minister during the floods now playing politics with our emergency services and inviting their Nationals candidate rather than me,' Ms Smith told The Echo.
'Our community made it pretty clear last state election we don't like pork barrelling or playing politics with essential public services,' Ms Smith said.
* Mia Armitage also works at Bay FM Community Radio