The Ballina Shire Council has announced a community survey as part of work on a draft master plan for the flood-damaged Wardell village.
The council says it's aiming to improve Wardell's village centre precinct streetscape and the masterplan is to focus on Richmond Street and Sinclair Streets.
The news comes after confirmation from Greens Member for Ballina Tamara Smith of a planned temporary housing village in Wardell.
First Nations community waits eight months for housing pods
Plans for the village were first announced in June but Resilience NSW last week said it didn't expect it to be ready until early November.
The village was only expected to be ready to take half the total number of planned residents by then but was planned to function for up to three years with Uniting Care responsible for site management.
Ms Smith said she'd met with Housing Taskforce Director Kristie Clark and was still waiting to find out where people were expected to live while waiting for the self-contained units.
The village was to accommodate up to two hundred people made temporarily homeless when floods swept through Cabbage Tree Island in the early hours of 28 February.
A total of around fifty housing pods with heating and cooling were to be installed on recreational grounds in Wardell, Ms Smith said, along with a medical centre including mental health services and the Cabbage Tree Island school, currently housed at Southern Cross University.
Anglicare was to provide residents with 'care packages' of basic items such as bed linen, utensils and appliances.
Ms Clark said transport to supermarkets, chemists and appointments in Ballina would be available, as well as a bus service.
Resilience NSW was reportedly meeting with the Jali Land Council weekly to discuss the project, with Cabbage Tree Island home to a large First Nations community waiting for a promised rebuild of their village.
The Echo has asked the Jali Land Council for comment.
Wardell village revival still in consultation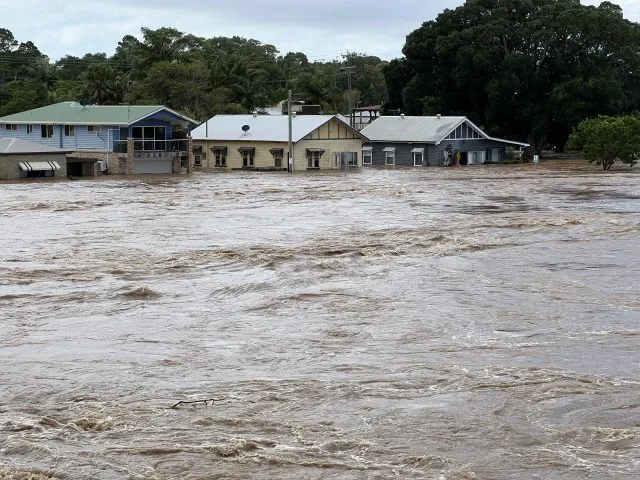 Meanwhile, flood recovery efforts in the village of Wardell continue.
The council is launching a survey on a draft village masterplan this week, with more information available on its website.
The council's strategic planning team says it will be available in Wardell to discuss the draft masterplan with the public next week.
Staff are to be in front of the Wardell Pie Shop on Richmond street between 10am – 4pm on Friday 14 October and again between 9am – 3pm on Saturday 15 October.