The significant washout of two sections of Scenic Drive during the devastating flood of February–March left the route inaccessible. The route between Bilambil Heights and Tweed Heads has now reopened to one lane traffic. 
The opening of one lane of traffic allows Bilambil Heights residents to again connect with Kennedy Drive, providing quicker access to Tweed Heads and surrounds.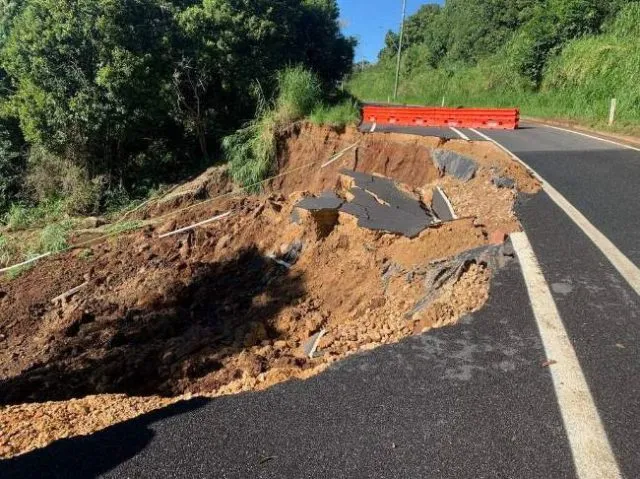 Locals were relieved to have the road reopen with one local Natasha saying, 'It's a relief for locals – it will save us time, money and our cars.'
'The timing before the school holidays is great because we can get to the beach much quicker.'
The road had been closed to through traffic since the end of February when the record downpour caused two landslips on Scenic Drive.
After geotechnical assessment and a tender process, Council appointed contractor Australian Marine and Civil Pty Ltd (AMC) to undertake the repair of the road. After completing initial stabilisation works, AMC gave the green light for one lane of the drive to operate past both slip sites, under traffic control.
Traffic controllers will remain on site during the working week to monitor traffic flows and meet the needs of peak demand.
Council's Director of Engineering David Oxenham said providing safe access for motorists using Scenic Drive had been a high priority.
'Scenic Drive suffered significant damage during the flood and we were forced to shut the road to ensure the safety of motorists until testing and stabilisation of the road could be completed,' Mr Oxenham said.
'We know how inconvenient this has been for residents and are sure today's opening of one lane of Scenic Drive will be welcome news for residents and marks another step forward in our flood recovery works.
'There is still a lot of work to be carried out before we are able to open both lanes and this may cause delays while contractors bring in materials, so we encourage motorists to be patient and allow for extra travel time.'
Over the weekend, when traffic volumes are expected to be lower, traffic lights will be in operation at both slip sites on Scenic Drive.
The single lane is open to all vehicles with no load limits in place.
Residents are advised that with one lane in use, queuing can be expected in both directions.
Due to the opening of one lane to traffic, pedestrian access has been removed in the interest of public safety.
For more information on these and other repairs, visit Flood recovery works.