The Ballina community came out in force to 'Step Up Against Domestic Violence on Friday.
There were around 500 people who walked from the La Balsa Plaza car park next to the Ballina Swimming Pool along River and Cherry Streets to the Ballina Indoor Sports Centre where they listened to guest speakers Ballina Mayor Sharon Cadwallader and Mandy Nolan talk about their lived experience of domestic violence (DV).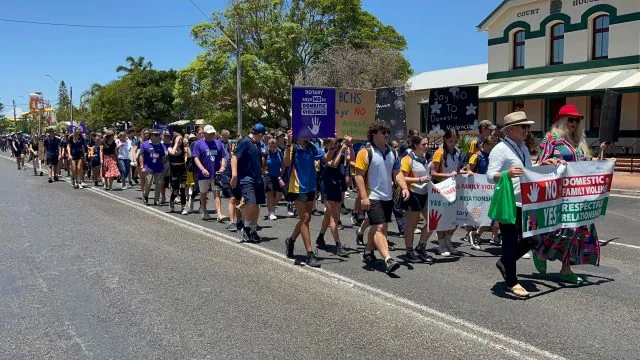 'Hundreds of students from Ballina Coast High School, community leaders and the general public joined forces to mark 25 November, The International Day for the Elimination of Violence Against Women with a march through the streets of Ballina,' said Mandy Nolan. 
'Ballina stepped up against Domestic and Family Violence on Friday,' organiser David Harmon president of the Rotary Club Ballina on Richmond told The Echo.
'As a community we feel that strongly about this scourge going on in our towns and cities that we closed the main street in Ballina at lunchtime on a Friday. We had around 500 residents join us in a peaceful walk concluding at the Ballina Indoor Sports Stadium where we had two very successful, respected women share their personal stories about lived experiences of Domestic and Family Violence. Both Sharon and Mandy's stories were powerful and heart wrenching.'
The police region Domestic and Family Violence coordinator Kiah Bowen discussed aspects of police response and Mayor Cadwallader encouraged students to speak up and seek help if they were experiencing family violence. 
The march was organised by the Rotary Club of Ballina on Richmond and it launched its commitment to DV elimination as a common cause for 20 Rotary districts. The campaign will be led by the Rotary Club of Ballina on Richmond.
'Rotary became involved with Domestic and Family Violence through a keen interest Robyn and I have on social justice and being the voice for those that are less fortunate,' said Mr Harmon.
'The Rotary Club of Ballina on Richmond is committed to making our town a safer place to live for women, children, and men. By conducting this walk we get the message out that as a community we do not accept this behaviour. The first step is to raise awareness and this walk achieves this.
'The second and most important initiative we have is to continue with our commitment to have the respectful relationships program call Love Bites delivered in our schools. This is a powerful program that has amazing results. Research confirms that the best way to bring about long-term change with regard to Domestic and family violence is to educate our youth about what a Respectful Relationship looks like. One less perpetrator is one less victim.'