The Rous County Council has confirmed plans to tap into groundwater on the Alstonville plateau days after Ballina Mayor Sharon Cadwallader confirmed support of a 'water security' project there.
Future water plans from the Rous County Council online show Stage One of a Future Water Project 2060 [FWS] for the region includes 'Alstonville Groundwater' via an Alstonville Water Treatment Plant [WTP].
Councillor Cadwallader also confirmed plans for the WTP days earlier to The Echo, saying the Rous County Council was working with Ballina Shire Council staff on submitting a proposal for the project.
'The proposal will be coming to our commercial services meeting regarding that site, in order to build,' Cr Cadwallader said last week.
The mayor was light on detail concerning funds for the project, saying she thought it 'might have got some money somewhere along the along the way'.
'But I think we've loan funded it mainly,' Cr Cadwallader said, 'I'd have to check into that for you'.
Cr Cadwallader, also Rous County Council Deputy Chair, said it was 'possible' a water treatment plant would be proposed, 'because Rous County Council have started pumping from the Clarence Morton basin, because we know we're going to run out of water by 2024'.
The mayor said the project was needed 'before we can move forward on this Future Water Strategy 2060 with all options being on the table'.
Her comments came after a recent ordinary Ballina Shire Council meeting that featured repeated reference to eight hectares of council-owned land next to the Russellton Industrial Estate at Alstonville.
Other councillors, including Greens Cr Simon Chate and Independent Cr Jeff Johnson, had suggested the land could be opened up for private light industrial activity instead of including a bigger nearby parcel of State Significant Farmland in an official list of Strategic Urban Growth Areas for the shire.
But Cr Cadwallader had mentioned the possibility of the council-owned already being considered for a 'water security project'.
Rous says connecting bore built in Wollongbar in January
Rous has been declaring a bore's construction in nearby Wollongbar 'a significant milestone' as far back as February.
A project update from Rous that month declared an 'important milestone with construction of a new groundwater supply bore at Converys Lane in Wollongbar Stage commencing in January'.
Rous said it was the Future Water Project's 'first piece of new water supply infrastructure'.
The council said it was 'undertaking a rigorous process to develop' the
new deep bore and meet 'the requirements of the NSW Government's Natural Resources Access Regulator'.
An accompanying flow chart showed construction had started.
Government yet to 'sign off' on Alstonville drilling plan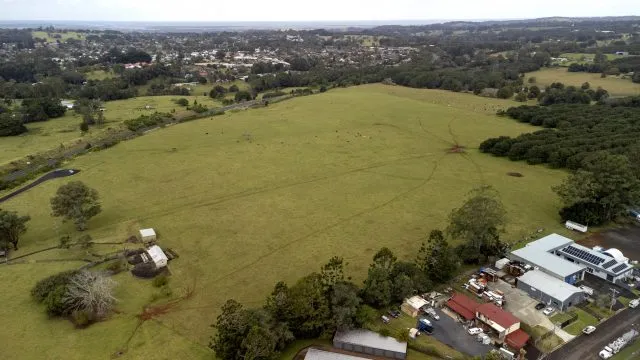 Earlier this week, Rous County Council Future Water Planning Manager Michael McKenzie told the ABC he hoped the government would 'sign off' on the proposed water-tapping project for the Alstonville project within the next six months.
Rous was still wanting to do more work and more consultation with state authorities aimed at approval for water drilling, Mr McKenzie said.
Stage One of the FWS online was identified as running from 2021 to 2025, with the Alstonville water project was to be the main focus for the first four years of the FWS.
Details showed it included developing a new groundwater treatment plant in the Alstonville/Wollongbar area and installing 'associated infrastructure to transfer raw groundwater to the new treatment plant and treated water to the bulk water network'.
'This new plant is needed to treat groundwater sourced from the Clarence Moreton Basin (Alstonville) groundwater source so it can be used as part of the fulltime regional drinking supply,' Rous said.
Farmers' water untouched but climate risks unclear
Water identified for the proposed project was separate from groundwater already used by farmers on the Alstonville plateau, Rous said.
'This new bore is not the Alstonville Basalt Plateau Groundwater Source,' the council said.
The 'deeper Clarence Moreton Basin Groundwater Source' was described at 'around 220 metres below the ground'.
'Adding this new groundwater source in the short term is expected to help secure our regional water supply from 2024/25,' Rous said.
Preliminary planning works and other investigations related to stage two of the FWS were also said to be getting underway in 2022.
Stage two featured groundwater from Tyagarah in the Byron Shire.
But while reassurances were given on impacts to farming and existing eco-systems, climate risks were less certain.
'Groundwater is less susceptible to the effects of drought conditions than surface water systems, such as creeks and dams,' Rous said, but added 'groundwater is not considered to be a rainfall or climate independent source of water'.
Rous said it was using the same approach as that used for surface water options when assessing impacts of climate change on long-term reliability.
'This approach is recommended given the uncertainty surrounding the effect of climate change on groundwater resources,' Rous said.
Rous said Stage three was due to start in 2030 and would depend on the outcome of 'extensive investigations into the potential use of purified recycled water, desalination and more groundwater schemes as additional sources beyond 2040'.
$30 million-plus for St Helena water main repairs
Cr Cadwallader said elsewhere in the region the Rous County Council had started work on repairs to one of the main water supply connections at St Helena.
She said councillors were alternating meetings with workshops and field trips and had recently been to see the project site, with the work budgetd at around $35 million.
Cr Cadwallader said the St Helena pipe was more than seventy years and repairs had been on the Rous to-do list for some time.
The next Rous County Council meeting was due to happen on 14 December.