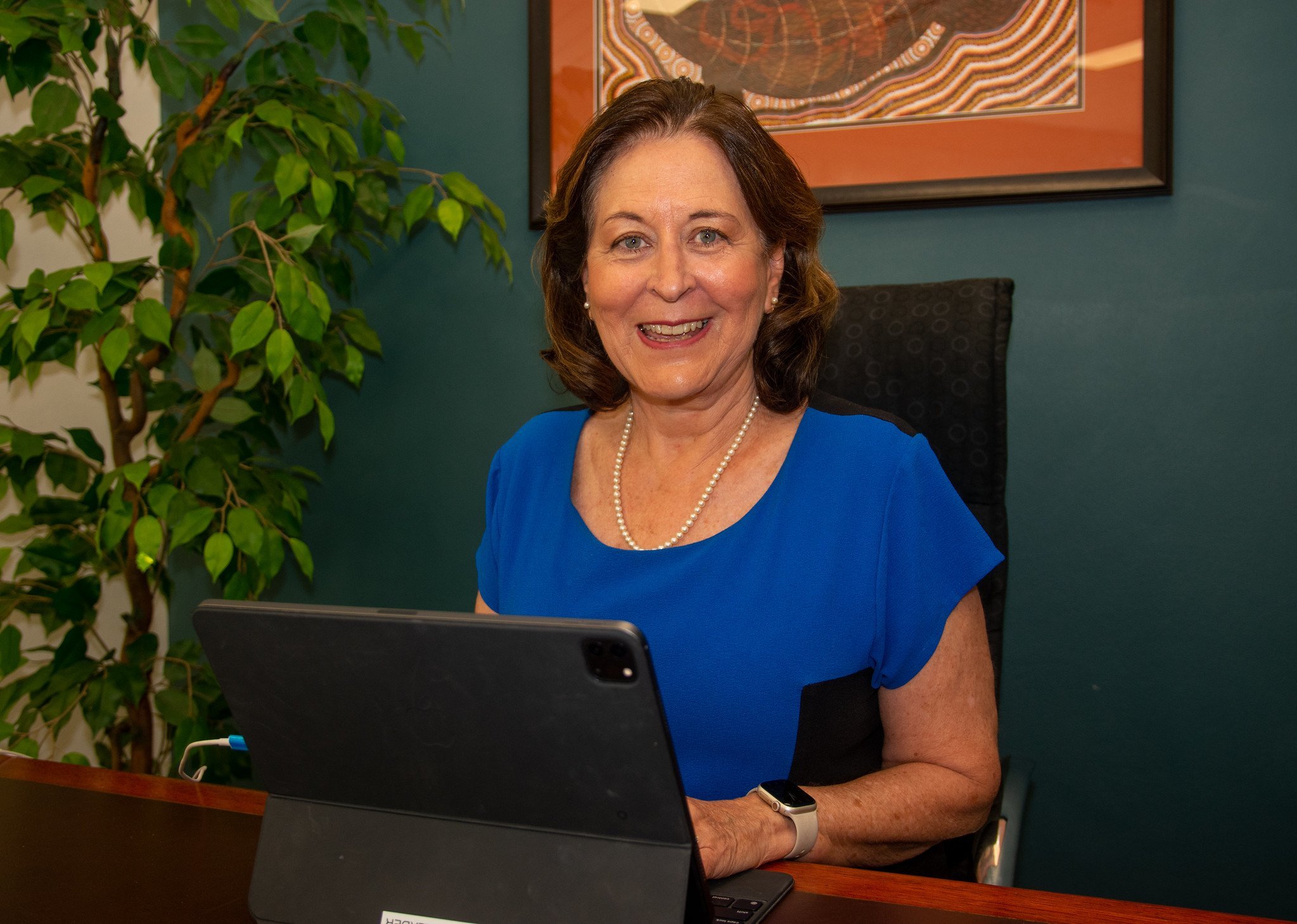 Floods, COVID and a regional housing crisis added up to an eventful first year in the big chair for Mayor Sharon Cadwallader at Ballina Shire Council, following the departure of David Wright. This is part one of a two part interview with Cr Cadwallader, focusing on 2022. Part two will focus on 2023, and beyond.
What springs to mind when you look back on 2022?
'I guess being sworn in under COVID, strict rules, our first meetings wearing masks, and of course, the floods,' she said.
'Being a new mayor and suddenly having to deal with the biggest natural disaster in our history, and also the joy and excitement of citizenship ceremonies, welcoming new citizens to the shire, and being in that privileged position to share that journey with them. They're the things that immediately come to mind.'
Cr Cadwallader said she's kept her two big election promises, namely to keep Ballina Council on a steady and progressive course (by avoiding the dysfunction which can plague local government), and safeguarding the future water supply.
'I'm proud to lead a very effective council in terms of our staff and our elected representatives,' she said. 'The election delivered a really top group of people with diverse views that reflect the diversity of our community. We have a good mix of deeply experienced councillors and hard-working, energetic new councillors.
'As mayor I feel very fortunate to lead such a team.'
Record flood
Cr Cadwallader remembers the flood crisis and the aftermath as a major challenge, when Ballina became a major hub of the north coast in a matter of days. 'There was immediate pressure on the community for services and housing,' she said.
'The challenges were when we realized we had to get emergency supplies out to people. That was something I felt I needed to take a lead on.' She remembers Channel Seven wanting to come to Ballina, and asking her daughter to come from Brisbane to help.
'We negotiated diesel for generators that they brought down, and we were able to get on boats across to South Ballina.'
Cr Cadwallader also remembers flying with Seaworld helicopter pilot Ash Jenkinson, who donated his services to the cause and recently lost his life in a tragic accident.
'That was when we'd finished everything. He said, "I'm not leaving without showing you around Sharon, what I've been doing."
'We had to fund raise, of course, to keep the chopper in the air. But all the services, the pilots, that was all free, they donated their time. But that was all part of the negotiations. He needed permission to land the helicopter. And, of course, we had no comms.
'I couldn't contact anybody at council,' said Cr Cadwallader. 'The council was flooded up to the back door, the security system was off. I couldn't even get into my office. And I couldn't contact anybody.
'So after negotiating what he was going to do I said, "Yeah, I'll meet you down there on Kingsford Smith Oval at seven o'clock in the morning." I brought the family down to help me make sure the perimeter was secure.'
Trucks soon arrived full of donated goods from the Gold Coast.
'We started getting bags together to do emergency drops of food, water, medicines. I got on the airwaves about the things that weren't coming through. We needed baby formula, Panadol, things that people were asking for. And the community rallied. We operated for about five days, just doing helicopter drops.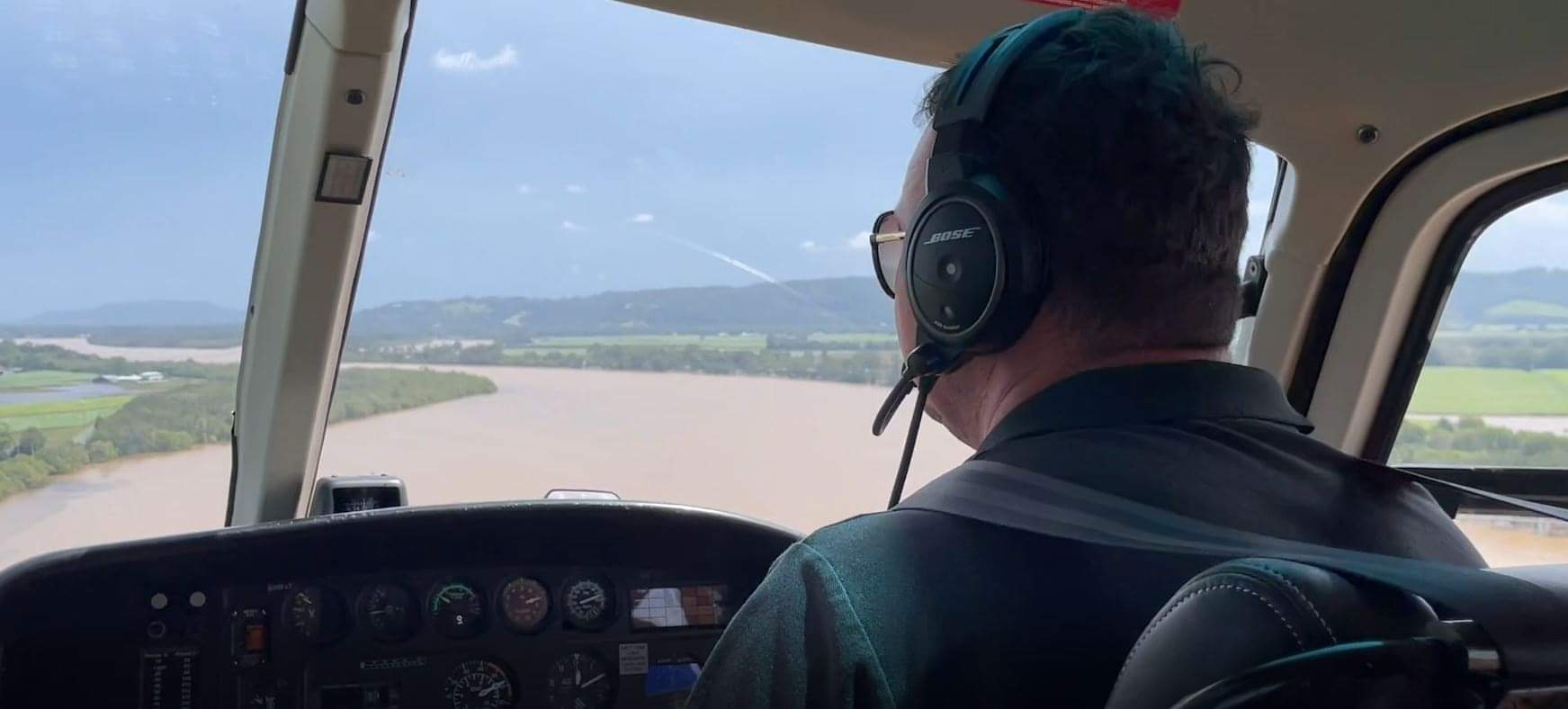 'Ash did anything and everything I asked him to do,' said Cr Cadwallader. 'He was amazing. He loaded his helicopter up with as much as he could.
'If there was an extra bag I needed him to take somewhere he'd say sure. Or if there was a change of route; you know, somebody's there. They're trapped. They haven't eaten for two days. Can you take that out there? He was just so obliging and never complained. Never lost his cool once. And it was a pretty stressful situation.'
Cr Cadwallader remembers it was a shock to see the scale of the disaster from the air, although she'd watched it on the news. 'Absolutely devastation. Almost unbelievable.'
Visitors to the region over Christmas might find it hard to believe how bad things were after the flooding?
'Yes, a few weeks after the flood, the Governor-General visited, and he said to me, "Sharon, I want to know your secret. What I was expecting to see was nothing like this."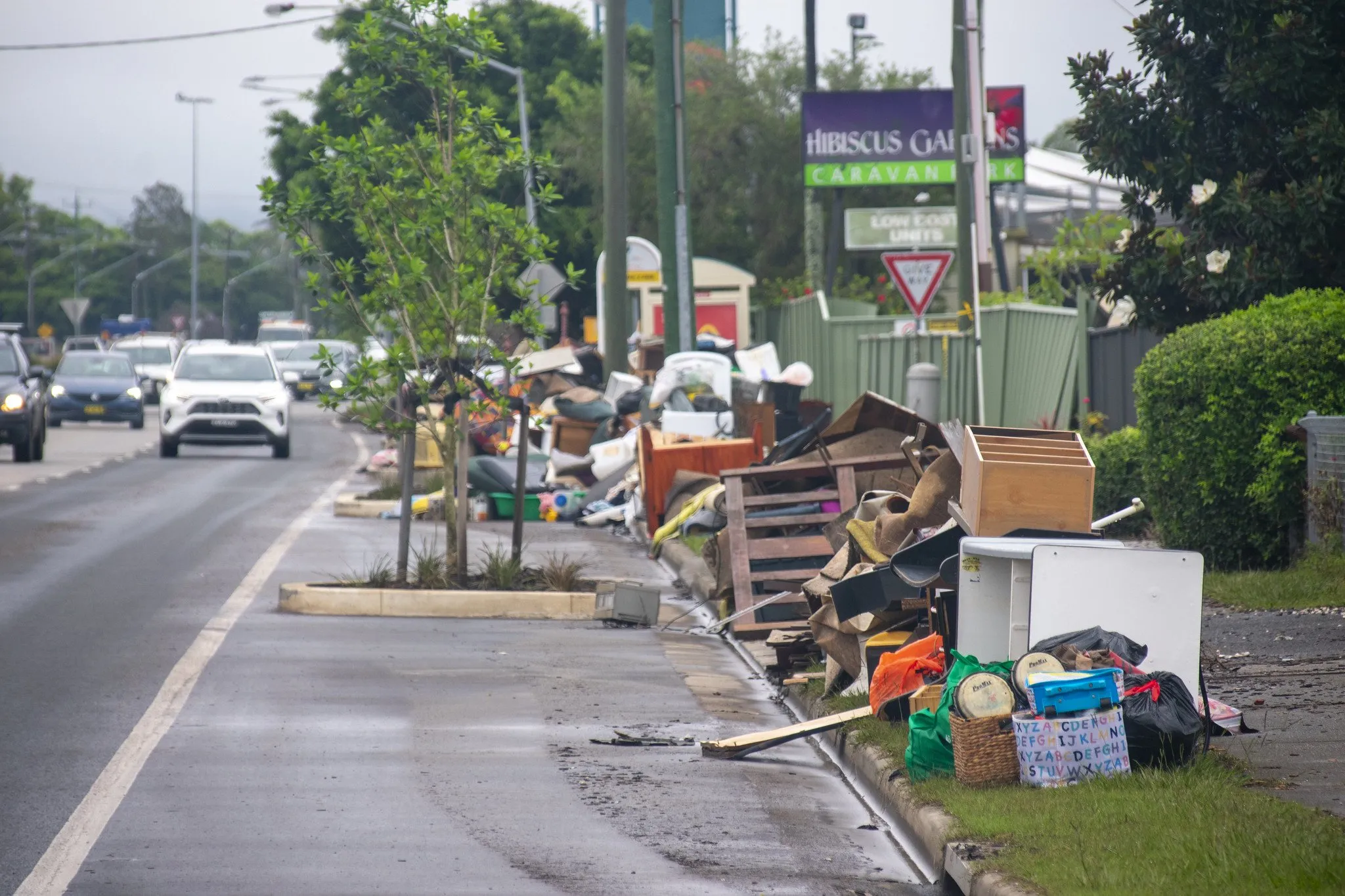 'We had thrown ourselves into action, our council and our contractors, dealing with all the piles of rubbish on the street and everything. Thanks have to go to our absolutely amazing staff and contractors for the exceptional job they did.
'And, yes, we're in our holiday season now. You wouldn't think anything had ever happened. But I can tell you within a short space after the floods, that's how bad it was. Of course everybody's still suffering.'
Recognition
Mayor Sharon Cadwallader became something of a national figure during the flood emergency and afterwards, meeting everyone from the Prime Minister to the Premier to the Archbishop of Canterbury, while also taking a frontline role with the public at local evacuation centres.
As she puts it, 'When you're at the epicenter of a natural disaster, everybody comes to you, don't they?'
She also remembers being 'immensely honoured' ten months into her first year as mayor to be awarded the highest honour for a woman in local government, the Lilliane Brady OAM Award.
'The messages of congratulation and support I received from people around the shire then – and indeed throughout the year – have been incredibly touching,' she said.
Water
Water issues have been crucial to Mayor Cadwallader's progress so far, both on Ballina Council and Rous County Council. She has argued for the Dunoon Dam, in spite of the previous Rous County Council's decision that the idea was a dead-end on environmental, economic, legal and cultural grounds.
She has also allied herself with people in the community who have crudely dismissed advances in purified recycled water technology, and publicly questioned the use of underground water as a sustainable solution, though recently she has modified her position.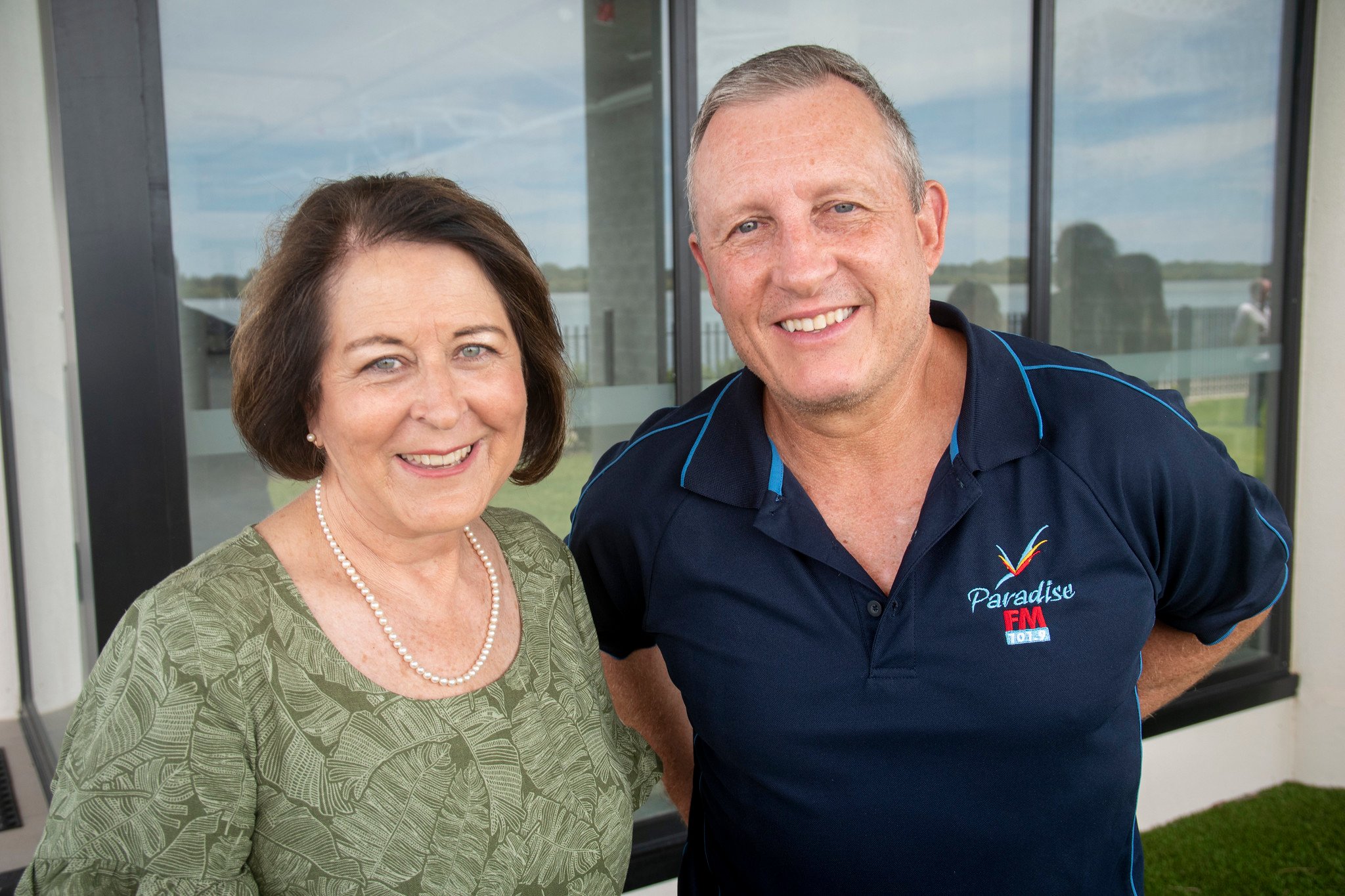 In Cr Cadwallader's words, 'in terms of our water supply, I was elected to Rous Council (along with my colleague Cr Bruem) where we were successful working to put the Dunoon Dam back on the table and complete the studies.
'At the same time we've worked with both councils to potentially transfer the Marom Creek water supply to Rous and build a modern water treatment plant in the Russellton Industrial Estate at Alstonville. This will treat and augment the groundwater supplies which our tests are showing can deliver good supplies of high quality water from deep in the Clarence Morton Basin.
'This can allay the concerns of our farmers on the plateau, who rely on bores in the upper aquifers and justifiably were concerned about how this would be implemented.
'In terms of securing our water supply in a way that meets the many diverse needs and concerns of our community, we have come a long way in 12 months.' Cr Cadwallader added that she believes, 'aquifer water is not a permanent solution to a secure water supply.'
Politics and pressure
Sharon Cadwallader says she loves her job, with 'no regrets whatsoever' despite jumping in at the deep end when she became mayor in 2022.
'I thrive on that,' she said. 'No two days are the same in this job. And I just find that building relationships – state and federal government relationships, community relationships, staff relationships – it all helps to get better outcomes. And that's what I'm about.'
With a state election looming, Cr Cadwallader's political allegiances continue to be in the spotlight, having stood as an independent.
'I've been absolutely slammed on social media recently for turning up to a funding announcement with the National Party candidate for Ballina, but I make no apologies for that whatsoever. I will do whatever it takes,' she said.
'I'm not the person that invites people to press conferences, when funding announcements are made. I will go over hot coals to be there. Because I know that it matters. I know that we have to show our appreciation for the support that we get. And I don't care who's in government, whatever party it is, I'll still keep turning up.
'I will keep working to get the best deal for our community,' she said. 'It's not about playing party politics, it's about ensuring Ballina gets its fair share (and maybe a bit extra).'
The next part of this interview will look at Ballina's big issues and challenges for 2023, from Mayor Cadwallader's perspective.
More stories about Ballina Shire Council: