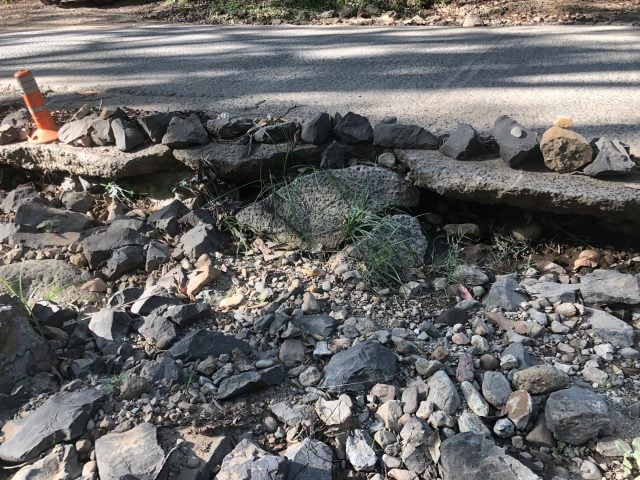 The incoming NSW Labor government says it will spend billions on the state's roads, but will some of the cash find its way to the hundreds of flood-ravaged roads in the Byron Shire?
As Labor leader Chris Minns and his team swept to power on Saturday, there were 200 separate road repair and maintenance projects awaiting approval in Byron Shire, most of them completely unfunded.
Many of these pending projects, including Upper Main Arm, are the legacy of last year's floods.
Byron Council is almost completely reliant on state government funding to pay for these works.
Flood grants closed
Additionally, the period during which Council can claim reimbursement for emergency works associated with the disaster closed nearly two months ago.
Council has now gone cap-in-hand to Transport for NSW for additional funds to pay for interim works, but the state bureaucrats are reportedly yet to respond.
'The question we've put to government is, what is the ultimate strategy to assist councils, not just our Council, but councils across the Northern Rivers to bridge this gap,' Council's Director of Infrastructure Services, Phil Holloway told last week's Council meeting.
'The ongoing costs involved in maintaining a road network that has failed because of a natural disaster are far beyond our current budget capabilities, and we're very concerned about it.
'We do have a meeting with reps of Transport for NSW on April 6 to talk about cash flow issues with our Council, to see if there's a way to alleviate that. But it is a huge problem.'
'The biggest issue for us is that we literally have 200 packages of work to go forward, but at this stage, not a lot of them have been formally approved other than the emergency work that we're doing.'
Pointed  questions
Earlier in the meeting, Upper Main Arm resident, Navaya Ellis, asked a series of pointed questions about the process Council uses when deciding which road projects to prioritise when seeking state funding.
'What criteria do Council use to put forward their projects to government for flood-damaged infrastructure funding and will this info be made available?' Ms Ellis asked.
'What criteria was used to assess risk of flood-damaged infrastructure?'
'Does Council plan to address the lack of transparency reassessment of roads?'
Fellow resident, Kol Dimond, said Main Arm Road at Upper Main Arm was 'in the worst condition it's ever been in'.
'The road is now in a worse scenario than it was six weeks ago, when we protested outside this building,' Mr Dimond said.
'And it is now busier than it's ever been, owing to the number of trucks coming up there to do private roadworks, the traffic to the new Tweed walk, and the increase in tourists going to spots like Hell Hole Falls, which now have water in them.'
'It's all such a duty-of-care hazard.'
Mr Holloway said there are further works to happen on this stretch of road over the next few weeks.
'We'll have ongoing conversations with residents about those works and about those questions that were asked today,' he said.
However, Mr Holloway also emphasised that residents needed to drive to the conditions.
'I'm not making any excuses for the road network, but the same people who are wanting the road fixed are still not driving to the conditions of the road in terms of speed,' he said.
Prior to the state election, Labor leader Chris Minns promised a $1.1 billion funding package to fix the state's roads over a three-year period.
'NSW Labor has a comprehensive plan to deliver the critical infrastructure that NSW so desperately deserves', he said.