The Premier of NSW, Dominic Perrottet, was a surprise guest at Groovin' on the Green in Ballina on Saturday, a fun family event organised by Ballina on Richmond Rotary and Cherry Street Sports Club for local flood affected residents.
With live music, a jumping castle and food stalls, Rotary said the free, ticketed event was booked out, although a lot of people were hiding from the bright sun inside the Cherry Street Club when the premier arrived to speak.
Rotary's Incoming District Governor Dave Harmon said it was important to commemorate the flooding with a public event, twelve months on.
He also reminded The Echo that the crisis wasn't over for many people (including his own family), with the work of restoring houses, finding accommodation and pursuing insurance justice continuing.
'It's challenging times,' he said. 'It plays with your mental health. But days like today, where community comes together, does give you a bit of encouragement for the future, that eventually things will come back to normal.
'I think today's really positive, in that it's telling these flood affected families around here that we care. We haven't forgotten you. We're still here to support and help.'
Politics
With a state election in the offing, it wasn't too long before the bands had to make room for the politicians. State Premier Dominic Perrottet, who arrived with his wife Helen and their latest baby Celeste, was introduced by the Mayor of Ballina, Sharon Cadwallader.
Mayor Cadwallader gratefully noted that the premier had spent 30 days in the Northern Rivers over the past twelve months, before Mr Perrottet spoke.
'The devastation that I saw as premier on that day when I came into Ballina is something that will never leave me,' he said. 'The water, the mud, the devastation…
'But what I saw and witnessed that day was a sense of incredible strength, optimism, resilience and confidence that despite the devastation that they would get through, and I heard stories from people who left their own homes to look after others…
'I saw the best of Australians in action, the fact that people look out for others, that sense of spirit of service, that selflessness,' said Mr Perrottet.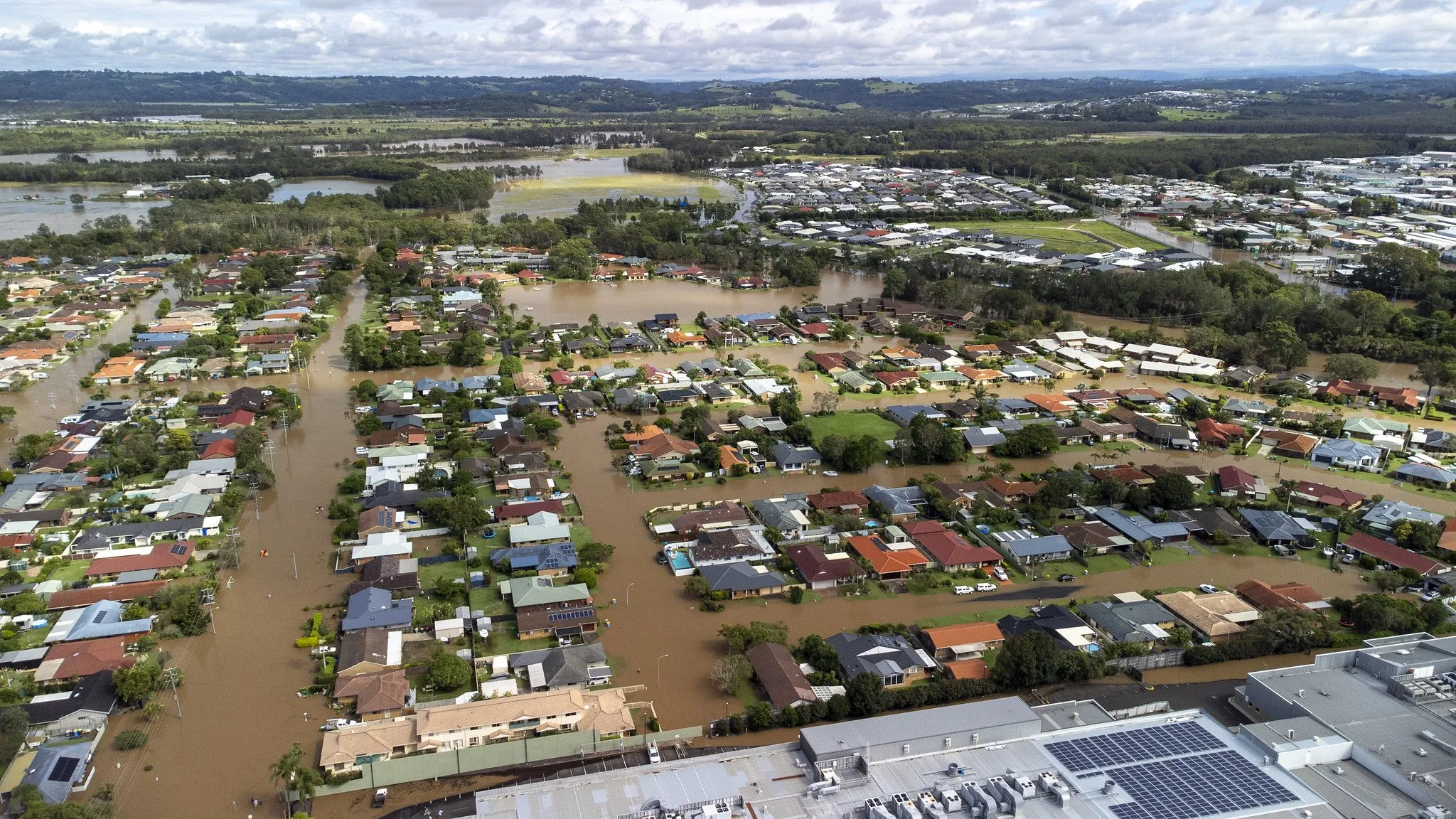 We haven't got everything right
'I knew at the time, it was going to be a long, long journey,' said Premier Perrottet. 'My focus was always to be that it wasn't just about the cleanup. And I know we haven't got everything right, to be frank.
'And I think it can be hard to get everything right when we've had such a devastating natural disaster. But my dream has always been that I'll be here every step of the way. And I know that journey is not over. But there is a long way to go…
'When the kids are out there playing on the jumping castle and people are inside, watching the footy, having a drink and enjoying themselves and listening to music. I think that shows the strength of the community coming together. As premier, that makes me incredibly proud to be the leader of this state,' said Mr Perrottet.
After he spoke, Mayor Cadwallader presented the premier with a box of local gifts, including a prawn tea towel, before Mr Perrottet offered the mic to the Member for Ballina, Tamara Smith.
Greens MP thanks Premier Perrottet
Ms Smith said she and the community were very grateful to have the premier in Ballina. 'This was the first place that he came to,' she said.
'We're on very different sides of the political fence, but as far as I'm concerned, he's done everything a premier could do in terms of supporting our community.'
Tamara Smith then thanked the Rotary Club of Ballina on Richmond and Cherry Street Sports Club for their central community support roles before, during, and since the flood. 'I've had that front row seat and seen what they have done in the last twelve months, and it blows me away,' she said.
The Echo spoke to Ballina locals Ben and Jett Haley who said they'd missed the premier's speech, but they'd loved the bands and the dumplings at Groovin' on the Green.
Mr Haley said his parents had gone through the devastating floods in Broadwater and Woodburn, and he wished the politicians were doing more for those communities, with much cleaning up and fixing still required.
The NSW state election will be held on Saturday 25 March.
More photos from Groovin' on the Green: