A service which provides mental health and other support for emergency first responders and their families was launched at SES headquarters in Ballina this week.
Fortem Australia is a not for profit organisation which supports the mental fitness and
wellbeing of those who provide first line protection and care for Australian communities in times of crisis.
The organisation was established in 2019, and has now begun recruiting community engagement coordinators locally to assist first responders and volunteers associated with organisations such as the NSW Police Force, NSW Fire & Rescue, NSW Ambulance, Rural Fire Services, State Emergency Services NSW and Marine Rescue NSW.
Fortem's Chief Operating Officer and co-founder Darrin Lincoln explained that the name means 'brave' in Latin. He says the hardships experienced by the first responder community, especially in the Ballina and Lismore region, have promoted the expansion of Fortem into new regional areas.
'Thanks to the funding from the Albanese Government that was confirmed late last
year, we have already supported over 10,000 first responders and their families,' said Mr Lincoln.
'Fortem Australia provides free evidence-based mental health and wellbeing support to the first responder community.
The programs include wellbeing activities, psychology support, career management services and mental health resources; all designed specifically for first responders and their families.
'The aim is to promote resilience in individuals, family units and work teams and provide support when and where needed,' he said.
Mayor Cadwallader
Ballina Mayor Sharon Cadwallader said, 'There's no doubt that our brave first responders have been through one of the most devastating challenging natural disasters in our recent history.'
She said research showed PTSD and other effects had long term effects on first responders and their families. 'The aftermath is really serious. With natural disasters linked to climate change likely to continue, it is vital that services are in place to help our first responders as they deal with the traumatic events they experience in the line of duty.'
Mayor Cadwallader said that it was only right that those who demonstrated courage and commitment to their community be shown compassion and care in return.
She said it was 'absolutely fantastic' that Fortem's services would now be available in the Ballina region.
Fortem's Darrin Lincoln then explained that his organisation had launched on World Mental Health Day in 2019, with many members previously being involved with another non-profit, Soldier On, which assisted Australian military veterans.
He said he had found that ADF veterans were much better supported than civilian first responders, despite facing similar challenges, so decided to create Fortem Australia.
Fortem growing fast
From humble beginnings with three people in one location, Mr Lincoln said Fortem had now grown to 55 people across 12 different locations, coinciding with some of the worst natural disasters in Australia's history.
He said the 'dollar was always a bit of a challenge' with all charities, but Fortem was careful not to duplicate what other organisations were doing, seeking instead to fill the gaps that exist and collaborate with other groups.
Mr Lincoln said Fortem psychologists were 'experienced in the first responder space, and also have a very extensive background in families as well', helping to deal with problems holistically. Career management was another role of Fortem, with network strengthening within and between emergency organisations another goal, and online resources available for those unable to attend face to face events.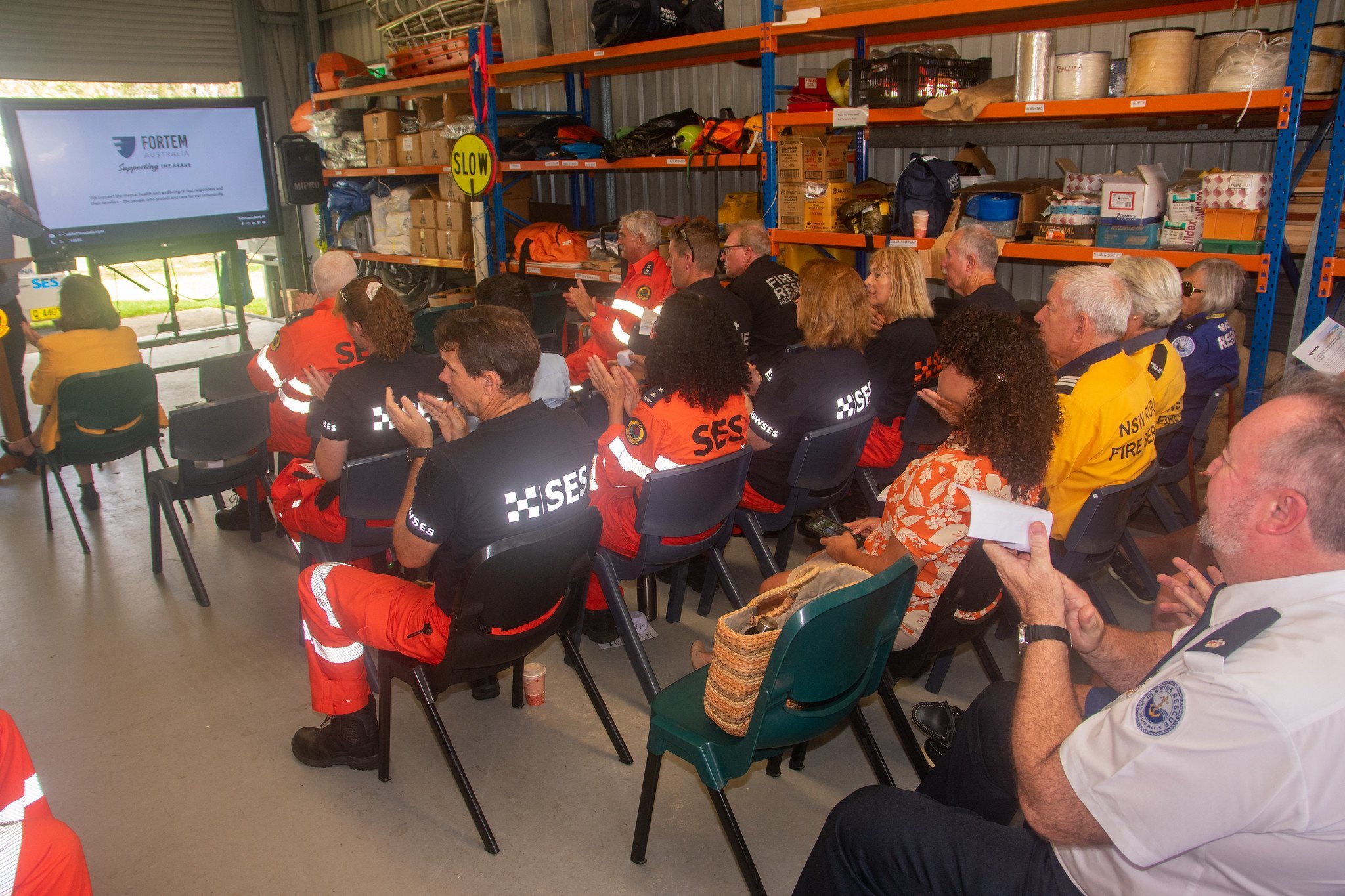 He said all of Fortem's activities were underpinned by a research-driven framework around five ways to wellbeing (Connect, Be Active, Keep Learning, Be Aware and Help Others).
'Are we making a difference? Great question. Since 2019, nationally, we've had just over 24,000 activity registrations, which is 2000 activities across 91 LGAs in Australia.
'We try to make sure that we continuously improve what we do, and 97 per cent of participants tell us that the activity has improved their health and well being. 80 per cent of participants said that the activity enhanced their social connection, which is pretty exciting… 71% of those participants in psychology programs with active PTSD symptoms showed improvements.'
Mr Lincoln said bravery was not just about running headfirst into a fire or a flood, but about being brave enough to put your hand up and ask for help.
Support welcome
Ballina SES Unit Commander Gerry Burnage said he welcomed the support provided by Fortem Australia, with local first responders still suffering from the effects of the floods (and fires before that), probably more now than when the crises were actually happening.
'While you're in the actual event, you're not thinking about what's happening to yourself around you, and then suddenly, reality sets in,' he told The Echo. 'It's a long term thing. We have members that have lost a lot of stuff as well…
'In this community, everyone works together on emergency services. We had every emergency service working out of this building during the floods.'
Mr Burnage said what Fortem Australia was bringing in terms of additional support for first responders was absolutely fantastic. 'We're all humans. We're all affected the same as the rest of the community.'
He said that with 47,000 people living in Ballina Shire, there were only 42 SES people on call locally at the peak of the disaster, with more dedicated volunteers always needed. 'What we did with what we had was unbelievable, but people never thought about themselves, they just thought about helping others.'
You can find out more about Fortem Australia: Supporting the Brave at their website.