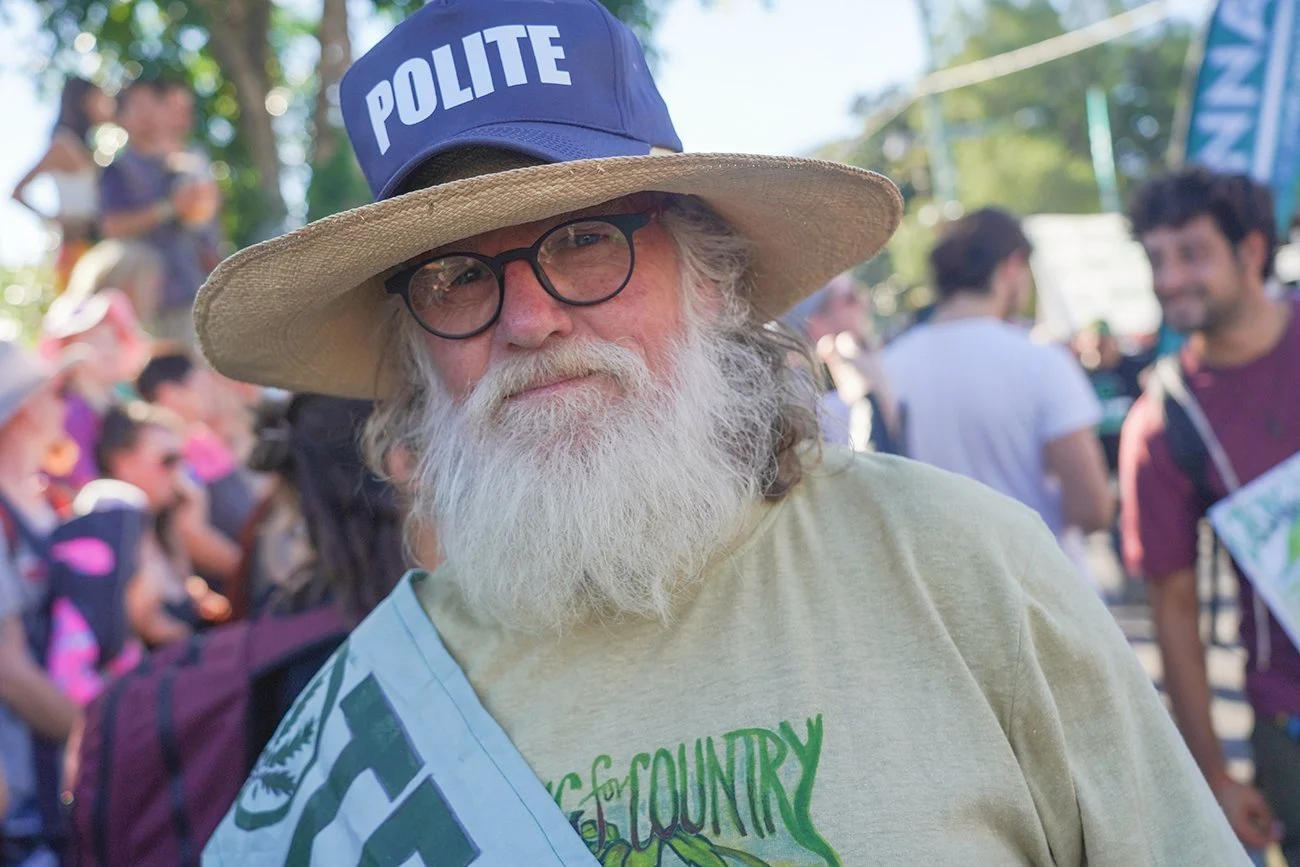 This coming weekend will see the giant joint rolled out for the MardiGrass, Nimbin's annual cannabis law reform protest and gathering.
MardiGrass Organising Body president Michael Balderstone says, there's quite a lot of excitement over getting Legalise Cannabis MP Jeremy Buckingham elected in NSW. 'We plan on doing our own coronation with him next weekend.'
Balderstone says there is a terrific program of speakers on all things cannabis at four different venues, in particular, the Northern Rivers Hemp Growers Co-op – new business in the village that is holding a series of talks including a 'hemp root puppet making workshop' with the legendary Hempstone creator Martin Ernegg. 
Senators learning circle
Balderstone says a highlight of MardiGrass will be the handful of new Legalise Cannabis senators attending, and with their Green counterparts. 'The Co-op is putting on a special senators learning circle. This is a chance for both the Cannabis party and Green senators to hear from our farmers and producers and to discuss strategy and tactics as our revolution progresses. The Co-op is asking: "How shall we proceed most productively".'
Another special guest is Dr Karen Hitchcock, one of Australia's first authorised prescribers of medical cannabis. She is also a therapist in St Vincent hospitals trial of psilocybin assisted therapy for depression and anxiety associated with terminal illness.
There are many doctors speaking at MardiGrass as well as politicians and medicine makers and healers. 
Wilfred the Stoner Dog
And if that's all too serious another high light will be Wilfred the Stoner Dog the famous canine comedian from his own TV series now a ganjapreneur. There is a smorgasbord of comedians including the Hemp Olympix duo Sorrensen and Glover and the Laugh Mob coming from Sydney for their annual show every evening in Indica Arena – Sativa Stadium, home of the Hemp Olympix is in pristine condition for the Growers Iron Person Event and the Bong Throw and Yell. The Joint Rolling competitions will be held in the Town Hall.
The popular MMMA is on again as well, the MardiGrass Marijuana Music Awards, no song can be longer than 4 minutes 20.
The most useful plant in creation
Balderstone says it's hard to believe we are still labelled as criminals as much as ever. 'Thirty years of loudly crying out about the mistake of banning the most useful plant in the entire creation, and despite the experts now agreeing with us, there's still no let up on hunting down cannabis users.
'Giant pharmaceutical companies are the only people allowed to grow natures best painkilling plants and we can only access them legally via a doctors approval. 
'Cannabis and the opium poppy were in the majority of medicines only a century ago. Now we fill our jails with victims of the drug war. A war to maintain Big Pharma's control over what medicine we are allowed to use and what not. 
Balderstone asks: 'Isn't everyone only using drugs to try and enjoy their day more? To try and have less pain, physical or mental? To feel good, or God if you prefer – both come from the word Gad, like gather and together. How come this became a crime?
'Basically we've lost the plot it seems on this issue of enjoying your life and the heaven we are standing in, and MardiGrass is all about trying to restore sanity to this pursuit of happiness, surely the ultimate purpose in life?'
A new mindset
Balderstone  is hoping people will come to Nimbin and find out for themselves why ending the drug war is so important to saving the planet and ourselves. 'We need a new mindset, a different attitude, and all the traditional mind altering drugs used for thousands of years are illegal. 
'Hello!
And there is art everywhere – it's no surprise as we know cannabis fuels creativity. The hemp fashion show, great green cabaret, pot art and pot poetry, music including Fantuzzi who flew in from Hawaii last night – all to try and make our annual protest as much fun as possible.' 
MardiGrass is on this weekend. The full program is on nimbinmardigrass.com.