Byron school students could take part in regular community tree plantings on land owned by Byron Council as a way of learning about bush regeneration and acting on climate change.
But the initiative is facing a funding challenge, with Council needing support from the community or government for maintenance of any tree planting project.
Last week's Council meeting heard that a planting event last year on Council land at Azalea Street, Mullumbimby saw 800 trees planted by around 50 school students.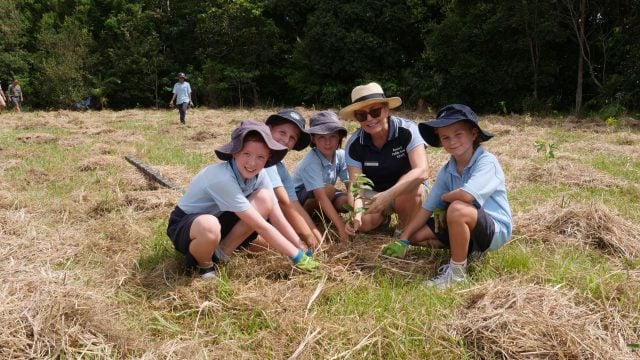 Initiated by the organisers of the Regeneration group, which has run a series of seed propagation workshops in schools over the past year, the event was a huge hit with students and the school community more broadly.
'To be able to put a tree in the ground and get your hands dirty is really satisfying when you're finished,' nine-year-old Louis Moynihan-Burne told the meeting during public access.
'And even more satisfying in 10-15 years' time when you're able to look at the forest and say I planted that tree or that forest.'
The Council agreed to explore what parcels of land it owns that might enable further school tree planting activities in the coming years.
This includes possible sites on Valances Road and Riverside Drive in Mullumbimby.
However, the meeting heard that, in addition to finding suitable sites, getting the initiative up and running would require $15,000 to fund regular maintenance of the trees to ensure they did not become overrun by weeds.
With Council extremely strapped for cash, the money will need to come from other sources.
'I'd be hopeful that we'll be able to invest in these types of programs in the future,' Mayor Michael Lyon said during last week's meeting.
'Clearly there's a great deal of benefit for the community, particularly our school communities from a program like this.'
Council staff will now prepare a report for Council regarding a possible parcel or parcels of land where tree planting might take place.