Artist in Focus: Kirk Page
Kirk is a talented, multi-artform screen actor, stage actor, theatre maker, movement consultant, choreographer, and director.
Kirk's career in the arts spans more than 20 years, and his credits are extensive, including television (Redfern Now, My Place, Bran Nue Dae and Krush), involvement in Bangarra Dance Theatre's Rekindling Youth Dance Program, assistant director for Sydney Theatre Company's Bloodland and My Darling Patricia's Posts in the Paddock, an emerging choreographer in Force Majeure's 2013 Cultivate program and as director of Djurra (2017) and Horses Mouth (2018, a program for emerging Indigenous artists in partnership with Beyond Empathy) for NORPA.
Later this year Kirk will lead the Indigenous Makers' Studio, a NORPA initiative that will support a group of Indigenous artists to build and refine their practice and take a performance idea or concept through creative development to performance.
Kirk will take the stage in the Northern Rivers over May 15–25 as he reprises his role as The Showman in norpa's Dreamland at Bangalow A&I Hall. Tickets: www.norpa.org.au
---
Murwillumbah ARTS TRAIL
It's all happening in Murwillumbah in May when the Arts Trail brings together a network of galleries, workshops, music, art, circus, cabaret, dance, and ceremony in the street and places in and around the Art Deco-inspired town.
The 4-day festival, beginning on May 16, will open with a floating art workshop with renowned artist Barb Suttie onboard the Spirit of Wollumbin boat.
Saturday is the main day when the Makers and Finders Market will create a vibrant street festival right in the heart of Murwillumbah during the day showcasing local artisans, artists, buskers, street theatre, and sculpture as well as a circus and a children's activity area in the street.
Prepare to be amazed, enthralled, stupefied, and electrified as Sheyzo (The Truly Great) brings his utterly unbelievable balloonology skills and high-energy quirky shenanigans to the Tent of Curiosities and Wonders, and and at night Dr Sketchy will treat you to the cream of the crop of Brisbane burlesque superstars Jacqueline Fuery and Magnolia.
On Saturday afternoon, DJ Lord Sut will be live vinyl mixing and artist Dubse will create an in-the-moment unique live airbrush experience at the M|Arts Precinct before the Tweed Food Fest takes over the main street to offer an evening experience of exquisite food, great entertainment, and some of the region's finest handcrafted local beverages.
See artists and performers from around the region; this year's musicians include Martha Baartz, Nuwanda Coleridge, and Tara Williams with classical and jazz shows running throughout the day at the Murwillumbah Civic Centre Auditorium.
But wait – there's more: slam poetry, Hump Day Horns, and a cultural and art village tour of the Tweed top off a pearler program of unique must-see events.
Murrwillumbah Arts Trail is on between 16-19 May. For more information visit www.murwillumbahartstrail.com.au.
---
Art on Screen: Tintoretto/Gauguin 
Feast your eyes at Byron Theatre as our beautiful Art on Screen series continues with two fascinating films.
Tintoretto: A Rebel in Venice: This visually spectacular new art film tells the story of the painter Jacopo Robusti, known as Tintoretto, from the early years of his artistic career until his death in 1594, in the city that inspired and challenged him.
Gauguin in Tahiti: Paradise Lost: This stunning state-of-the-art cinema event takes us on the trail of a story that has become myth. In 1891, Gauguin left Marseille for the Pacific, marking the beginning of a journey towards the essence of life and art, and forging his destiny as one of the greatest modern painters who ever lived.
Tickets: www.byroncentre.com.au
---
Exciting workshops with BSA artists in residence
Experimental filmmakers Rowena Crowe and Peter Humble offer workshops on 11 and 12 May, teaching innovative DIY techniques in black-and-white film processing, as well as various methods of direct image making such as using a household laser printer to create short image and sound works. On 29 and 30 June, Archibald prizewinner Yvette Coppersmith offers a weekend workshop on painting the self-portrait. byronschoolofart.com
---
Byron Writers Festival presents: Novella writing with Nick Earls
In recent years, the novella has come into its own. It is a form for our times: perfectly designed for busy people to read in one sitting.
In this workshop on Saturday 22 June, Nick Earls reviews the case for the novella, exploring key features of contemporary novella craft.
Topics covered include: how to develop and reveal the protagonist in a novella; use of detail; managing plotlines; and managing the scope to get the most out of the form. By the end, participants will have a practical feel for novella tools, and will have applied them to develop a plan for a character-based novella.
To book your place or to see more workshops and events, head to byronwritersfestival.com/whats-on.
---
Garasu Art Gallery
Garasu may be a pop-up gallery but there is nothing pop-up about its artists.
Award winning, internationally recognised, and dedicated to the development of art in Australia, 10 artists from the region but new to Byron Bay have united to open Garasu Art Gallery.
Ian Tremewen, Ilia Chidzey, John Turton, Jutta Pilz, Lorraine Abernethy, Leisa O'Brien, Mal Leckie, Manuela Pilz, Otto Schmidinger and Stephen Baxter.
Be dazzled by colour and expertise.
The gallery is staffed by the artists. You don't only get to buy an original piece of art but also you can meet the artists. Their time may be limited to the beginning of June – do not miss out on this opportunity! Find a piece of art to enjoy for years to come.
Level 1, Mercato on Byron, Jonson Street, Byron Bay 0403 188 154
---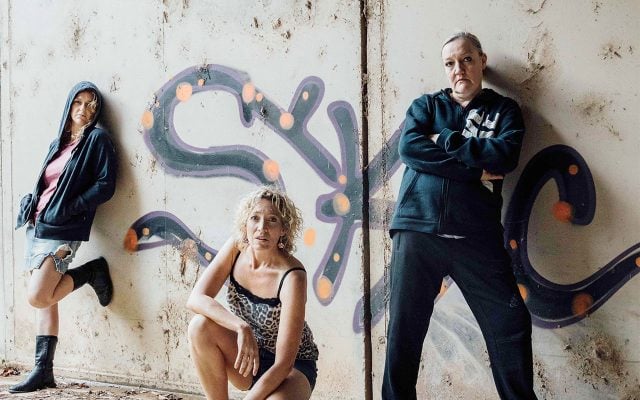 Mullum, there's a SHITSTORM a'coming! 10–25 MAY
The Drill Hall Theatre Company presents the multi-award-winning play SHIT. Written by Patricia Cornelius, SHIT is an electrifying exploration of class, violence, and misogyny in Australia, told through the profane, violent, and bitterly funny stories of Billy, Bobby, and Sam.
Directed by Georgia Martin, and starring Kate Horsley, Kate Foster, and Claire Atkins.
SHIT is playing 10–25 May – Fridays and Saturdays at 8pm, Sundays at 2pm – at The Drill Hall Theatre, 2 Jubilee Ave, Mullumbimby. Tickets $22/$25 online www.drillhalltheatre.org.au/shit or The Bookshop, Mullumbimby. Enquiries 0420 986 570.
---
Ninbella is proud to announce its expansion
Ninbella announces the re-opening of its Gallery as a SOLO space in Bangalow NSW.
Bangalow's historic streetscape, monthly market, and proximity to the popular tourist resort of Byron Bay marks its huge appeal as a tourist destination.
Ninbella continues to offer highly collectable Australian Aboriginal art and a rigorous selection of local art, cultural giftware and sought-after Kashmiri and Tibetan rugs and tapestries. Ninbella is a member of the Australian and NZ fair trade Associaton. They have also added to their offer a very hip and cool range of mid-century Italian-design furniture, chandelier lighting, and floor lamps from the 1950s 60s and 70s.
Gallery + Culture Store , 19a Byron Street, Bangalow. 6687 1936. www.ninbella.com