The Bangalow Perspective
Come enjoy the Bangalow Perspective with us. Discover the practical, eclectic, creative, chic, unique, and elegant offerings of Bangalow and Newrybar.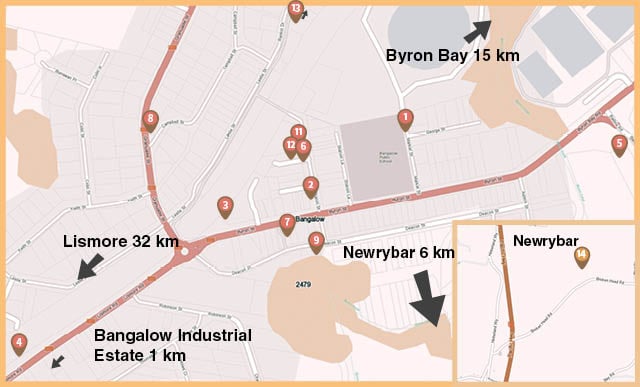 1. Janice Maple @Realty
Janice Maple has been a real estate agent in Bangalow since 2007. Janice loves everything about Bangalow life and loves sharing our lifestyle with new people moving to the area.
0401 026 359
1 Market Street
---
2. Bangalow Wash House
Open 24 hours. New large front loaders / dryers. Now with Tap & Go. Change-machine and powder dispenser onsite. Self-serve and serviced laundry available.
0412 302 246
Cnr Station St & Blackwell Alley
---
3. Bangalow Farmers Market
Every Saturday 7–11am behind the pub. Freshest produce direct from local farmers, including seasonal fruit and vegetables, pasture-raised meat and eggs, artisan cheese and bread, nuts, honey, rice, pasta, and more!
Behind Bangalow Hotel
byronfarmersmarket.com.au/bangalow
---
4. Byron Jerky
Sourcing local 100 per cent grass-fed beef. They say no to chemicals, nitrates, and other unnecessary additives to produce a pure and healthy product that tastes great!
6687 0500
10 Dudgeons Ln
---
5. Bangalow Dental
Dr Fabio and Dr Eduarda Miranda proudly serve the Bangalow and Byron Bay Hinterland. Personalised modern dentistry with passion and dedication in a fresh, state-of-the-art dental practice.
6687 2766
Suite 5, Bangalow Medical Centre, 1 Ballina Rd
---
6. BKA Architecture
BKA is an architectural team committed to empowering people through architecture. They respond with sensitivity to each unique context, client and set of budgetary needs.
0417 415 474
Suite 1/10 Station Street
---
7. Bookshop Supports FOL event
The Friends of the Libraries present a soiree with Victoria Alexander at 5.30pm, Thursday 28 November at Bangalow Heritage House. Book online www.byronbayfol.com or at Bookworms & Papermites. Tickets $10
6687 1396
26 Byron St
---
8. Evan Stewart Osteo
A skilled osteopath with over 20 years experience in clinical practice, Evan has a keen interest in the Cranial Field, and uses various osteopathic techniques to help you become pain free.
0477 062 434
18 Granuaille Rd
---
9. Bangalow Mens Shed
A place for men to gather, swap yarns, share experiences and support each other. Catering for a range of interests including art, music, photography, fitness, cooking, woodworking, metal working and plants.
0413 679 201
---
10. The INClub
An inclusive social club for women in the Bangalow area, which holds various activities and events for women to meet, socialise and connect with the community.
Janice 0401 026 359
---
11. Woods Bangalow
Plant based cafe serving beautiful brunch, with a mindfully curated seasonal menu, and a focus on sustainability and harmony. Sip elixirs in the sunny open courtyard as the kids play!
6687 0451
Shop 4, 10 Station Street
---
12. Bisque Traders
Understated, yet highly curated one-of-a-kind pieces, sourced from around the globe.
Furniture, lighting, homewares, fashion, shoes, jewellery. Wholesale, retail and worldwide shipping.
Rear of 12 Station St
---
13. Castrikum Adams Legal
Making property transactions easy for you! A great first choice, their competitive pricing for NSW and QLD conveyancing. Their innovative approach to communication makes all the difference.
49 Rankin Dr
---
14. Zentveld Coffee
Visit the Roastery Door Monday–Friday for the freshest of coffee and delightful vista of their coffee farm.
For rare, organic local coffee, chocolate bean tastings and full roastery offerings.
66872045
193 Broken Head Road, Newrybar