BYRON ARTS & INDUSTRY ESTATE:

Creative, small batch, hand-made, state-of-the-art, artisan, innovative, ethical, imaginative, hyper-local, leading-edge, quality,
EXPLORE
premium, master, handcrafted, accomplished, cutting edge, organic, designer, eclectic
DISCOVER
ingenious, beautiful, unique, sensational, avant-garde, original, visionary, inspirational, expert, brilliant, gifted, ahead of the curve.
YOU
wonderful, compelling,
THERE
experiencing, witnessing, engaging.
NOW
.
HABITAT PRECINCT:
A cleverly designed village where people live, work and play, all in one place, combining old-school Byron (community, creativity) with new thinking (live+work spaces, car sharing) and good times (food, shops) to create a little oasis for locals and visitors alike.
---
1. Bodhi Living | 2. Byron Bay Traders | 3. Eye of Horus | 4. Honey Hunt Style | 5. Bespoke Bridal | 6. STONE & WOOD | 7. Kido Store | 8. FORRM.store | 9. Bun Coffee | 10. Mark Tuckey Furniture | 11. Weave Guitar Co. | 12. North Coast Radiology | 13. Habitat Workspace | 14. Shack Palace Rituals | 15. Katrina Beohm Real Estate | 16. Mr Simple | 17. HighSpec properties | 18. The Beach People
---
1. Bodhi Living
Bodhi Living is a conceptual furniture store that showcases unique, antique pieces from around the world, combined with a range of contemporary furniture, rugs, lighting, décor and art.
They also offer a unique and personalised design experience and can guide their clients through residential, commercial and contract projects with in-house design consultation, planning and execution, creating considered spaces that enrich the soul.
1/18 Centennial Cct, Byron Bay
0429 479 260
@bodhi.living
---
2. Byron Bay Traders
Byron Bay Traders is a collective showroom and retail space for local designers, makers and small businesses. They showcase a variety of homewares, furniture, gifts, fashion, jewellery, ceramics, skincare and more, giving you the opportunity to consciously support small local businesses of Byron and surrounds. Lovingly made and ethically sourced is the mission of each business in the collective.
17 Banksia Drive, Byron Bay
@byronbaytraders
---
3. Eye of Horus
Luxury, cruelty-free, Byron Bay beauty brand, Eye of Horus, is globally renowned for being at the forefront of sophisticated, ethical and timeless beauty. Their brand new concept store is an elevated beauty destination that offers a unique, interactive experience, inviting clientele to sample cosmetic shades, customise their own palettes, and experiment with luxe beauty looks created by in-house makeup artists.
4/1 Boronia Place, Byron Bay
eyeofhoruscosmetics.com
---
4. Honey Hunt Style
NEW designs created with YOU in mind. Stop traffic in their Op art leggings. Like you, they're bold and beautiful. Or the delicate Cherry Blossom in classic navy blue or white. Pair with linen to head to yoga/Pilates then a coffee. Look stunning all day in the world's most comfy tights. Shop locally in-store, online, and at local markets. First in, BEST dressed!
Shop 2, 1 Centennial Cct, Byron Bay
0408 766 546
www.honeyhunt.style
---
5. Bespoke Bridal
There are certain times in our lives when we get to express, in the grandest of ways, but why should it be only for a few days in our lives?
Bespoke Bridal & Couture by Simone Ellis – dress up more! Showroom now open and taking bookings for wedding and events for 2022.
By appointment only. Call 0405 45 1184.
3/52 Centennial Cct, Byron Bay
www.simoneellis.com.au
@Simone3llis
---
6. STONE & WOOD
With days getting warmer, their sunny beer garden is the perfect place to soak up some time with mates over a cold one. Beer tastings and brewery tours are always on offer, with local legends 100 Mile Table pumping out some of the best food in Byron to complement your frothy. Kids and furbabies welcome, so bring the whole family!
100 Centennial Cct, Byron Bay
Stoneandwood.com.au
---
7. Kido Store
Kido is a kids concept store catering for newborns to 15 years with fashion, decor, furniture, books, toys and bikes. With a focus on ethically and environmentally conscious brands sourced locally and from around the world, they've got your Christmas shopping needs covered. Beautiful quality products designed to be loved and then handed on from one child to the next.
7/18 Centennial Cct, Byron Bay
9045 7777
www.kidostore.com
@kidostore
---
8. FORRM.store
'A connected meeting of form and function.'
FORRM.store is a boutique offering a core focus on fashion and lifestyle products curated to enhance a considered yet luxurious lifestyle.
They are dedicated to showcasing both Australian and international brands that embody their philosophy and values of timelessness, quality and sustainable fabrics with ethical production. Open Monday to Saturday from 10am.
1/57 Centennial Cct, Byron Bay
forrm.store
---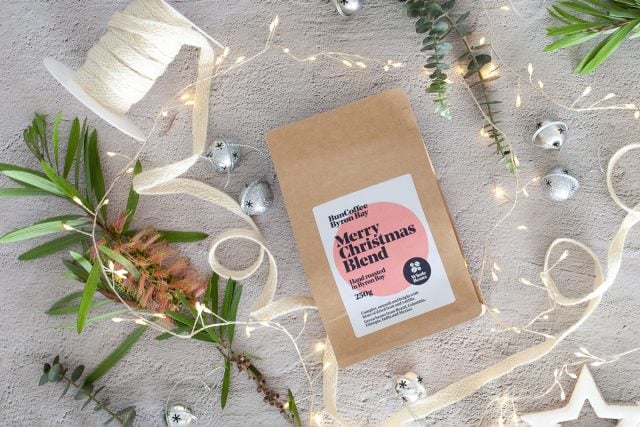 9. Roasting Here in Byron Bay
Choose from ethically sourced Certified Organic, Rainforest Alliance, Fair Trade, Australian grown blends or compostable coffee pods… all traceable to origin. Want to travel a bit further afield? Explore Bun Coffee's Single Origin Bar and taste the world of coffee through their unique Single Origin collection from over 40 countries.
Open Monday to Friday 7am–4pm and Saturday 7am–11am.
Unit 15–17, 1A Banksia Drive, Byron Bay
6680 9798
www.buncoffee.com.au
---
10. Mark Tuckey Furniture
Mark Tuckey Furniture is an Australian furniture company dedicated to designing and creating timber furniture with integrity, simplicity and strength, using recycled and sustainably managed timbers. They also retail complementary seating, homewares, lighting and artwork. Their commitment is to produce lifetime pieces with a negligible footprint.
10% OFF new dining table and bed orders until 31 October.
14 Bayshore Drive, Byron Bay
8403 3062
www.marktuckey.com.au
---
11. Weave Guitar Co.
A temple for guitars and their passionate players. A small yet fully equipped workshop where guitars are serviced, repaired, modified, and even built from scratch. Servicing international touring pros, buskers, and first timers alike, no job is too big or too small.
No up-charge for lefties. Gluten-free and vegan friendly.
2/2 Acacia Street, Byron Bay
0413 470 775
www.weaveguitars.com.au
---
12. North Coast Radiology
North Coast Radiology have a new CT Installation at their Byron Bay clinic, opening up a greater variety of new examinations. Bulk billing is available for Medicare eligible examinations.* For more info, give them a call on 6685 2222, book online via their website, or visit them at Byron Bay Fair – where the locals shop!
20 Bayshore Drive, Byron Bay
www.byronbayfair.com.au
Socials: @ByronBayFair
---
13. Habitat Workspace
A modern co-working space for freelancers, start-ups and small businesses. Thirty-four lockable 'pocket offices', and twelve open plan desks; a smarter, more affordable way to do business in an upscale setting that is still relaxed.
Building B1, 1 Porter Street, Byron Bay
02 6694 3244
habitatbyronbay.com
---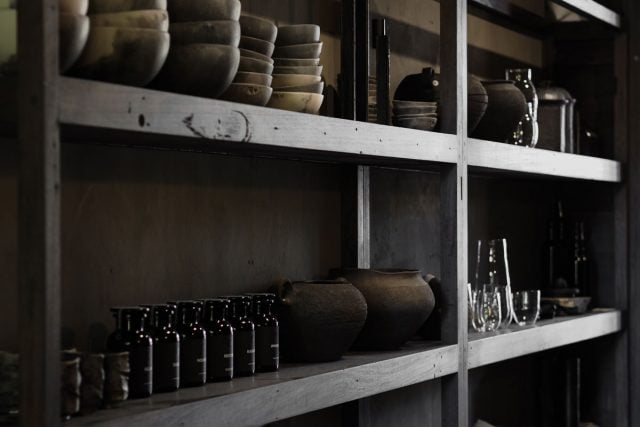 14. Shack Palace Rituals
Stepping into the Shackpalace store at Habitat you may experience an overwhelming sense of calm. This local, family run business has a passion for thinking differently about the way we live in our homes, designing and sourcing luxurious, handmade, artisan homewares and products that help us stay a little more mindful every day.
Shop 8, 1 Porter Street, Byron Bay
www.shackpalacerituals.com
Instagram: @shackpalace
0488 616 408
---
15. Katrina Beohm Real Estate
Katrina Beohm Real Estate specialise in coastal and hinterland sales through Byron Bay, Ballina and Lismore shires. With twenty years locally in real estate, Katrina and her team have a large database and first-class marketing strategies that can help you sell your property.
8 Porter Street, Byron Bay
Kbrealestate.com.au
0459 066 087
---
16. Mr Simple
More than a clothes store, The Department is a place to find dependable products that stand the test of time. An eclectic collection of clothing, eskies, furniture, books, shoes, drink-ware and even a barbershop, the common thread is simple – only stuff they love gets in the door. If you need something for a weekend barbecue or your mate's birthday, The Department is your spot.
Shop 39-41, 1 Porter Street, Byron Bay
@departmentofsimplethings
---
17. HighSpec properties
A new Northern Rivers real estate experience awaits…
HighSpec Properties – an award-winning buyer's agency brings experience, dedication and expertise to your Byron Shire property search.
Watch your property dream come to life through award-winning strategy and negotiation. Amanda Gould and Felicity Mackenzie will be your secret agents, on your side to help.
It's time to enrich your property journey.
Ground floor, Habitat Building, 20 Fullerton Lane, Byron Bay
0449 765 106
---
18. The Beach People
Get ready for summer with luxurious and practical seaside essentials from The Beach People. Designed in Australia, made to last season after season, their iconic designs have become beach must-haves across the globe. From hats, to beach towels, to insulated picnic baskets, visit their flagship boutique to shop beautiful, long-lasting pieces for the whole family.
Shop 48, 1 Porter Street, Byron Bay
www.thebeachpeople.com.au
@thebeachpeople
0429 304 555