The Spirit of Brunswick Heads
Known for its stunning river entrance and its 'beach town' vibe, Brunswick Heads has transformed from sleepy fishing village to one of the hubs of the Byron Shire. The Brunswick River is a perfect spot for water activities such as paddle boarding, kayaking, boating and swimming. Brunswick has managed to balance its ever increasing appeal to visitors with a strong sense of community identity, helped by the fact that most of the local businesses are owned by local residents. 
Brunswick Heads has something to offer for everyone, whether it's shopping, dining or outdoor activities. It's packed with options for the perfect for lunch or dinner, with a spot of shopping before or after. There are a lot of natural spaces, parks and beaches which are great for family gatherings, or to just kick back and relax on a picnic. Down the road and across the footbridge you'll find Torakina Beach, a tranquil curve of sand sheltered by the two breakwalls at the mouth of the Brunswick River.
1. Brunswick Picture House
BPH is your 'Summer House of Fun' with their biggest program yet, featuring internationally renowned entertainers, comedy royalty, kids shows and lots of saucy performances for the grown ups.
6685 0280
---
2. MahaShe
MahaShe is a local designer fashion label, specialising in cotton. With its timeless styles and unique prints, you can't help but fall in love with this label.
6689 7059
---
3. Ozone Beauty Spa
Every $299 purchase receives a FREE Oxygen Spa Facial Voucher (worth $150). Get Christmas ready with massage, skin & HiFu treatments from just $10. Unique Australian made jewellery & gifts. 6685 1145
---
4. Fabulous Mrs Fox
With a fabulous mix of old and new, from fashion to furniture and everything in-between, they have something for everyone! Open 7 days for you to enjoy.
6685 0020
---
5. Bernardi's
A landmark of Brunswick Heads, serving their famous Artisanal Gelato with an authentic 1974 recipe. They also have fresh juices, outstanding smoothies, coffee and food. Drop in and say hello!
6685 1988
---
6. Bruns News
A newsagent and local artists' outlet. In addition to newspapers, magazines, stationary and gift cards.
They stock local Indigenous artworks, cards and postcards, lollies, aspirins,
fresh flowers and more.
---
7. Bronson Barber
For men, women, and teenagers wanting an awesome haircut, Bronson is the barber for you. With 25 years of experience in Europe, the US, and Australia, you'll walk out feeling a million dollars.
---
8. Portia's Will
Are you looking for a gift for the elegant, bold and courageous woman in your life? You'll be sure to find something in their compelling collections of sartorial splendor.
---
9. The Key Basics
Versatile wardrobe essentials for men and women, created to be worn again and again. From carefully curated threads and ceramics, to sneakers and scents... mention The Echo for 15% off in-store.
---
10. Daily Counter
Serving Allpress coffee, Scratch Patisserie pastries & their famous toasties. Open Monday to Friday 6.30am – midday and Saturday / Sunday 7am – midday.
---
11. Brunswick Heads Physio
Treating all sprains, strains, aches and pains with experienced hands-on treatment and exercise prescription. 45 minute sessions. Easy online booking.
0419 629 333
---
12. Brunswick Surf Shop
Your traditional, customer focused surf shop, providing surf apparel and accessories from major brands. Full to the brim with everything you need to enjoya day at the beach.6685 1283
---
13. Bruns Beach, Bait and Tackle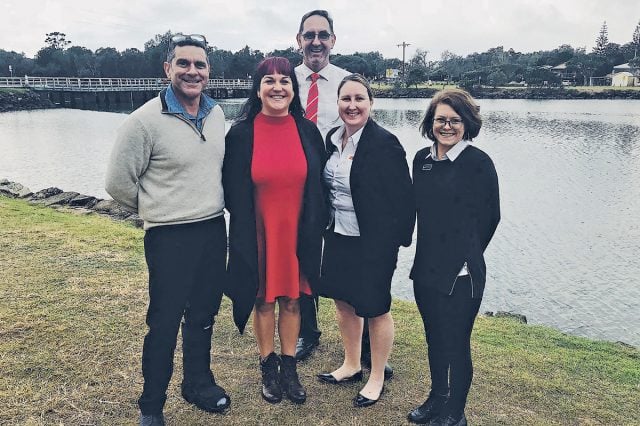 For all your beach needs. Kids' and adults' hats. Swimwear, toys, games, towels, inflatables, boards, umbrellas and shelters. We also stock camping gear and a full range of fishing tackle. Rod hire and bait.
---
14. Clem's Cargo Marketplace
A treasure trove for secondhand-lovers and those who tread lightly. With its own café, Clem's houses 12+ specialty traders showcasing quality furniture, resale and new apparel, and local artists.6685 1213
---
15. Whatever Goes
Huge range of beautiful imported giftware, homewares, handcrafts, clothing, crystals and jewellery. Affordable prices, fantastic selection for all ages. Open 7 days a week. 
---
16. LJ Hooker Brunswick Heads
Experienced in all facets of real estate, their team can assist the community with all enquires relating to residential rentals, as well as rural, residential, commercial or industrial sales.
6685 0177
brunswickheads.ljhooker.com.au
---
17. Byron Shire Real Estate
The weather is heating up, and so is the market. Interstate buyers, investors and first home buyers are back this summer, so call Todd or Gary if you're considering selling!
Todd Buckland 0408 966 421
Gary Brazenor 0423 777 237
6685 1754
---
18. Brunswick Heads Creative
Co-working • Community • Collaboration. A boutique local co-working space nestled among the countless cafes and just a stone's throw from the famously picturesque Brunswick River and beach.
0405 484 039
---
19. Trawlers Bar and Kitchen
Open for breakfast, lunch and dinner. Full bar with six types of beer on tap, cocktails and delicious food with a great view, oh la la...
6685 1305trawlersbarandkitchen.com.au
---
20. Kathryn Riding Yoga
Kathryn is a much loved teacher with many decades of experience, who offers weekly classes in her beautiful light filled studio in Brunswick Heads. She also teaches retreats in Ubud.
0423394288
---
21. Brunswick Heads Pharmacy
Come and see the gorgeous Christmas windows at the Pharmacy and browse their excellent selection of boutique, hard-to-find gifts and beauty products.
6685 1219