1. The Regent | 2. Pulp Fiction | 3. The Murwillumbah Citadel | 4. Tweed Escapes | 5. Murwillumbah Wreckers | 6. Aura Gardens Nursery | 7. Mayberry Meldrum Anderson | 8. Cabin Life | 9. Mavis's Kitchen | 10. Murwillumbah Cycles | 11. The Yellow Brick Studio | 12. The Foundry | 13. Northern Rivers Property Group | 14. The Modern Grocer | 15. Murwillumbah Potters at Tweed Gallery
---
A word from the Murwillumbah Chamber of Commerce
Murwillumbah has grown into a vibrant community with an excellent range of food, retail, and professional businesses. A relaxing drive up Tweed Valley Way gives visitors and locals the opportunity to enjoy the beautiful countryside, I encourage everyone to come and see the range of art, food and beauty the town has on offer.
The Murwillumbah & District Business Chamber represents the local business community and we strive to create connections between business owners and employees, as well as between business and the community. It has been a difficult year and some of our local businesses are still struggling with the impact of Covid-19, drought, bushfires, and floods but we have come together and continue to support our community and be supported by our community, ensuring that we continue to create a better future and vision for Murwillumabh.
If you are interested in getting involved in the local business community and finding out about plans for the cinema, micro-brewery, and Sunnyside upgrade join us at the upcoming March business chamber network event at the newly refurbished Regent Cinema this Thursday from 5.30pm. Pick up a ticket at here.
---
1. Cinema – Theatre – Café – Bar
The Regent has had her makeover and is ready for Showtime!
Come walk the red carpet, enjoy a drink on the extended Balcony Bar and admire the original Art Deco architecture. Specialising in Australian, independent, foreign and family movies, The Regent has something for everyone! Their Double Doco and Dinner on Wednesday nights gives you two options – double feature special deals.
The Regent showcases a variety of live events, from music to comedy, and will be the home of Cheeky Cabaret whilst The Bruns Picture House undergoes renovations.
Travel the world in the café: Khanthaly's Kitchen (south east Asian) on the weekends, Mexican on Tue/Wed nights, and Byron Gourmet Pizzas are always available with gluten free, vegetarian and vegan options.
Enjoy the beautiful hinterland drive from the Byron shire with so much to see around town – make a day of it!
The Regent – Cinema • Theatre • Cafe • Bar
5 Brisbane Street, Muwillumbah
Check the website for What's On!
www.the-regent.com.au
---
2. Pulp Fiction
Pulp Fiction is a little gem of a shop that has a wonderful, eclectic mix of offerings. Their unique secondhand store is home to an abundance of funky clothes and fiction, perfect for the unique individual! Whether you're a complete bookworm or a fearless fashionista, you're bound to find something to enjoy at Pulp Fiction & Fashion.
You can get lost for hours in this treasure trove of a shop. The entry room is lined with Australian and local authors; the sitting room is filled from floor to ceiling with general fiction. A fan of literature? You can meander into the worlds of music and art, philosophy, history, autobiographies, crime, science, and a host of other genres.
Fossick further to explore rooms full of eclectic fashion items – nostalgic fabrics and styles from bygone eras in Pulp Fiction & Fashion's extensive collection of vintage and secondhand clothing and accessories.
Visit them for extreme literary fiction, non-fiction, and eclectic funky fashions.
309 Tweed Valley Way, Murwillumbah
0403 169 616
---
3. The Murwillumbah Citadel
The Murwillumbah Citadel is a 100-year-old ex-Salvation Army building that has been renovated over several years to become an intimate venue for all genres of performance. The wooden floors and stage, thick brick walls, red velvet curtains, and groovy bar create an atmosphere that is serene, cosy, with a bit of old world charm and maybe a bit of hip.
Get on The Citadel's mailing list to keep updated. Jazz Sundays, classical music, singer/songwriters, theatre. All are welcome here.
www.thecitadel.com.au
21 Queen Street, Murwillumbah
Insta: @citadel.murbah
0409 040 280
---
4. Discover the Tweed with Tweed Escapes
A unique range of daycations, staycations, bespoke packages, naturally immersive eco-cruises and tours, boutique charters, picnics on water and local food, farm and brewery tours by road, Tweed Escapes take you to extraordinary local places.
Experience the amazing biodiversity of the Tweed Valley. Taste delicious local food and enjoy hand-crafted beverages from locally sourced ingredients, on all of their unique cruises and tours.
Explore the Tweed from rainforest to coast, rivers to mountains and paddock to plate, with Tweed Escapes.
Book your next authentic experience in nature with them today!
[email protected]
www.tweedescapes.com.au
0422 405 011 or 0439 554 525
108 Riverside Drive, Tumbulgum
---
5. Murwillumbah Wreckers
Established in the early '70s, Murwillumbah Wreckers has been serving the local community under the current owner for over 20 years.
They have a courier network that can transport your much needed car part to all corners of Australia. For local customers they have fast and reliable couriers servicing the Northern Rivers.
They dismantle all makes and models, specialising in post-2005 model vehicles. They can source and supply any part through their network of over 250 members Australia wide.
With over 60 years of combined automotive experience, they look forward to your call.
02 6672 2869
11-15 Lundberg Drive Murwillumbah
---
6. Aura Gardens Nursery
Mark is a qualified horticulturist with 30 years of experience in retail and wholesale nurseries. He has the greenest thumb!
Anthony has a creative business background with a passion for great customer service.
Together they have created a 'garden experience' in the centre of Murwillumbah with a broad range of plants suitable for all gardens, and indoor designs, at reasonable prices.Open Tuesday to Saturday 8.30am-4pm; Sunday 8.30am-1pm
32-36 Wollumbin Street, Murwillumbah
[email protected]
auragardensnursery.com.au
FB: Aura Gardens Nursery
---
7. Mayberry Meldrum Anderson
Mayberry Meldrum Anderson have been servicing the Northern Rivers region for 35 years, and look forward to serving their clients for the next 35. They say the best part about working in this region is the long-term relationships they form with their clients. They have helped local clients grow from an entrepreneurial idea into large national and international businesses. Just as gratifying however is assisting clients through small business or employment ups and down, helping with investment decisions, dealing with family upheavals, and navigating ever changing regulations into a comfortable retirement. They hope to be there for their clients when they need it, and have seen time and again how the right advice can really make a difference in their clients' lives. If you are curious to see what better advice looks like, talk to them now.
02 6672 4044
315 Tweed Valley Way, Murwillumbah
www.mmaacc.com
---
8. Cabin Life
"Cabin Life" Timber cabin kits are the best quality, most affordable and most attractive "Cabin Kits" in today's market.
Kits are made from 44mm or 70mm thick solid timber with double glazed windows and are well insulated.
Kits are easy to DIY (with over 88 Youtube videos showing the various kits) or one of their expert teams can construct your cabin for you. They choose not to have expensive displays so that they can pass on those savings directly to customers.
Whether you need a backyard cabin, she shed, man cave, art studio or a guest room – the options are endless.
Over 10 years in the business.
Please go to www.cabinlife.com.au for detailed information.
---
9. Destination Tweed Artisan Food Weekend at Mavis's Kitchen
Saturday Night's Fire Cooked American Barbecue. There's no better way to spend a magical March evening than at Mavis's enjoying the flair and flavour of their American barbecue feast. Join Chef Clive and Mavis's team as they showcase locally sourced produce, garden edible greens, and a succulent menu with local entertainment.
Sunday Champagne Breakfast: Breakfast will feature a glass of lemon myrtle infused champagne, iced teas from Mad Mountain Family Farm, espresso coffee made to order, Neil Baker pork, seasonal greens from the extensive edible gardens as well as pastries and local fruits.
Enjoy a guided tour of the gardens with Mavis's resident green-thumb enthusiast. Saturday 13 & Sunday 14 March.
64 Mount Warning Rd, Uki
Call us to book 02 6679 5664
---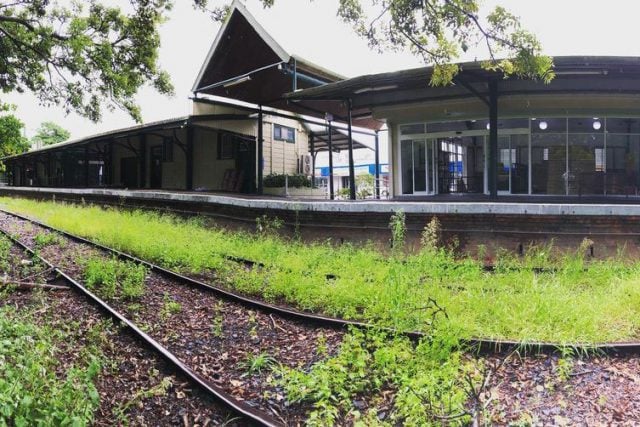 10. Murwillumbah Cycles
Jeff, Rachel and their team are super excited to share their awesome news with the cycling community and future cycling enthusiasts in the Tweed Valley. After a lot of behind the scenes work in the last few months, lack of sleep and not much time to ride bikes, along with two busy shops during COVID-19, they are relocating Murwillumbah Cycles. They have taken up an amazing opportunity to relocate to a bigger premise at the Murwillumbah Railway Station from 1 March! The amazing local support in the last 22 months, along with the impending construction of the Tweed Valley Rail Trail has been a major influence on their location change. Their new store is currently being fitted out. So, watch this space for exciting times ahead on bikes as they take their store to the next level in the not-too-distant future! They look forward to seeing you in store very soon.
271 Tweed Valley Way, Murwillumbah
www.murwillumbahcycles.com.au
02 6672 3620
---

11. The Yellow Brick Studio
Tools, materials, surfaces and gifts for artists.
Find us at M|Arts Precinct in Murwillumbah.
Open weekdays 9.30am–4pm
(Later on Thursdays till 6pm)
Saturdays 9am–2pm.
0428 266 834
[email protected]
3B Brisbane St Murwillumbah
---
12. Gifting at its finest
This 'News, Lifestyle & Gift Emporium' boasts a carefully selected range of luxurious and versatile gifting options for the entire family – all within a restored 1908 building.
This is the place for readers, dreamers and creators and those seeking gifting inspiration for someone special. Your senses will be engaged and excited as you enjoy browsing the beautiful range of giftware, cards, magazines, fashion stationery, children's toys, games, books, confectionery, local tourist mementos and more. A unique retailing shopping experience – be treated to gifting and customer service at its finest.
There has never been a better time to explore The Foundry Murwillumbah.
The Foundry Murwillumbah – News, Lifestyle & Gift Emporium
90 Murwillumbah Street, Murwillumbah
Facebook: thefoundrymurwillumbah
Instagram: thefoundrymurwillumbah

---
13. Beyond Byron Bay
The hunt for the perfect beachside property is pushing buyers beyond Byron Bay to outlying towns.
For investors and first-home buyers, there is opportunity in towns like Murwillumbah, where the median house price is $560,000.
Murwillumbah offers an enviable lifestyle within a 30 minute drive of Coolangatta airport and under an hour's drive to Byron Bay. The beaches and spectacular national parks are close and its booming food and art scene is the town's beating heart.
Locals Adrianna Jenkins and Paul Stobbie are two of Murwillumbah's leading real estate specialists. The pair have more than 20 years combined experience selling property in the Tweed Valley.
Visit northernriverspropertygroup.com.au to join their exclusive buyers' database to hear about upcoming properties before they are listed. Northern Rivers Property Group promises 'real estate done differently'.
114 Murwillumbah Street, Murwillumbah
Contact Paul on 0448 191 351
or Adrianna on 0422 265 871 today.
---
14. The Modern Grocer
Heading into their 15th year, family run business The Modern Grocer is the destination of choice for all things food in Murwillumbah. A favourite with tourists and locals alike, they are open for breakfast and lunch seven days a week for a unique dining experience, with fresh, local, made-to-order food, a mouthwatering range of pastries and delicious gluten free options. Whether you're meeting friends or just enjoying some time to yourself, The Modern Grocer is the place to be. They also offer catering for weddings, parties and special events.
The Modern Grocer
Open Mon-Sat 7am-3pm & Sun 8am-1pm
1-2 Wollumbin Street, Murwillumbah
---
15. Earth 'n' Fire – Fifty Years of Murwillumbah Potters
Friday 5 March 2021 to Sunday 2 May 2021
2021 will mark the fifty year anniversary of the Murwillumbah Potters Inc., located at the old Fernvale School on Fernvale Road, just outside of Murwillumbah. The Murwillumbah Potters were formed in 1971 to encourage and provide a space for beginners and experienced potters and creators to share skills and support each other.
Earth 'n' Fire will celebrate the history and strong continuity of the club showcasing the pottery of the club's tutors – both past and present – and a selection of creations fired in traditional wood, gas and raku kilns. The exhibition will demonstrate the diversity of styles and skills of members, with a diverse selection of functional, decorative, sculptural and unique ceramics.
Tweed Regional Gallery & Margaret Olley Art Centre
2 Mistral Road, Murwillumbah
Open Wednesday to Sunday, 10am–5pm (DST)
artgallery.tweed.nsw.gov.au
---
This feature appeared in the printed Byron Echo Issue 35.38.