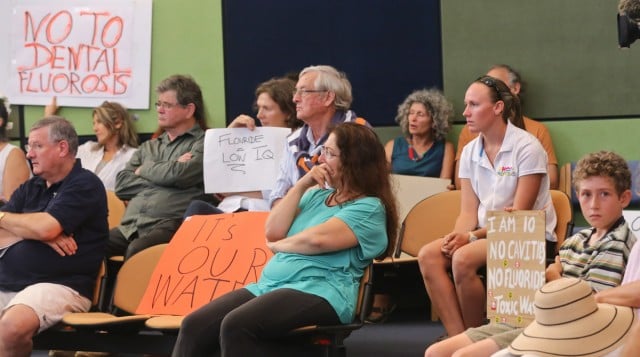 Hans Lovejoy
Byron Shire will remain fluoride free after councillors voted against Cr Diane Woods's motion in a rowdy meeting full of interested onlookers yesterday.
Mayor Simon Richardson, Crs Paul Spooner, Duncan Dey, Rose Wanchap and Basil Cameron voted against, while Di Woods, Sol Ibrahim and Alan Hunter voted for. Cr Chris Cubis was absent from the meeting and therefore forfeited his vote, but his support for fluoridation was read out by Cr Woods.
And from the ashes of fluoridation rejection, a challenge has been thrown down to the NSW government. Mayor Simon Richardson was applauded by a full gallery of residents as he said Byron should be a test case in achieving improved dental through education rather than medication.
'If Health NSW are truly concerned about dental health and not just fluoride, then they should support us in other ways to achieve better outcomes,' he said.
Cr Paul Spooner also questioned the state government's motives.
'Why are in this position?' he asked. 'The dentist who addressed us this morning told us that he was very supportive of preventive health care. He would like to see that happen; he would like to do those things – but he can't. And why can't he? Because the NSW government is somehow abandoning their primary healthcare in terms of our children. This is what's really going on here. We are being forced as a local government to pick up the slack of the state government. It's shameful that in a 21st century economy such as ours, that we are not ensuring better health care for our children. We're grasping for an engineering solution but it's a personal health issue.'
Health department presentation

And a startling claim came at the end of Cr Duncan Dey's speech. He said in concision that he 'doesn't usually do this' but he googled Professor Wayne Smith's name (he is a senior NSW Health official) and presented to Council earlier in public access. 'What came up shocked me… . I have no faith in that presentation. I urge others to also do the same [research his name] before making your decision.'
Last week Fairfax media reported that Professor Wayne Smith 'attacked a Macquarie University academic' because he 'publicly disagreed with the official government explanation for the Sydney Water tainted tap water scandal'.
Contaminated tap water last December left residents in the Botany area who drank it vomiting, gagging and dizzy.
According to the Sydney Morning Herald report, a leaked email claims that Mr Smith wrote to Chris McRae, a chemistry expert, accusing him and his university heads of making 'scientifically incorrect and indefensible statements'. Mr McRae was engaged to undertake an independent study of the water scandal. When Mr McRae responded to Mr Smith, it is reported that Mr Smith immediately emailed the manager of the NSW Health Water Unit and wrote, 'Let's discuss [Dr McRae's letter], then go for the jugular'.
Cr Alan Hunter spoke in favour of fluoride, and says his views are influenced by his personal experience and he is concerned for the children and the elderly. 'I wasn't convinced by the arguments against fluoridation. This is not forced medication; there are options for those who don't want to drink the water. [For example] putting rainwater tanks in or buying bottled water. It's low in cost to deliver – the cost is less than $2 per person per year.'
'I have seen no evidence of harm after 63 years. Children don't get a chance but as parents we do.'
Weighing up evidence
Cr Sol Ibrahim started by saying that he wanted to weigh up the evidence and not the strong emotions within the community.
'I put my hand on my heart and I did that in the last two months. I diligently pursued the references that were presented to me. In every instance I went to the original documents, scientific papers and cast my judgment based on that. Some time ago I did a degree in research methodology and fiscal analysis at University of NSW. I didn't think I'd use it, but here I am 15 years later using it. I don't want to be condescending but… the way that science is conducted, the way that papers are written, the methodology behind the research, is a very difficult and complex task and frankly is not that easily assimilated by those who do not have that training or have studied it. The question before me was: Does fluoridation work, and are the consequences significant? Are there harms, and are these significant? And there are philosophical and ethical questions that go around treatment of the population. On the one hand I found for those that were anti-fluoride apart from the many emails I received; many who were not locals, there are websites dedicated to it…
'On the other side was the World Health Organisation [WHO], with significant resources on this issue, as have the Australian and US medical dental associations… I went back to my science training in chemistry and looked at research papers.
'And I found this: Every single paper that was presented as evidence of harm for fluoride, when I went to the original source I found that conclusions drawn by those researchers were not the conclusions being presented in the emails received by me.
'A lot of the emails were "cut and paste" – a lot are being distributed around the world like this. A lot pick up small pieces out of that research and present it as fact that proof. But when you read the entire research paper you find the results are very different.'
A different approach
When mayor Simon Richardson spoke, he said, 'It's a shame fluoride dwarfed the debate; this is about dental health'.
'And as for personal stories on fluoride – it reminds me about smokers. When the evidence was coming out about smoking, you would hear, "I smoke a pack a day, I'm 100 and as fit as a fiddle". It's worth noting [person stories] but you can't put weight on it. I'm interested in what the world is doing. The department of health are one point of reference for science… but global science is far less straightforward. Europe and most of the world in fact have enough problems and concerns about this that they are enacting the precautionary principle. When science at a global level is at best contestable, it behoves us as community leaders to ensure that something that can't be undone isn't done, unless it's proven beyond all reasonable doubt that it's safe.
'What I'll be doing with my foreshadowed motion is going back to the department of health. I think this shire is not about just saying "no". Instead, it's "no thanks, but how about this instead". The department of health say that fluoride will improve dental outcomes of under-five-year-olds by 15 per cent. That's one figure they hammer out: 15 per cent difference. Well, let's see if they will let us be a trial case and see if we can achieve that 15 per cent in other ways.
'Can we do it by increasing education with pre- or post-natal parents? If the biggest issue is children under five, let's educate rather than medicate. [We should be] subsidising fluoride varnish where it's already having fantastic results, bringing back those primary school dental health check-ups… and if we have a waiting list of a year to get decent dental care maybe that's a sign that we need a second free dental health clinic. It's up to those who want fluoride to prove that it's the only way. I haven't seen that proof. So I'd like the department of health, who have said they have allocated $7m for dosing plants… well I'll be asking if Byron Shire can have our portion, and can we spend it on non-dosing plant infrastructure… if we can show that it has the same 15 per cent difference, well then we don't need fluoride.'
The issue has raged for months with surrounding shires debating its merits; Fairfax media reported recently in Lismore's case that 'NSW Health statistics show young children from birth to four years of age were being hospitalised for the mass extraction of rotten teeth at twice the rate of children in the rest of the state'.
After bitter recent debate in Lismore, that LGA is set to be fluoridated along with Ballina. The region's water authority, Rous Water, is currently planning dosing plants for its Rocky Creek Dam near Lismore.
Tweed Shire has had its water supply fluoridated for a number of years.