By Darren Coyne
First a wave pool, now a BMX track … is Ballina shire vying to become the sporting capital of the north coast?
After decades of being seen as a family-friendly holiday destination, Ballina is grappling with maintaining its popularity following a series of shark attacks.
At recent community meetings, business-owners have bemoaned a down-turn in trade, and popular surfing spots along the coastline have had just a fraction of the surfers.
Population growth has also placed pressure on existing facilities such as the popular skatepark at Missingham Bridge.
But at next week's meeting, the council will consider two notices of motion aimed at improving and expanding sporting facilities in the shire.
Cr Keith Williams is pushing for a state-of the-art wave pool, and now Cr Jeff Johnson, who previously pushed for an ocean swimming pool, now wants to see a BMX track built at Lennox Head.
Cr Johnson said a group of school students had developed a proposal to build a BMX track.
The students have consulted with the Lennox Head Residents Association, and have sought feedback from council staff.
They now want in-principle support from the council, and resources to develop the proposal further.
'The students propose a recreational style cycling facility rather than a competitive racing type circuit,' Cr Johnson said.
'Several potential site options have been identified and the students have sought further information from Lismore City Council following their recent announcement of the opening of a new facility at Nesbitt Park, Lismore.
Cr Johnson said the group of students was also interested in sourcing grants or corporate sponsorship (in kind civil works) to assist the project.
'The new subdivision areas within Lennox Head include many families with school aged children and a cycling facility represents an opportunity for additional social and active recreation for a relatively low cost,' he said.
'Furthermore, this project has the potential to relieve the skate park of cycling activity which is not preferred at this site.
'The purpose of this notice of motion is to identify initial support for the concept and request for staff to assist the students in their endeavour to investigate the proposal. '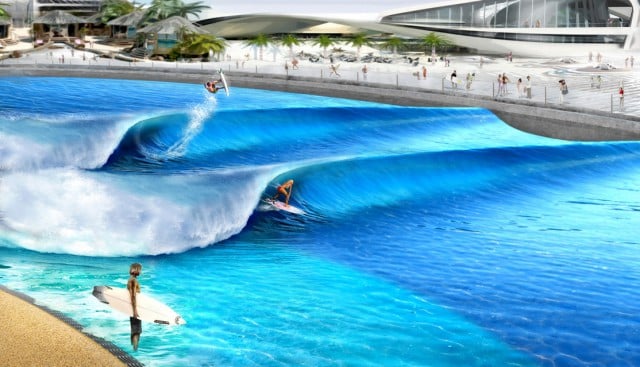 Meanwhile, Cr Keith Williams wants state government help to build a wave pool as a matter of urgency.
Cr Williams said the council needed a solution that directly addressed the perception that Ballina was no longer a safe destination following a spate of shark attacks along the coastline.
'A wave pool that provides a safe, year round surfing venue, would completely turn the current situation on its head,' he said.
'We would become the safest destination to surf in Australia.'
The council meets next Tuesday from 9am.