Photos and story: Caz Parker
On the Italian island of Sardinia villagers are ten times more likely to reach the age of 100 than are people born elsewhere in the world. Longevity experts believe Sardinians' longer lives are owed to their family values, laughter, long walks, nutritious Sardinian food and an indispensable glass of their locally produced Cannonau red wine. This recipe to a long life may well be on our doorstep at Byron's candle-lit Basiloco restaurant. Here you can explore remarkable Sardinian cuisine over a tipple of the famous Cannonau wine in the warmth of family-friendly Italian hospitality.

Basiloco's international wine list, along with 30 exotic cocktails, has been carefully selected to suit their contemporary menu of seafood (arriving daily from Ballina's fishermen), pasta, gourmet pizza, salads and traditional Mediterranean fare such as hearty slow-cooked lamb.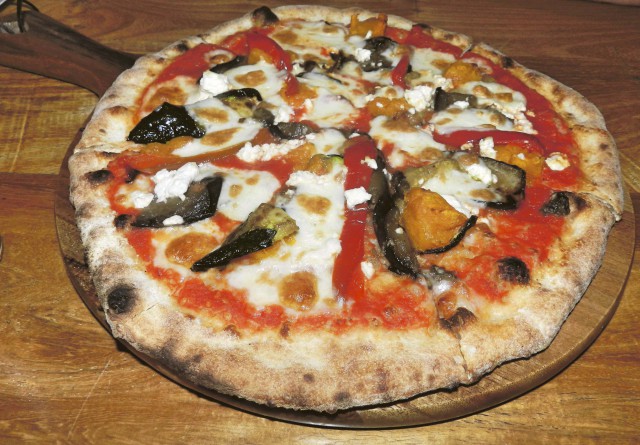 The share platter of Antipasto Misto Di Mare is a show stopper, attracting glances of food envy from across the tables. This culinary adventure is bursting with tender-as-can-be calamari, brandied prawns, smoked salmon, sardines, bite-sized bruschetta, and superb dipping sauces. The platter's champion is Pane Carasau, delicious wafers of thin light crispy bread. This bread's ancient recipe was conceived to sustain ­Sardinian shepherds who walk up to eight kilometres a day and are known to live the longest lives on Earth.
Mozzarella Fior Di Latte is another treasure of Italian cuisine and this delicately flavoured cheese crowns their inspiring wood-fired pizzas. Basiloco owner Manual Agus says, 'The mozzarella and pizza flour are especially imported from Italy; they're the best possible ingredients. Also imported from Italy is our new Marana Forni pizza oven. It weighs two tonnes so it took a crane to install it and has been months in the planning.' Under the oven's impressive silver dome sits the patented rotating oven, ensuring pizzas are baked evenly and the first-class ingredients cooked to scrumptious golden perfection. No need to go to Italy to savour a superlative pizza; Manual has brought a slice of Italy to Byron. Fortunately the gourmet pizzas and many of the heart-warming dishes are now available for takeaway.
For a final decadent plunge, Basiloco's Tiramisu lives up to its reputation of being a 'pick-me-up' with its luxurious silky layers and a flurry of swoon-worthy ­cocoa.
Basiloco is the place to live it up and enjoy the good life. As they say in Sardinia, 'May you live to be 100'.
n Basiloco 32 Lawson St, Byron Bay. Open Wednesday to Friday from 6pm. Saturday and Sunday open for lunch from noon. www.basilo.co or call 6680 8818.