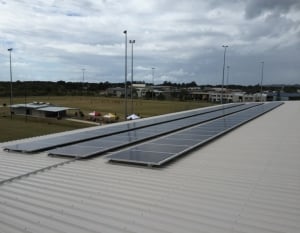 A 25kW rooftop-solar system and lighting upgrade of Byron's regional sport and cultural complex is saving Byron Shire Council energy and more than $15,000 a year.
The Cavanbah Centre's photo-voltaic (PV) system alone will provide up to 70 per cent of the centre's current energy use.
Along with a lighting upgrade and solar hot-water system retrofit, council is now saving 54,300kW hours of energy and 48 tonnes of greenhouse gas annually.
The photo-voltaic (PV) system was installed recently after an energy efficiency audit at the centre identified multiple opportunities for energy savings.
A follow up audit has confirmed that council is now saving $15,200 per year.
Byron Shire Council's open space and resource recovery manager, Michael Matthews, said the energy efficiency upgrade was a great opportunity to help council save money, energy and greenhouse gas emissions.
Mr Matthews said the savings from the new system was 'equivalent to the energy consumption of 8.3 average households'.
Byron shire mayor Simon Richardson said 'It's a good start on reaching our emissions target and council is committed to renewable energy sources on community buildings'.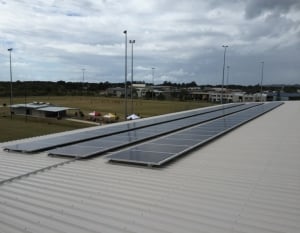 Mr Matthews said the initiatives had 'a payback period of less than six years and will save approximately $375,000 over the life of the system based on current energy price projections'.
Other Byron Shire Council solar PV systems include a 50kW system on the West Byron Sewerage Treatment Plant, a 5kW system at Brunswick Valley Community Centre, four solar hot water systems and 10kW at Myocum Landfill.
Mayor Richardson said 2016 was shaping up to be another positive year for the Cavanbah Centre.
'The new building name has gone up and the plan of management for the site is being reviewed to support diversifying the site uses,' Cr Richardson said.
'It's building a strong clientele with sports, cultural activities and meetings. As a result, income revenue has grown 25 per cent in the past financial year.
'As the name proudly says, with the support of the community the Cavanbah Centre is truly becoming a meeting place,' he said.