Packing a Punch
Osaka Punch have a 'stonk' on for taking the stage. A wise man once wrote of them: 'You can't call (Osaka Punch) a "warmup" band… They're more of a "set fire to the stage and hope the next act can still use it" band. Their sound takes me back to a Faith No More era, where sounds and styles blended.'
The heavy groove single is the catalyst for the tour and will see the band visiting Melbourne, Sydney, Gold Coast, Toowoomba, Byron Bay, Gladstone and of course hometown Brisbane venues. Stonk was recorded while on a stint in the UK for the band – a trip that taught the band a whole lot about themselves and the band they are in. They returned to Australia with a renewed vigour and a little more streetwise.  The track was recorded in the Grammy award-winning Parr St Studios with Andrea Wright (Elbow, Anathema, Coldplay) and will feature on their debut full-length that will drop in September 2016.
The growing hype surrounding this act is based solely on a virtuosic high-energy live performance showcasing the group's ability to straddle any genre from authentic old-school funk to extreme modern metal. This flexibility has caused critics to draw comparisons to Frank Zappa and Mr Bungle, and has already earned them support slots with high-profile international acts and the creme-de-la-creme of the popular Australian scene.
Saturday at the Hotel Great Northern.
A Sunday Gift
John Gift performs originals and hits from the likes of Credence, The Eagles, Neil Young, Bob Dylan and Cat Stevens. He describes himself as acoustic, folk and blues.
John has travelled all over the country and has many travel stories and original songs he likes to share with his audience. Catch him at Club Lennox on Sunday.
Blue Birdy back at Brewery
If you prefer your music to be a soundtrack to getting shit-faced and ogling drunk backpackers, Blue Birdy nights are not for you.
On the fourth Thursday of every month jazz night at The Brewery provides a welcome alternative to the clubs and pubs along the main strip of Byron. It's an intimate venue where the focus is on the music.
This week, The East Coast Jazz Collective features: Fergo on bass, Jamie Patugalan on drums, Harry Nichols on guitar, Dan Brown on keys and special guest Greg Sheehan on drums. 8–11pm, free entry.
Chamber music in the house
Experience an innovative and intimate chamber music performance of stunning music composed by women played by women to celebrate International Women's Day 2016. Reclaiming The Spirit offers audiences a thrilling glimpse into the lives and legacy of women in music with a rare opportunity to get up close, experience live classical music, mingle and engage with the musicians and enjoy viewing visual art. Hear guest speaker Nadine Abensur – food writer, creative director of Art Piece Gallery Mullumbimby – in conversation with the musicians.
A pop-up art exhibition curated by Art Piece Gallery will feature hand-picked celebrated Byron Shire artists to enhance the performance. Muses Trio presents a diverse program of short works by classical muse Clara Schumann fused with contemporary works by Australian composers Louise Denson, Sarah Hopkins, Elena-Kats-Chernin and American composers Gabriela Lena Frank and Jennifer Higdon.
Muses Trio discover, perform, collaborate, commission and record outstanding musical works written by women. Muses Trio are Christa Powell (Topology), Louise King (Cello Dreaming) and Therese Milanovic (Topology), who bring this relatively unknown yet vastly deserving collection of music to the stage and to enthralled audiences. A signature of their carefully curated public performance events are guest speakers with an inspiring cause and a focus on celebrating exceptional visual artists. Inspiring, collaborating, connecting, commissioning and supporting creative women to pursue and share artistic excellence are important aspects of their research and performance outcomes.
Sunday 13 March, 3–5pm at Gretel Farm (134 Springvale Road Eureka).
Audience refreshments catered by Gretel Farm. Bookings online www.musestrio.com 6688 4778. $15–45.
Mead's mile
After many years touring as a solo artist, Jez Mead has formed an evocative instrumental three-piece. The Golden Mile creates a cinematic and psychedelic soundtrack of the wide open road and this country's landscape using haunting trumpet, guitar and a driving rhythm section.
The Golden Mile are in residence at The Bolt Hole, Byron Bay, this Sunday and next as part of Smokehouse Sunday. 5–11pm.
Return of the Walrus
Walrus and the Carpenter return to the Court House Hotel in Mullumbimby this Saturday. The band will be performing songs from their 2015 album Old Souls Eyes and also road-testing some new material for their next foray into the studio.
The evening will also feature performances from alt-country troubadour Ben Allan, and the ever-graceful Rebecca Ireland.
The show kicks off at 7.30. Tickets are $10 at the door.
Electric birds 
With electric violin at its core, this is music that soothes the soul and warms the spirit, with live looping and foley art, all based around tales of love, hopes, dreams, that anything is possible. Tailor Birds'  fresh take on folk, world, electronics, with electric violin at its core, the sound is fresh and engaging. They are fronted by electric violinist/vocalist Sophie Kinston, whom many will remember as the violinist for the Rosie Burgess trio. You can now see her in this new setup that is sure to surprise, engage and excite. With Byron included in the QLD tour, they will be performing at the Byron Bay Brewery on Friday. Joined by none other than special guest Queensland musician, Felicity Burdett, and of course drummer Daniel Brates. Come see the Tailor Birds in all their glory!!
Free entry, music starts at 8pm.
It's hip to golf
The Byron Shire boasts some of the best music in the country and the menu across the Shire is always impressive. This weekend is no exception with the The Hip Operation bringing New Orleans music to the Byron Bay Golf Club on Sunday, 4–7pm.
From cool jazz to the funkiest soul and RnB music, The Hip Operation features some of the country's most seasoned players – and this week's guest drummer world-renowned Terepai Richmond (Dig – The Whitlams) enhances an already superb lineup of regular members including: Greg Lyon (bass/vocal), Aaron West (guitar/vocal), Wil Sargisson (piano).
There's a real buzz around this band with a guarantee of a great afternoon of good food, great wine, cool breezes and cool music from one of Australia's finest bands.
Ten years of 80s
Absolutely 80s Band celebrates 10 years of touring
Ten years is a long time in rock and roll. But to Absolutely 80s rockers, Uncanny X Men's Brian Mannix, Kids in the Kitchen's Scott Carne and Boom Crash Opera's Dale Ryder it's a blip on the clock. Because they know how to rock. And this year, on their Ten Years Young anniversary tour, the Absolutely 80s band will rock your socks off with epic 80s tunes that'll get your head bopping and your feet stomping. You get a hot 'n' sweaty two-hour show with the biggest 80s hits, sung by the guys that sang 'em back then, on your radio and on Countdown. These are the guys that Molly was, um, talking about when he said: 'Do yourself a favour and go buy their records'. They're the real deal. Sure, they've been around but that's what makes 'em so damn good!
So, dust off your shoulder pads, bust out some fluoro and lube up your leather. It's time to get funky with the hottest 80s show in the country: the Absolutely 80s Ten Years Young anniversary tour. Friday 4 March at the Ballina RSL.
Baird to the Bone
Roots based singer/songwriter M E Baird relocated to Bangalow from Melbourne one year ago. He has been wooing local audiences with his semi-regular Merry Gin Sessions at the Bangalow Hotel in the Lounge as well as a performance at the Verandah Sessions as part of the Mullum Music Festival in 2015. M E Baird harnesses elements of country, soulful blues and balladeering with a Southern Gothic aesthetic to create his own unique and compelling approach to music and storytelling. His songwriting has a distinct visual richness and depth where each song is a cinematic vignette full of elegance beauty, tragedy and longing. The settings can range from haunting landscapes and frenetic city bars to sublime worlds of the imagination.
In anticipation of the single launch M E Baird will be premiering his new music video Full of the Devil and performing at the Bangalow Hotel this Saturday.
The music video was indeed a very local affair. It was shot in Bangalow and Federal and starred the talents of local and emerging young model Marlie Campton and the devilishly good looks and charms of Adam Reimnitz, a Welsh mechanic now living in Lennox Head. The video was directed and shot by Federal photographer and world-acclaimed male model Tirian Harvey. Local outfitter Ghostwood Vintage Emporium supplied the 1950s-inspired wardrobe. The video was designed, conceived and produced by Bangalow-based enterprise Style Agenda. Another character was the golden Ford GT supplied by infamous Bangalow local and car enthusiast Paul 'Schultzy' Schultz. Saturday at the Bangalow Hotel at 7.30pm.
Getting a taste of opera
Don your finery and come and experience a sophisticated afternoon of incredibly beautiful music provided by the talented duo Lecia Robertson and Margaret Curtis who, together, are Aria Viva. Aria Viva will perform three brackets – Entrée, Secondo and Dessert – with a French, Italian, and cabaret flavour. Ticket price includes a glass of sparkling wine and canapés served to you between each musical course. Be mesmerised by sublime soprano Lecia Robertson (Opera Queensland, State Opera South Australia and Victorian Opera's principal artist), with heavenly harpist and pianist Margaret Curtis (Lismore Symphony Orchestra's resident harpist, Performance Fellowship in piano holder from the Trinity College of Music in London).
Enjoy beautiful music in an even more beautiful setting when you enjoy a glass of sparkling wine and scrumptious canapés at The Byron at Byron on Sunday at 3pm. Tickets $80.
Bookings essential: call 6639 2105 or email [email protected]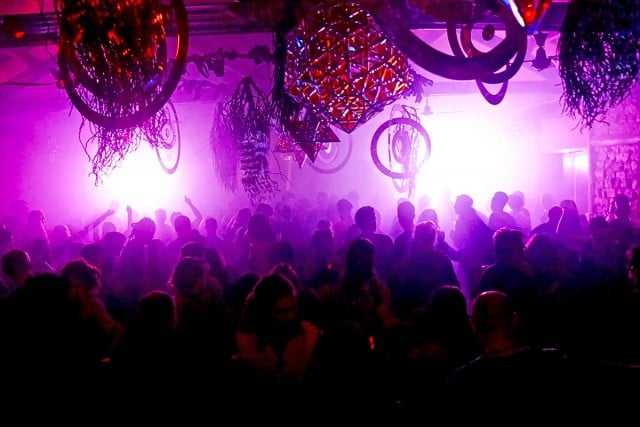 Moving your Lightbody
Experience the extraordinary at the Lightbody Community Dance Celebration. With beautiful light installations by Zakay glass, and music by DJ Pob, Nick Taylor, Asaf and Basic, the Durrumbul Hall is transformed into a disco in another dimension! Sound, lights and video by the exceptional Crystal Grid and live art by Rady J Blackcrab. There's also a bonfire to gather around – an amazing night you won't want to miss.
Durrumbul Hall on Saturday, from 6pm until midnight. $25.
Find us on Facebook events: Lightbody – Community Dance Celebration
Aloha Mullum!
There are prizes for the best dressed at Hawaiian night with Stukulele and Miss Amber this Thursday. Throw on those tropical prints, grass skirts and coconut bikini top and you could win a Lanakai Tenor Uke with a pickup! From 7pm at Club Mullum (Mullum Ex-Services).