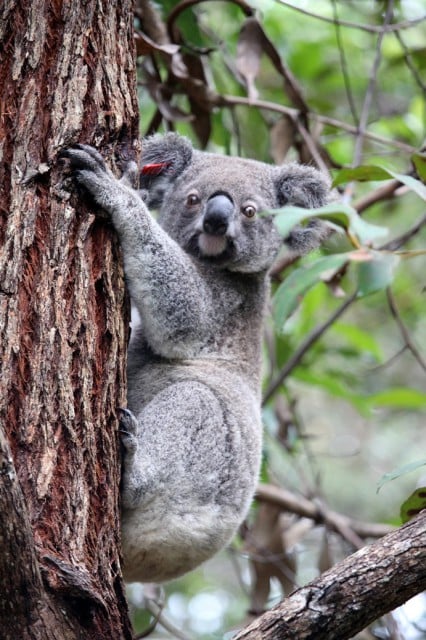 Chris Dobney
Last week was a rare bright moment for the besieged koalas of Tweed's Black Rocks sports fields.
Lucia, an 18-month-old female juvenile koala, was released back into her home range surrounding the sports fields after eight weeks in care.
Lucia was first spotted in poor condition by local resident and koala campaigner Dave Norris, who assisted Friends of the Koala's Sue Johnson with her rescue.
She was found to be suffering from chlamydia-related conjunctivitis, or red-eye.
She was treated for conjunctivitis in both eyes at the Currumbin Wildlife Hospital and returned to Friends of the Koala's Care Centre in East Lismore three weeks ago to complete her recuperation.
Now that Lucia has been treated, cleared of her disease and released, her breeding life is in front of her.
Friends of the Koala's President, Lorraine Vass said, 'The Tweed Coast Koala Study 2015 released in December notes "some stability" in koala activity in the Black Rocks and Pottsville Koala Activity Precincts and increased connectivity between them, which augurs well for future recovery.
'To a large extent though, that recovery will be contingent on people's preparedness to look out for the koalas we live with and to become actively engaged in their survival,' she added.
'We all need to report koala sightings, we need to drive more carefully, be responsible dog owners and plant koala food trees, either on our own properties or take part in community planting days on public land,' Mrs Vass said.
Call to close sports fields
But both Mr Norris and fellow koala campaigner Menkit Prince have said that the incident underlines the need to close the sports fields permanently to allow the population to re-establish itself before it is too late.
Mr Norris has written numerous letters to Echonetdaily and Tweed Shire councillors about the plight of the Black Rock koalas, particularly since last May, when the council voted to leave open a gate designed to protect the animals when the sports fields were not in use.
Yesterday he told Echonetdaily that just two days after new bollards were installed adjacent to speed humps on the Black Rocks sports field access road in January, 'there was evidence of another hooning event'.
Mr Norris said, 'this hooning event occurred during koala breeding season and in the middle of an area where koalas have been sighted on numerous occasions, placing resident and breeding koalas at significant risk of vehicle strike, disturbance and stress-related disease.
'In the last two years at Black Rocks four koalas have been euthanased with symptoms of chlamydia, another diseased koala could not be captured and is presumed dead, a dead koala was found with cause of death unknown, and a juvenile female koala [Lucia] with conjunctivitis was treated and released back into the tree where she was captured on the southern edge of the access road.
But he added that Lucia's mother, 'whose disease symptoms are more advanced, has not been captured, and unless treated will most likely suffer a slow agonising death in the bush.'
Mr Norris said the installation of the bollards had 'not only failed to stop hooning but has also resulted in increased noise and disturbance within the koala breeding area whilst council workers negotiate mowing and whipper-snipping between and around them.
'The mower… often emits very loud reversing signals directly underneath trees where koalas have been sighted during breeding season,' he said.
'Lucky' two per cent
Ms Prince told Echonetdaily that 'Black Rocks/Pottsville wetlands is critical to the survival of Tweed Coast koalas. Up to 98 per cent female koalas with chlamydia develop ovarian cysts (which are inoperable) and are euthanased if captured.
'Lucia was in the 'lucky' two per cent without ovarian cysts and was captured in time for treatment. Her future is very important because she has great breeding potential in an area that desperately needs to build up in numbers, especially after the Christmas 2014 fire that severely damaged over 200ha of koala habitat.
'According to renowned koala expert Dr Steve Phillips 30-60 per cent of local koalas may have perished as a result of that fire,' she said.
Ms Prince adds that more than 300 such koala-impactive human activities have been reported to council 'without effective ranger surveillance or regulation enforcement'.
She said that koalas need to sleep 18-20 hours a day and that if they suffer sleep deprivation due to noise and disturbance, latent chlamydia can be triggered.
She believes that the only chance for Lucia and her future joeys and koala friends is for the sports field to be revegetated with koala food trees and for the gates to be permanently locked.
'Once the trees have grown sufficiently and the koala population has recovered to sustainable levels, perhaps council could consider making the area into a koala sanctuary with viewing platforms, picnic areas and guided tours through the wetlands. The human footprint would be better controlled as the entry would be monitored and closed at 5pm,' Ms Prince said.
'All monies received would go into council coffers. Noise generated from foot traffic would be massively less than it is now.
'Whatever Council now spends on mowing and brushcutting the sports fields and surrounds, and paying a security company to open and lock the gates, could be given to the Black Rocks/Pottsville community for them to spend as they wish.
'Black Rocks Koala Sanctuary could become the only place in Australia where international tourists can see koalas in the wild. What a great opportunity! It would put Tweed Shire on the map, be a big boost for local businesses and the koalas could get the rest they need to stay healthy and survive,' she said.
Ms Prince said it was 'the midnight hour for Lucia and her friends' and she asked readers to sign a petition calling on councillor Barry Longland to reverse his deciding vote on keeping the gates to the sports fields open.
See the full text of Menkit Prince's letter to the editor here.