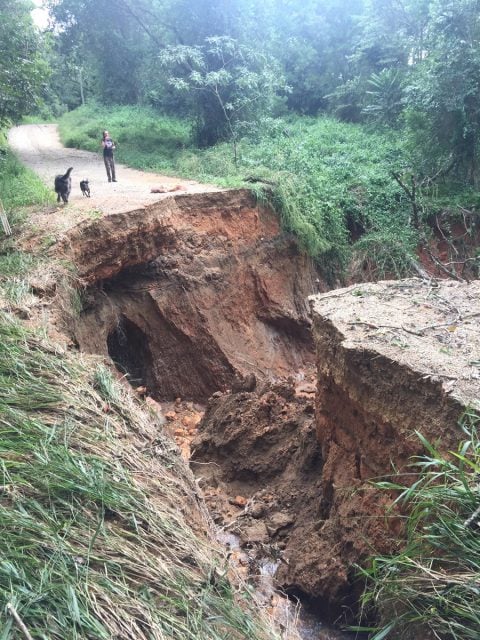 Byron Shire Council staff have hosed down the suggestion from a local quantity surveyor/cost engineer that the most cost effective use of funds for repairing the shire's ailing roads is to apply bitumen to gravel roads.
Ron Priestley told Echonetdaily says that a 50 to 66 per cent saving could be achieved 'on annual gravel road maintenance' into the future if only the most basic single coat bitumen seal were applied.
'Annually the Shire's gravel roads erode during the wet season and tonnes of stone and sediment wash into the bush, into creeks and destroy the fish and aquatic habitat,' he said.
'Council budgets only allow for repair of these gravel roads and there are no funds for the necessary bitumen seal to stop erosion; particularly on the steeper parts.'
'Surely Council should be applying new increased funds to achieve the most advantageous long term savings. This is smart economics.'
'Expenditure is desperately needed to bitumen seal at least the steeper parts and stop this major environmental damage. Council Works Dept. is well aware of the need for this but can do nothing without the required funds.'
In reply, Infrastructure Services Director Phil Holloway confirmed that 'Byron Shire Council's budget currently does not provide for the upgrading of gravel roads to bitumen roads.'
He said, 'Our budget only allows for the repair and maintenance of gravel roads.'
'For Byron Shire Council to seal a gravel road it would be necessary to buy all the gravel for the sub-base and base of the road as this is required to ensure longevity in the road's structure.
'To apply a single coat of bitumen seal to a gravel road it would be necessary to purchase gravel that would provide a quality road base. While this may achieve long-term savings, this measure is a high capital cost and Byron Shire Council has instead committed to maintaining gravel roads and maintaining and renewing bitumen roads.
'All regional areas in Australia have gravel roads. There is an extensive network of gravel roads in northern NSW and like Byron Shire Council, other Councils in the region are not in the financial position to seal all gravel roads.
'Byron Shire Council regularly inspects its gravel road network, and maintenance is scheduled according to the volume of traffic, weather etc.'
Current road repair projects
Mr Holloway highlighted the current road repair projects in the Shire.
He said, 'Byron Council is this week putting the finishing touches on the project at The Terrace at Brunswick Heads which saw the road reconstructed and a new asphalt surface laid. This $380,000 project was funding via the money raised from the special rate variation.'
'Council will, in the next week, move its attention to Pine Avenue at Mullumbimby where we will start rebuilding that road.  This project has also been funded by the special rate variation.
'Roads are a priority for the Byron Shire Council and, with increased funding from the special rate variation, we have allocated $37million in 2017/18 for capital works projects.
'We have also increased our spending on road improvements by $13million, from  $4million in 2012 to  $17million in 2017,  in recognition of the work that needs to be done and our commitment to improving the road network.'