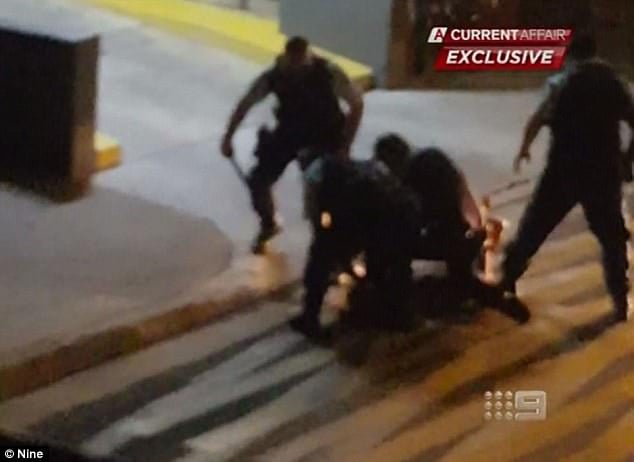 Four police officers in Byron Bay have been filmed appearing to bash a 16-year-old man who was allegedly under the influence of drugs or alcohol.
The footage from the 11 January incident outside a Byron Bay hostel was aired by A Current Affair and shows four officers attempting to restrain the young man after he had been pepper sprayed and tasered.
The police had been called after the young man had removed his clothing and was yelling for water around 2am.
A police spokesperson confirmed the incident, saying police were called to Lateen Lane, Byron Bay, about 2.30am on Thursday 11 January 2018, following reports a naked male was acting erratically.
'Officers from Tweed/Byron Police District found a 16-year-old youth lying in the street. It appeared the male was impaired by drugs and/or alcohol,' the spokesperson said.
'The teenager allegedly became aggressive towards police and OC spray had to be used. He then allegedly attempted to assault officers and an electronic control device had to be deployed.
'The teenager continued to violently resist officers until he was arrested and taken to Byron Bay Police Station. He was assessed by paramedics to ascertain what may have influenced his behaviour.'
In the video shared by A Current Affair, the officers are seen to have the teenager pinned to the ground, with two of the officers repeatedly striking the teenager with batons.
The teenager can be heard yelling 'please help', and an officer is heard calling him a 'f….. loser'.
Criminologist Dr Terry Goldsworthy, a former police officer, told the Channel Nine program that the  excessive police force on the young boy was unnecessary, especially with the number of officers attending.
'If it's just a matter of handcuffing him with four officers there, I probably wouldn't see the need for the repetitive baton strikes,' he told the program.
The footage can be viewed here: https: //www.facebook.com/ACurrentAffair9/videos/1434502819989424/