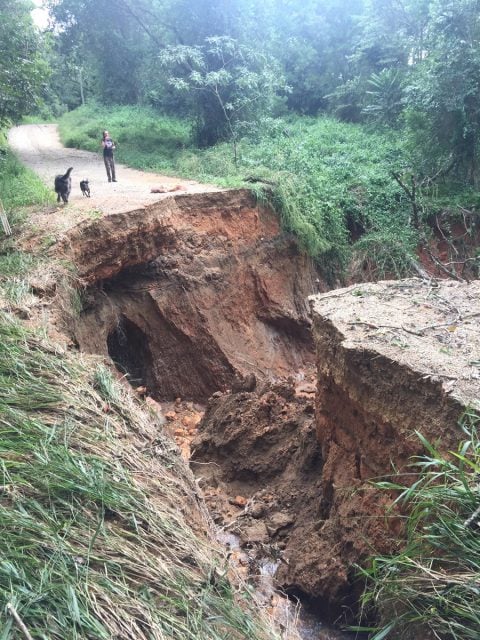 Almost a year after the catastrophic March 2017 floods, Tweed Shire Council has finally awarded the first bundle of major-sized flood repair road packages and the last of its minor to medium-sized repair packages to the value of about $1.9 million.
Design and construction of repairs at major slips on Clothiers Creek Road, Nunderi; two sites on Kyogle Road, Kunghur; two sites on Urliup Road, Urliup; and one on on Numinbah Road, Numinbah, will be undertaken by Australian Marine and Civil Pty Ltd.
All works require slope stabilisation repairs using soil nail or other anchor technology and have been grouped based on type of work to maximise gearing-up efficiencies.
Works will also include repairs to damaged items such as guardrails, road surfaces and stormwater drainage.
Clothiers Creek Road is the priority site for this bundle but detailed design work will take about two months before on-the-ground repairs can start. So far, geotechnical investigations have been completed, options analysed, concepts prepared and Natural Disaster Relief and Recovery Arrangement (NDRRA) funds secured.
Medium size repairs
The fourth and final contract for minor to medium-sized repairs was awarded to Coastal Works.
This package of work has been mostly bundled according to location to maximise travel efficiencies. This package comprises repairs on 26 roads in Back Creek, Mebbin, Mount Burrell, Commissioners Creek, Doon Doon, Burringbar, Brays Creek, Kunghur Creek, Fernside, Tyalgum, Limpinwood, Rowlands Creek, Uki, Numinbah, Cudgera Creek and Upper Crystal Creek. It involves replacing more than 65 damaged items and is worth about $1.13 million.
Coastal Works is expected to mobilise within weeks to begin repairs.
More major road repair contracts are expected to be awarded at next month's Tweed Shire Council meeting, including Cudgera Creek Road, Cudgera.
Tweed Valley Way nearly complete
Meanwhile, work to permanently repair the catastrophic failure of Tweed Valley Way at Blacks Drain, South Murwillumbah, is nearing completion.
The contractor, Skeen Constructions Pty Ltd, has advised Council to expect that the road will reopen by the end of next week. Then, the temporary sidetrack and traffic lights will be removed. Ancillary works will continue to the end of March.
The March 2107 flood caused approximately $28.9 million of damage to roads and bridges. To date, more than 1,100 minor road and bridge damage items have been repaired.
To recover road damage costs under NDRRA and grant funding, councils cannot use their own workforce but must engage third-party contractors.