[Story and photos courtesy World Surf League]
Tweed-raised three-time world surfing champion Mick Fanning retired in a blaze of glory yesterday morning at the 2018 Rip Curl Pro Bells Beach, making the event one for the history books in more ways than one.
And Kingscliff's six-time world champion Stephanie Gilmore took a step toward winning a seventh title yesterday when she won the Rip Curl Women's Pro.
Since Fanning won Bells for the first time as a wildcard back in 2001, his affinity for the wave has been well known.
But for him to make the final at the last event of his career, at the very place it all started, was especially meaningful.
Fanning's accomplishment on Thursday morning proves that the Australian is going out on his own terms, at the very top of the sport.
'It's easy when you're surfing against guys that you really respect,' said Fanning.
'It's amazing looking back on the crowd and looking back on the cliffs. It's a beautiful sight. The boys have been saying, 'If you can't ring it, send it,' so I guess I'm trying to do that.'
'It's been an amazing career,' Fanning continued. 'Thank you to the WSL and my sponsors for everything.
'I've learned so much. I'm walking away with so many great memories. I'm just going to miss the friendships and those morning surfs and watching everyone rip.'
Fanning faced a scorching Italo Ferreira during the final, with the two going blow-for-blow throughout the heat.
Both surfers were putting it all on the table and taking turns for the lead. Fanning took things over toward the beginning, with an 8.10 on his first scoring wave.
And at first, as the clock ticked down, it looked as though Fanning could win it. But the Brazilian fought back, earning a 8.33 backup score to re-take the lead, and hold on to it until the tense, final moments.
This is Ferreira's first win on the CT, and he was full of emotion before he even paddled in.
After finishing runner-up at the Rip Curl Pro Bells Beach, the three-time World Champion says goodbye to competitive surfing.
Fanning, meanwhile, despite thunderous cheers from the people packed on the beach, was visibly disappointed as he walked up the famous Bells staircase, attempting to bounce back prior to his post-heat interview.
Although he didn't get the ending he wanted, it doesn't make his contributions here any less significant. Not many athletes can say that they've made it to the final at the last event of their career.
With or without today's results, Fanning can hold his head high as he marches on to retirement.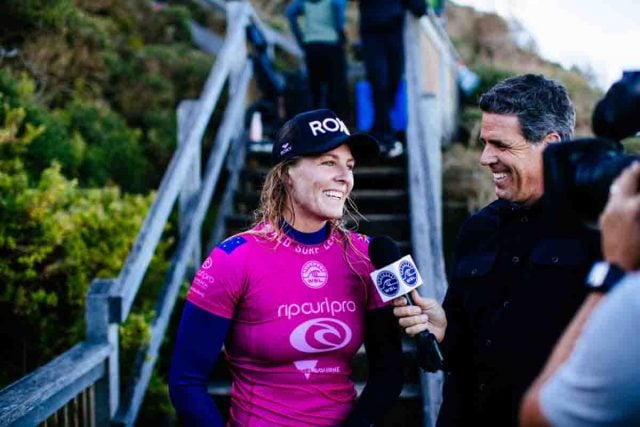 Gilmour in surfing pantheon
Meanwhile, six-time World Champion Stephanie Gilmore became one of just a few surfers, Mark Richards, Kelly Slater and Mick Fanning among them, to ring the winner's bell an incredible fourth time.
The Australian, who finished No. 2 in the world in 2017, was clearly elated afterward.
'This is incredible,' she said. 'I visualised so much this morning and yesterday. I could just feel myself winning that bell. It was such an emotional build-up.
'All the focus is on Mick [Fanning], I felt like I could just sneak in and get a little ding-ding [of the bell], no one would even care, so it took the pressure off.'
Still, her win came down to .23 of a point in a nail-biter of a decision from the judging panel.
In her final against Kauai's Tatiana Weston-Webb, the women traded the lead back and forth, down to the very end, after Gilmore let Weston-Webb nab a last, potentially heat-turning wave, with under two minutes left.
The style queen earned a 9.07 to take the semifinal win from Caroline Marks with under five minutes on the clock.
'[After Tati's wave] I thought there would be a miracle wave behind it, because a minute 30 is still a long time,' said Gilmore.
'I saw it from behind, I saw her do a couple of floaters, and I thought, 'the judges don't really like floaters at Bells, and I knew a 6.8 was close to the big wave I had in the heat, so I was confident that I would get it.'
Still, six titles doesn't inure Gilmore from competitive nerves, nor admiration.
'Tatiana has been on fire this whole event,' she said. 'All the goofyfooters, I couldn't believe it. Tatiana, you can tell, has found her confidence, and her strength. It's so impressive to see her step up. But stressful, too.'
For Weston-Webb, the runner-up finish was an impressive turnaround after a challenging season start, and a rough go in 2017.
She finished last year ranked No. 10 in the world, her lowest finish since joining the Tour in 2014.
But she arrived on the Gold Coast last month with a new attitude, a new travel partner — in her boyfriend, men's CT rookie Jesse Mendes — and a new peace, perhaps, with herself. Leading up to Bells, she did one-on-one work with her coach, Leandro Dora, and the training clearly helped.
The Kauai local continues her streak at Winkipop with an 8.00, eliminating Nikki Van Dijk in the Quarterfinals.
Heading into the Margaret River Pro — the next event on the Tour — Weston-Webb jumps to No. 5, while Gilmore is the new No. 1, and will wear the Jeep Leaders' yellow jersey.
If she continues to perform with the renewed flames of focus and motivation that she did here, she might just be wearing yellow still at year's end.
'I love the yellow jersey,' she said. 'Hopefully I can hang on to it for a little bit longer than I did last year.'