By S Haslam
Elements of Byron have taken out the award for best pool in the 2018 Gourmet Traveller Australian Hotel Awards.
Those of you who saw Dancing Tommy Franklin in a pink onesie cavorting with a giant inflatable swan at the Elements of Byron launch many moons ago would know that this is precisely the sort of pool behaviour that is both fun and loveable, especially when performed by your own progeny, at least for the first 20 minutes of wild splashing and squealing. 
After that, the novelty wears off somewhat, and wouldn't it be nice to be able to relax with a nice cocktail in peace for a change?
Apparently other adults think so too. Although the colossal pool that greets visitors entering the lobby would have got my vote, the 'best pool' prize was actually awarded for the separate 'adults-exclusive' pool area ('adults-only' presumably giving a slightly misleading impression of what the pool area is all about).
In the 18-and-over area, the cocktail bar is on offer throughout the day and night, and the immersed swim-up bar enables guests to enjoy the Byron sun, with a refreshing cocktail or organic cold pressed juice in hand, free from games of 'Marco Polo'. And, how inviting are those cabanas?
This might sound like your kind of utopian dream experience, but it is, unfortunately, only available for guests within the Elements of Byron resort. If you are a local just looking for a taste of child-free life, before returning to the infinite pleasures offered by parenthood in your own home, you might consider the luxurious onsite Osprey spa and massage treatment, or a nice cocktail and meal in the Graze restaurant and bar (the bar was a finalist in the 'best bar' section of the Gourmet Traveller awards).
Elements of Byron ph 6639 1500. 144 Bayshore Dr, Byron Bay. elementsofbyron.com.au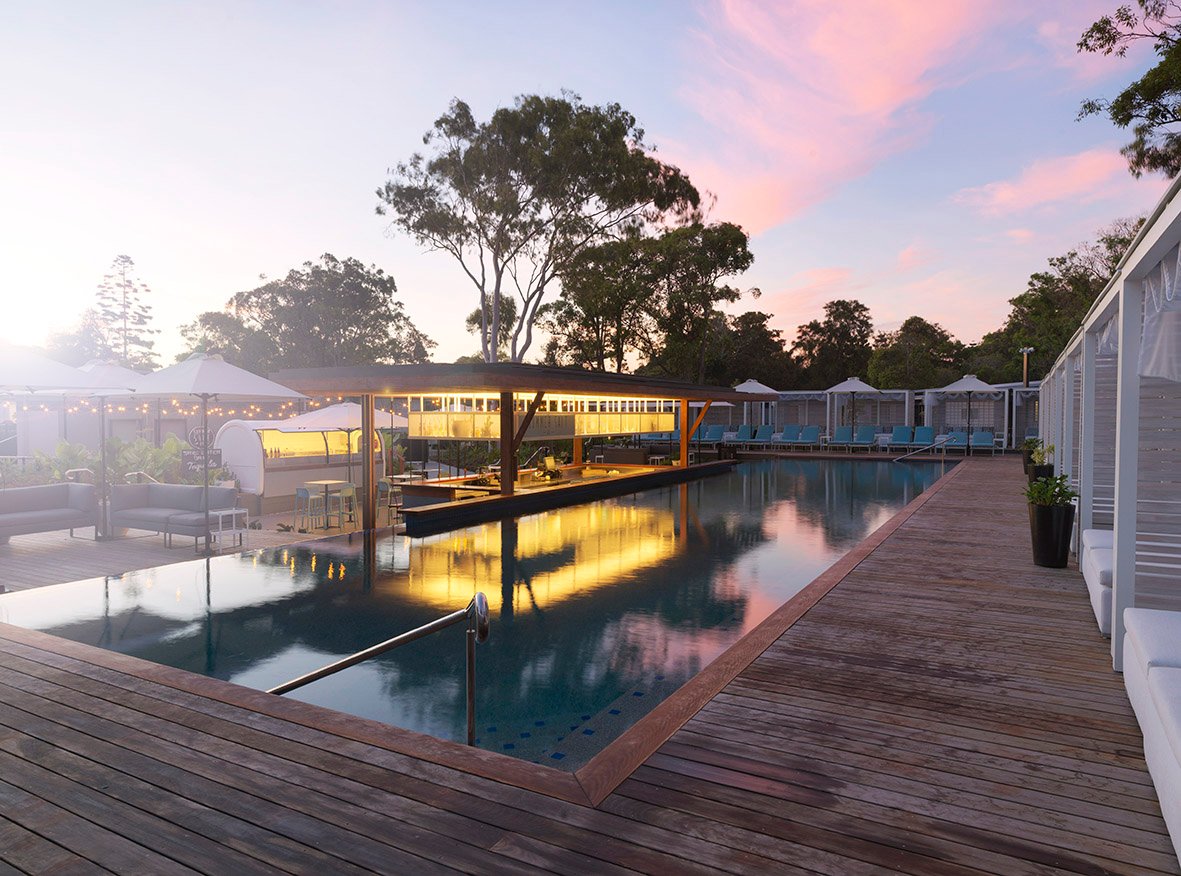 Two photos here, juxtaposed. One of 'Tommy Franklin riding the wild white swan at the Elements of Byron launch party: the other of the tranquil 'adults-exclusive' pool area that won the best pool award.