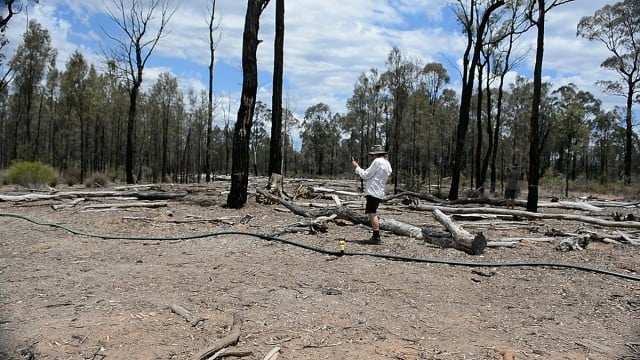 Santos has failed to address questions about endangered species that will be impacted by its controversial Narrabri coal seam gas scheme in the Pilliga Forest in its Response to Submissions over its Environmental Impact Statement, according to two new reports by ecologists.
Santos has failed to adequately address concerns about: its questionable animal surveys; impacts on animals; the existence of threatened Yellow Box gums and associated Box Gum woodlands: aquifer-dwelling stygofauna that help purify groundwater; offsets; and the rehabilitation of well and contaminated sites, raising serious concerns about the comprehensiveness and conclusions of Santos's Environmental Impact Statement.
Ecologist David Milledge was damning of Santos's Response to Submissions, writing in a report for the North West Alliance, that 'unfortunately, most of the concerns raised in my 14 May 2017 submission on the EIS (Environmental Impact Statement) have not been satisfactorily addressed in Santos' RTS (Response to Submissions)'.
'Some of these concerns have been ignored, others are quoted as included in submissions but are not further discussed, and others are answered by simply reiterating sections of the EIS without elaboration,' he added.
The Wilderness Society's Naomi Hodgson said it was 'utterly ridiculous to build a gas field in our last great inland forest, the Pilliga, a veritable Noah's ark of endangered species west of the Great Dividing Range'.
Twice as many species
'The Narrabri coal seam gas scheme will decimate the project area in the Pilliga Forest, with roads and gas pipelines ripped through NSW's most important inland forest connecting hundreds of gas wells,' she said.
'Tiny woodland endangered animals such as the Pilliga mouse and eastern pygmy possum will have to play British bulldog across a heavily cleared landscape with trucks, and increased numbers of foxes, feral cats, dogs and pigs.
'A 10-day survey by Landmark Ecological Services led by ecologist David Milledge found more than twice the number of key animal species in the project area than Santos's consultants did in a four-year period, raising serious concerns about the comprehensiveness and conclusions of Santos's Environmental Impact Statement.
Rehabilitation not happening
'Santos denies the presence of endangered Box Gum woodland even though ecologist David Paull again visited the Pilliga again to document the Yellow Box and Box Gum woodlands in his report.
'Santos stresses the success of rehabilitation of well sites and sites contaminated with coal seam gas waste water during spills, yet it's obvious to anyone who looks that the sites have not recovered.'
The Wilderness Society says Santos has refused to sample the Bohena Creek Alluvium for stygofauna, the microscopic creatures that help purify groundwater, even though it was recommended by the Independent Expert Scientific Committee, which was set up by the Federal Government to assess groundwater impacts of coal and coal seam gas developments.
Santos says 'taxa in Bohena Creek Alluvium, however, are likely to be in Namoi Alluvium, and not new species, or endemic,' but ecologist David Paull says that 'the assertion that there is 'no new taxa' without taking the trouble to find out is scientific nonsense.'
Ms Hodgson said: 'Santos's claim that the project will not have a significant impact is highly questionable when it does not identify which parts of the forest will be bulldozed and its studies seem to massively underestimate wildlife numbers.
Last refuge
'The Pilliga Forest is the largest temperate forest left in eastern Australia, the most important wildlife refuge for many endangered and threatened animals.
'The forest contains 900 native plant species, 240 bird species and more than 100 animal species, and many are threatened or endangered. In the project area alone, there are 23 nationally listed threatened species and 38 state-listed threatened species.
'As the only major surviving forest in inland NSW, it is a critical animal refuge, especially for threatened and endangered species. It's the only home for the Pilliga mouse in Australia, the national stronghold for the south-eastern long-eared microbat, the NSW stronghold for the barking owl, and the most important home for koalas and the black-striped wallaby in inland NSW.
'The federal environment department said the Narrabri Gas Project would have a "likely significant impact" on 10 endangered species and two ecological communities, when it decided the project would need federal approval to proceed.
'They include the koala, the Pilliga mouse, the spotted-tail quoll, the south-eastern long-eared bat and the Regent honeyeater, as well as the brigalow forests, home to the black-striped wallaby. About 90 per cent of Australia's brigalow forest have been destroyed in the past 60 years at about a rate of 200,000ha a year,' Ms Hodgson said.