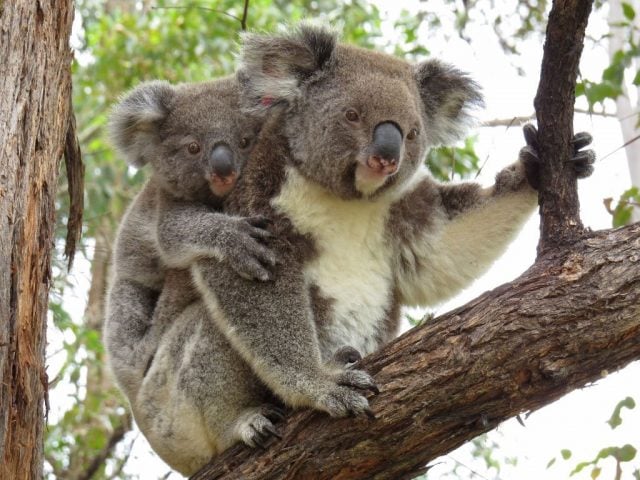 Friends of the Koala's Care Centre is at full capacity, say management, and they need help.
President Ros Irwin says for the first time they have 24 koalas in care, 'with no spare runs to take new koalas, which continue to arrive each day.'
'We're releasing as many as we can, and there are many trips to Currumbin Wildlife Hospital, which, as well as Australian Zoo Wildlife Hospital, is also at capacity.'
'When people ask us why this is happening, all we can say is that it's probably a combination of factors.
'Thanks partly to our Koala Watch project, which has been rolling out workshops across the region, and to our campaign to prevent a local extinction, members in our communities are now more aware of when to report a koala.
'Pleasingly, if last year's figures continue, we're releasing more koalas than we have in the past, which is directly related to members of the community reporting incidents as soon as they occur.
'However, other factors are that we're in breeding season, which always results in more koalas being injured either on the roads or by dogs or cattle.
'Another factor we're sure is contributing to our higher numbers at present is climate change, which constitutes a threat to koalas.
'As temperatures rise and weather patterns change, the nutritional value of Eucalypt koala food trees is likely to change, putting additional stress on koalas by altering their diet.
'While we're managing the situation carefully, the number of koalas in care is having a significant impact on all our volunteers, from rescuers, 24/7 rescue hotline monitors, leafers, who are having to spend more time sourcing their leaf, and carers who have to spend more hours attending to their needs whilst in care. So if you have even several hours a week that you could contribute to helping to save our koalas, give us a call on 6621 4664.'
'We're also looking for a treasurer, as Manuela had to resign due to ill-health, so if anyone who is familiar with QuickBooks would be prepared to consider this, call me on 6621 5906 for more information.'