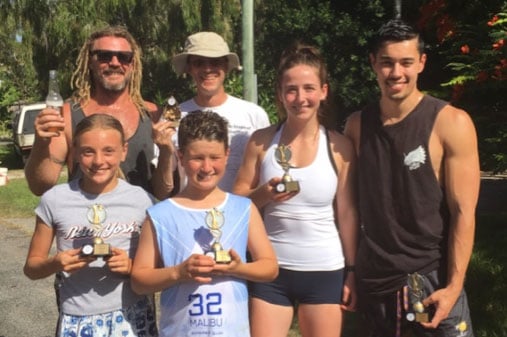 Nalani Farrell
The annual Clifford Street race is the local event of the year for hasbeens, wannabees and everyone in between; and it's the occasion residents have been waiting for.
The event has been staged since 2002 and was decided again on December 28 at South Golden Beach.
There were spectators cheering from the sidelines and a couple of tumbles and falls, but overall it was a fun community event that brought the local residents and even people from farther afield together.
We've had some old runners return and new runners join so a new O/50s trophy was unveiled this year.
My dad wanted to win but victory went to the 52-year-old Joe Adlard who was millimetres in front of Dr Tony.
The other champions were my next door neighbour Rommi Williams and my younger brother Jarrah Farrell for the kids.
The coveted adults' trophy went to the power couple Jenna Cooper, a former winner from last decade, and her boyfriend from the leafy suburbs of Sydney's north shore, Shaun Townsend.
Also rans
For my uncle Justin Farrell it was all downhill since last year as he went from coming first to finishing in last place this year. Apparently it was because of a false start.
My dad reckons he could still hear Justin crying three hours later.
Lastly we had the nobody-remembers-second-place trophy going to Hunter McKenzie for his best efforts.
Participating in the Fastest Runner in Clifford Street event isn't all about winning: just ask the forty-plus punters who didn't get a trophy.
The idea is to have a go and enjoy yourself while trying not to come a cropper in the potholes that have taken over our street.
All in all it was a great community event that brought everyone together for some laughs and fun. We can't wait for next year.
Potentially, we could have an annual Falls festival in our hood too.