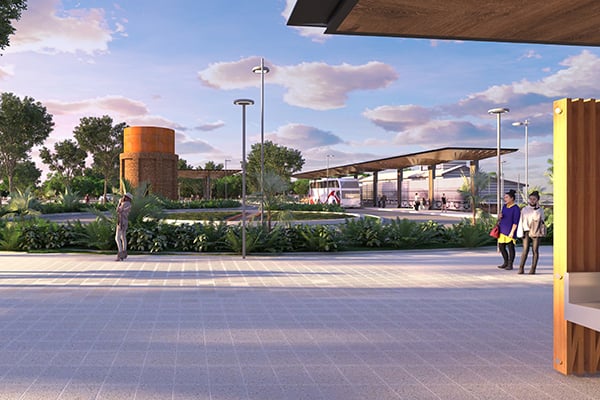 Who is in charge of the proposed Byron bus interchange project – councillors and the town's masterplan group or Council staff and state government bureaucrats?
With a remarkably poor process emerging around the project and no community input, it appears the latter; plans for a transit centre in the abandoned Byron Bay CBD rail corridor adjacent to Butler Street were quietly put on exhibition January 17 with just a sign placed on the reserve.
Public submissions around the state significance of the site close February 14 with the NSW Office of Environment and Heritage (OEH) and raises the question of whether this location for a bus interchange is a done deal.
According to OEH, the area is assessed as historically, scientifically, architecturally, and socially rare.
And while Council staff say the plans and designs can be viewed at its Mullumbimby office, there is nothing available online other than sparse information the OEH website (https://bit.ly/2RPwYHb).
OEH say, 'Construction of a transport interchange including: amenities block; kiss and ride facilities; shelter and bus stop; taxi stand; bicycle facilities, within a landscaped precinct at Bryon [sic] Bay Railway Station and yard group (SHR 01107).'
No plans for the DA are included.
While Council staff appear to have some involvement in the process – as confirmed by Transport for NSW – mayor Simon Richardson claims Sydney bureaucrats have driven the project.
He told The Echo, 'I've been pretty disappointed with the level of public consultation from Transport NSW throughout the process.'
'It's certainly not at the level you would get from local government. But they're the lead agency and it's their responsibility.'
Yet Butler Street residents are not so convinced that it just a state government department that has decided upon large infrastructure project that has virtually no community input.
Masterplan group not consulted
Masterplan group member Chris Hanley told The Echo, 'We were not consulted on the transport interchange.'
According to Council staff, the bus interchange project 'is part of a broader "rail precinct" partnership between Byron Shire Council and Transport for NSW.'
Paul Jones, who represents the Butler Street Network, says they are yet to be consulted on the interchange planning. He told general manager (GM) Mark Arnold via email recently, 'A transport interchange as envisaged by Council and Transport for NSW will by its nature generate considerable potential impacts.'
Heritage precinct
'It is also acknowledged that the proposal lies within a heritage precinct that should be respected and ideally enhanced by the proposal. Noise, light, and air pollution, vibration, ecological and social impacts need to be acknowledged and managed within the design.
'We have grave concerns about the concept designs revealed thus far.
'We trust that Council will acknowledge that we are not opposed to a traffic and transport solutions for Byron Bay, we are however concerned that due process, good planning principles, and sensible outcomes prevail.'
GM Arnold replied to Jones by encouraging him to submit his feedback through the formal submission process. 
GM Arnold told Jones, 'While Council has other projects happening in the vicinity of the interchange, this is not a Council project. As such, we are not in a position to change the location or layout of the interchange.'
Cr Cate Coorey (independent) also expressed concern with process and lack of community input.
She told The Echo, 'It is more than disappointing to learn that the notification of this important piece of infrastructure was just stuck on a fence in a spot where no one would see it and none of the neighbouring residents received letters.'
'I'm told by OEH that here was one ad in the Byron Shire News but in the midst of the holiday season who was likely to see it? 
'I feel very sorry for the residents of Butler Street who will be affected by this. 
'This exhibition process does not show a commitment to informing affected residents – or indeed any residents.
Out to tender
'What is also disturbing is that tenders have already gone out for the building of the interchange and they close two weeks before community submissions close.
'This suggest the consolation and submission process in entirely cosmetic unless the state government are prepared to consider possible changes after the tenders have been awarded.
'From the beginning this process has been a case of Transport for NSW just telling us how things were going to be. As councillors, we lobbied to have it moved off Butler Reserve and to get a better design – the original had less charm than a correctional facility. Now the new design is on exhibition, trying to view the proposed plans in order to make a submission on them is unnecessarily difficult. 
'You have to email to request them, then you get sent an email that tells you to click to receive another email that has a code in it which you then enter to see a 337 page document with tiny print that is almost impossible  to read on a normal computer screen so you can't read the key on most of the plans. 
'I would be surprised if this even reaches the state government's very low bar when it comes to genuine community consultation.
'When I asked the OEH why there was no way to look at the exhibition docs online, I got the response that "the OEH website does not support this approach. Perhaps the Byron Bay Council [sic] could assist."
'I am so sick of state government agencies doing things that have major impacts on Byron without consulting with the people who will actually be affected.
'We have seen it with the Parklands site, with the new hospital, and with the West Byron rezoning. The community must be allowed to say what happens with this major piece of infrastructure.'
No costings
The Echo requested project costings and documentation from Transport for NSW in November 2017.
A spokesperson did not provide anything and instead said, 'Transport for NSW has been working with Byron Shire Council on developing a new bus interchange since 2015.'
For more info contact [email protected] or (02) 9873 8500.
Submissions can be sent to Heritage Council of NSW, Locked Bag 5020, Parramatta, NSW 2124.