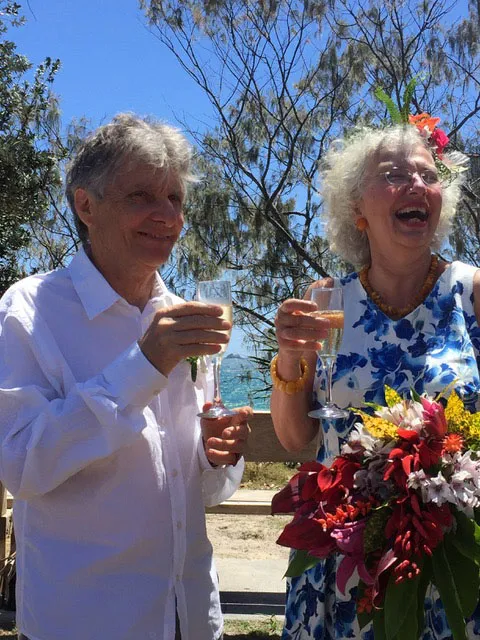 Cate Coorey
Jim and Mary are moving to Queensland. I am pretty sad about it. They are my friends and, even if you don't know them, they have been your friends too because, separately and together, they have done so much for Byron – and we are all the beneficiaries. I want to talk about them both, only as a personal reflection, since a few lines can't begin to cover who they are or all they have done for this Shire they are leaving.
In the late 1990s I used to present a film program that was distributed to other stations via the Community Broadcasting Satellite service, known as ComRadSat. The comrad who ran it was Jim Beatson, a born protester since his youth in Queensland. Jim's breadth of film knowledge, especially about musicals, and our political interests and love of a good chat made dropping off the show – a five minute task – a much longer affair.  Jim retired and moved to Byron and I lost touch with him.
I moved to Byron myself a few years later. I'd often be driving along Bangalow Road and see a woman gliding by, sitting beautifully upright on a bicycle, always colourfully garbed, white hair and rimless spectacles catching the sunlight. Like I do with many of the unique, and lately increasingly rare, birds of Byron, I created a fantasy about who she was – a back story to satisfy my curiosity. She looked so interesting and I wanted to meet her.
A column in The Echo by someone called Mary Gardner was a highlight of my new Byron life; she reminded me of Densey Clyne, writer of Wildlife in the Suburbs, a Sydney Morning Herald regular, whose column sat incongruously among the politics and the concerns of Sydney life – society columns and real estate. Yet Mary Gardner's columns are not just a naturalist's observations; she is literary and poetic with an expansive view that draws her extensive scientific knowledge into a narrative that is always surprising. She is a storyteller and her stories are about the place I now call home. Aided by the view through Mary's frameless glasses, the scales fell from the eyes of this city girl. In her writing, Mary was layering her scientific, ecologist's view over a deep foundation of local Indigenous knowledge and history – long before others made gestures in that direction. She was showing us how to live here by helping us to know this place. I thought her columns were wondrous. 
Community action
I'd envisaged a relaxed life in Byron as my children were getting older. Then I discovered, from an article by Dailan Pugh in The Echo, that there were plans to rezone West Byron for a huge suburban subdivision. How could this be happening here?
I tracked Jim down, knowing that he would know where people who knew what to do could be found. He did. At one West Byron meeting, the white-haired bicycle lady appeared. She spoke of the waterways of Byron Bay, the Belongil estuary and its importance to the marine park, the wetlands that once were – and should be – at West Byron. She explained that this is a water place and we had to care for the water places. The bicycle lady was way more interesting than the story I had invented for her. And her name was Mary Gardner! Yes, the one from The Echo.
I loved her immediately and we even talked – half-jokingly – about getting married in New Zealand (before the Yes vote here) so that she could stay in Australia, as she was a Kiwi then. My partner Philip had little to worry about, not least because she went and married Jim Beatson! A unique but perfect union, for both of them, and a wonder to us all.
As Mary best knows, Jim is very smart, very funny and madly frustrating, generating hilarity and exasperation, often at the same time. Jim is also a great friend – he is incredibly kind and remarkably thoughtful, given he is spectacularly tin-eared in many social interactions.
One day I had a call from Mary, an hour before we were to launch Council's 'Love Byron Halls' initiative at Marvell Hall, which had been given some federal funding. The special guest was Senator Concetta Ferravianti-Wells, a right-wing Catholic Liberal who opposed marriage equality and had been much in the media that week about the parliamentary inquiry into discrimination against gay or diverse-gendered students in religious schools. As chair of the Marvell Hall committee, Jim saw her visit as an opportunity, and Mary had called to alert me. Jim was coming in drag.
He appeared in a pink dress, fishnet stockings, leather brogues and a beret, all topped off by a 1980s Queensland copper's jacket. His legs are shapely and he has a well-turned ankle but I think he would not have turned heads as a girl. Concetta, to her credit, greeted Jim cordially and chatted at length with him. Jim made his protest about gender and sexuality discrimination to Concetta without saying a word. But he did use words in launching the little community hall, and managed to include the plight of refugees and the importance of Indigenous custodianship of Byron in the affair. He also gave credit for much that he knew to his wife, Mary. Concetta blinked, twice.
I owe Mary so much. We walked and talked often at our beloved Tallows estuary and she showed me other water places, how they work and what lives, or dies, in them. The caring for water places, which I'd also heard about in a different way from Delta Kay's speeches at various events, were the basis for me to introduce a Water Sensitive Urban Design Policy to Council. It is not everything I'd hoped but it is something.
Likewise, this little reflection is not everything that can be said about Mary or about Jim. It's just what I can say here – other than that I love them, and I shall miss them, and I wish them all the best in Queensland with their family and grandson.
The angst we feel as some of our best people leave Byron should be allayed by the knowledge that what Mary and Jim have shared to this community stays with us and will be amplified. Their leaving is, to borrow from John Donne's Valediction: Forbidding Mourning,
'…not yet A breach, but an expansion,
Like gold to airy thinness beat.'
♦ They are moving to Kandanga. When you get there, just ask for Jim Beatson. They'll know him for sure.