Member for Richmond Justine Elliot spoke to a group who gathered at the Ballina Naval and Maritime Museum this week to remember Victoria Cross winner, Teddy Sheean, who was posthumously awarded the Commonwealth's highest award for bravery in 2020.
Teddy Sheean grew up in Tasmania, and was only eighteen when he died on the corvette HMAS Armidale, near Timor, in 1942. Heroically sacrificing his own life, he saved many others as he fought off enemy planes which were attacking the ship.
Teddy Sheean is the first member of the Royal Australian Navy to be awarded the VC. His family and others have been fighting for many decades to have his valour recognised.
The Ballina connection with the story is via Teddy Sheean's nephew, Mick Shea, and the artist who made the display, Vern Bechaz OAM, who both live in the area and were present for the official unveiling.
Naval connection
Richard Greaves talked about the strong naval connection of the museum, then invited Merv Stevens from the Naval Association of Australia's Ballina branch to speak.
'The achievements of Teddy Sheean happened 78 years ago, said Mr Stevens.
'He strapped himself to an Oerlikon and shot down some Japanese planes, which helped save the lives of a lot of his ship-mates. And the Navy has been battling ever since for the recognition of this ordinary seaman.
'Last year he was finally awarded the VC for what he did that day.'
Mr Stevens thanked Ballina Shire Council for a grant to support the commemoration. 'This will be the first of its kind in any museum in Australia, so that's something to be proud of,' he said.
Artist and former navy man Vern Bechaz has been creating commemorative frames for Victoria Cross and George Cross winners for 25 years.
He told Echonetdaily, 'I just have a passion for this sort of thing. I take the attitude that if I don't do it, it will never get done.'
His frame for Teddy Sheean includes an original Armidale tally band which was already in the museum's collection, by chance, and genuine WWII navy uniform components, as well as the VC citation, signed by Teddy's nephew Garry Ivory (who has campaigned for this acknowledgement for many years), and replicas of Teddy Sheean's medals.
Justine Elliot speaks
Federal Member for Richmond, Justine Elliot, said, 'It's a great honour to be unveiling this display and it's wonderful to hear that it's the first of its kind in Australia.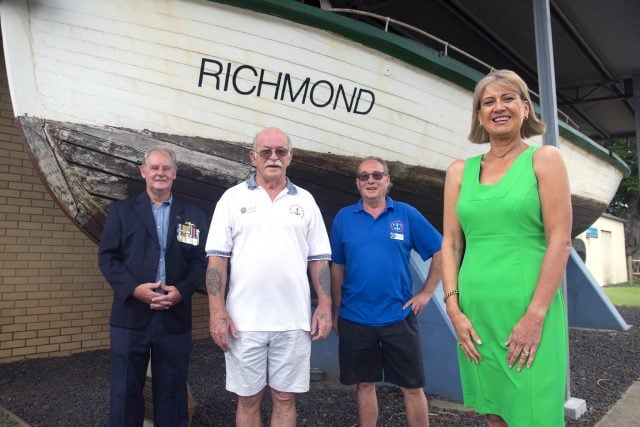 'What a recognition of a young man's courage and commitment, to look after his mates but also to defend our nation and defend freedom.
'It's wonderful he was finally awarded the Victoria Cross, quite rightly, for that remarkable courage that he showed,' she said.
Deputy Mayor Sharon Cadwallader told Echonetdaily, 'I just think it's wonderful to have another first for Ballina. How good is this? This is just magnificent.'
Ted Sheean's nephew Mick Shea never knew his mother's brother, but heard stories about him growing up. He said it wasn't surprising that Ted showed such courage under fire.
'He was pretty wild, mate. The whole lot of them.
'They reckon when he was in Sydney they all used to go up the Cross, and all the locals used to pick on them, and Ted used to have them all laying flat out in the gutter, and the other blokes said, "While Ted's with us we're safe!" They were Irish, see.'
Why did it take 78 years for Teddy to be recognised?
It appears that poor decision-making from naval command at the time led to the Armidale sinking, which is why the authorities didn't want the spotlight of a Victoria Cross during the war.
Mr Shea said, 'No one wanted to recognise what went on, you know? It's a shame they held it up for so long.'
In 1942, with a destroyer tied up at the wharf in Darwin, the poorly protected Armidale was sent into harm's way instead, and spotted by Japanese planes soon after leaving port – the ship was a sitting duck.
'Have a look at the ship, there's nothing on there,' said Mr Shea.
'A little gun on the front and the Oerlikon gun on the back where Ted was, that was it. Ridiculous.
'As soon as they left Darwin they were spotted, and they told the base what was going on, and they didn't do anything about it.'
He said the family are mostly gone now, but 'they all said he should have got the VC.'
Always remembered
Is it too late, after 78 years? 'No, nothing's too late is it?' said Mr Shea.
'He'll be remembered forever and a day, we'll all be dead and forgotten about and he's still going to be in the War Memorial and here, he'll always remain here. That's it.'
The Ballina Naval and Maritime Museum's Richard Greaves said the new Teddy Sheean display was adding to a great community resource in Ballina.
'We will have a great audience for this over the years,' he said. 'It's found a good home.'
He said the museum had been getting great visitor numbers over the holidays and recently picked up a Travellers Choice Award from @TripAdvisor.
The museum (which is also the home of the Las Balsas Raft) is open 9-4pm daily at Regatta Avenue Ballina.
Additional photos from the unveiling ceremony: