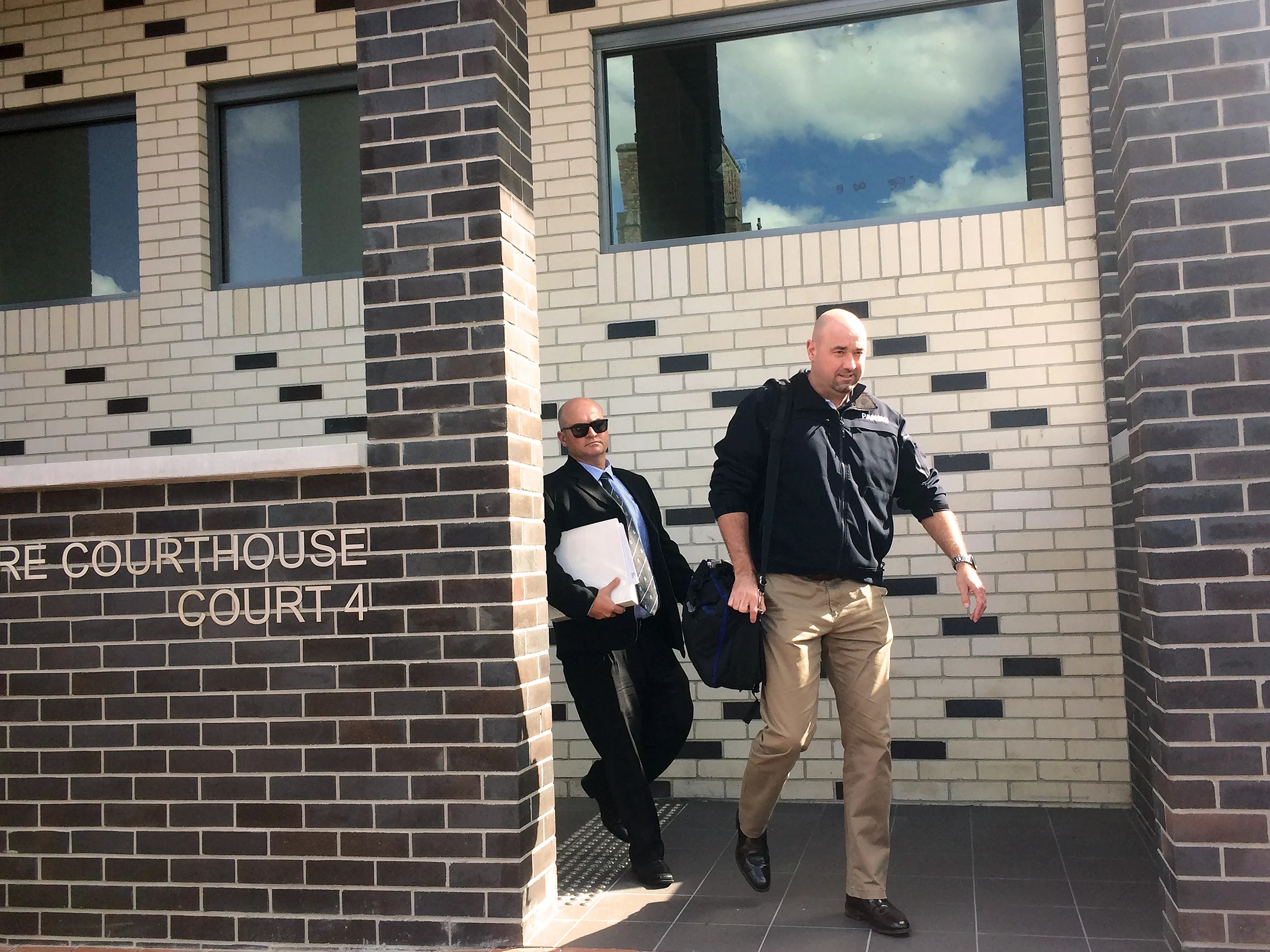 Mia Armitage
Magistrate Michael Dakin has ordered a common assault charge against a former Byron-based policeman be dropped after an altercation involving a naked youth in Byron Bay three years ago.
Earlier this week, the Department of Public Prosecutions [DPP] argued Senior Constable Michial Luke Greenhalgh had entered a state of 'red mist' when he struck the boy, who he says he didn't realise was sixteen, a final six times with his baton.
Prosecutor Brittany Parker said 'red mist' was a state of frustration that could manifest suddenly in a sufferer focussing excessively on a particular target and exercising poor judgment.
Video footage of the altercation between the boy, who can't be named for legal reasons, and four senior constables based at the time at Byron Bay police station made national headlines in early 2018 and was used as evidence in both a Law Enforcement Conduct Commission [LECC] inquiry and a subsequent criminal trial of one of the four officers.
It's all about the beat: baton strike pattern shows officer kept cool
The footage, taken from a balcony overlooking Lateen Lane in Byron's CBD, revealed Senior Constable Michial Luke Greenhalgh struck the naked and unarmed boy eighteen times of a total nineteen baton strikes delivered.
The final six blows were under scrutiny in the trial, with the DPP arguing they were an unreasonable use of force and therefore assault.
Prosecutor Brittany Parker said in her closing statement the strikes were excessive, born out of irrational anger and achieved no purpose.
'He was in no way able to get up or escape,' Ms Parker said of the boy, 'he was not acting violently… he was merely asking for help and water'.
She said it appeared police believed the boy would be violent.
But Magistrate Dakin has found in favour of Sen-Constable Greenhalgh, noting the final six strikes weren't delivered in quick succession but rather, were metred out in a series as follows: three strikes, then two, then one.
The magistrate said the decreasing pattern supported the officer's assertion he was making calculated, albeit spontaneous decisions in response to his situation.
Drink-spiking 'seen too often' in Byron Bay, says magistrate
The officer, who worked at Byron Bay police station for eight years until 2019, testified he'd constantly assessed and re-assessed the detention in Lateen Lane as it unfolded in accordance with his training.
Officers had variously described the naked boy as sweating profusely and said trying to restrain him was like picking up wet soap.
They said he appeared to be drug-affected and the magistrate said drink spiking was 'seen too often' in Byron Bay.
The boy had earlier testified accepting a single beer from some strangers in Apex Park, overlooking Byron's Main Beach, the night before he ended up in Tweed Hospital after an altercation with police in Lateen Lane and about an hour in a holding cell.
He said when he described seeing lights to the group of people he was hanging out with at the beach, they simply fell silent other than to giggle.
Night out in Byron Bay ends in crisis for teenager
Some time between two and three am the following day, a backpackers' hostel manager would call his company's security, only to call Byron Bay police when his first call was unanswered.
The manager had received reports of a naked male wandering the lane and calling out.
Only a few weeks prior, a shirtless male had smashed a police car windscreen in an outburst attributed to drugs at Byron's lighthouse.
Officers had described a feeling of being on edge.
Two cars responded to the Lateen Lane call and Senior Constable Michial Greenhalgh drove one of them, the one that arrived first.
He told the court he remembered seeing a naked male about twenty metres away after pulling up and that he thought the male was around twenty years old.
Just hours earlier, the magistrate recalled in his case summary, the boy had gained his mother's permission to attend a youth silent disco but never made it.
The family were holidaying in Byron at the time.
Police tactical ops manual v baton manual
Soon after arriving in Lateen Lane, Sen-Constable Greenhalgh said, the officer saw the naked man swing a 'hay-maker' punch at his colleague, who warned of a 'gobfull of this', referring to capsicum spray, if the man didn't calm down.
Officers progressively used capsicum spray, a taser and batons against the youth and the defence argued he was continuously shifting between 'under' their control and 'out of' their control throughout the detention.
The official police tactical operations manual was referred to in the trial in support of defence arguments outlining acceptable uses of force by officers in Lateen Lane.
Later the prosecution referred to a manual on baton use that omitted any mention of using the device on someone lying on the ground as opposed to someone standing up.
In his case summary on day six of hearings, Magistrate Michael Dakin took into account the positive character testimonies shared in court by some of the defendant's former Byron Bay police colleagues.
The magistrate noted how Senior Constable Greenhalgh was generally described as an officer of 'exemplary' performance and had never had a negative report filed against him.
Magistrate rules out 'red mist' theory
The magistrate noted how police didn't call for an ambulance to Lateen Lane despite acknowledging the boy 'needed help' and instead decided he was best taken in the police wagon to the station where he was later held pending the arrival of an ambulance.
He commented that one of the four officers to have testified, Sen-Constable Mark Sims, appeared 'off-handed' and 'flippant' in his responses to questions during a cross-examination and was 'smirking' in the witness box.
But the magistrate also commented on how the Crown took issue with the final six blows happening while the youth was naked, unarmed and lying on the ground when the previous thirteen strikes appeared to have happened under the same circumstances.
Each strike, he noted, is alleged to have happened alongside a verbal police command.
He also noted that none of the witnesses saw the entire incident and the defence argument that memories had been 'reconstructed' thanks to repeated viewings of the video footage.
The magistrate said the pattern of the final six strikes ruled out the theory of Senior Constable Michial Greenhalgh having experienced so-called 'red mist' and dismissed the assault charge against him.
The boy's family have said they plan to seek advice on human rights law in relation to the matter.
The DPP and the defence both declined to comment after this week's proceedings.