Living quietly in beautiful Ballina is one of the global heavy hitters in the fight to eliminate and control toxic chemicals, Dr Mariann Lloyd-Smith. She kindly agreed to speak to The Echo for this Q&A.
How did you become interested in the toxics issue originally?
My father was in the military and spent the last years of his career dismantling World War II chemical warfare stockpiles in the Pacific.
My interest in toxics further expanded when my daughter and I were exposed to pesticides sprayed on north coast roads. That led to establishing the North Coast Toxin Action Group which went on to develop the first community chemical information system in Australia.
Toxic sludge isn't good for anyone
Could you talk about some of your career highlights, including what's been happening recently in the fight against toxics?
My partner and I moved to Canberra in the early '90s and formed the National Toxics Network, an NGO that is still very active and is currently based here on the north coast.
Through NTN I had the privilege of working with the International Pollution Elimination Network and serving as its Co-Chair. IPEN is an international group of hundreds of environmental health and justice campaigners across the globe in over 100 countries, all working for a toxics free future.
My Co-Chair was the wonderful Nobel prize winner Professor Jamidu Katima from Tanzania. I've made lifelong friends among these activists and am now a member of the IPEN Executive Committee.
Representing IPEN, I've had the added pleasure of facing off with some of the most powerful chemical producers in the world.
Debating Halliburton at the Helsinki Chemical Conference on the safety of their fracking chemicals earned me the title of the 'Voice of Reason', bestowed by the OECD organisers.
That part of my life has been an absolute privilege and joy and culminated in 2017 when I was awarded a UN gender award for my work in toxics.
For the last three years I've been involved in ocean and water pollution issues, and with colleagues at NTN have produced the Ocean Pollutants Guide, translated into many languages including Chinese and Indonesian Bahasa.
In 2021, we published our Aquatic Pollutants in Oceans and Fisheries report, which is also available in a range of languages and we are currently working on a third.
Our aim to give developing country environmental managers and NGOs the information they need to make environmentally sound decisions.
The big picture
What are the biggest threats in terms of toxics globally now?
Obviously, the climate change chemicals are the biggest threats in terms of toxics globally but we live in a toxic soup of endocrine disruptors damaging our health and reproduction. Old multigenerational toxins like PCBs and DDT still haunt us, causing cancers in the grandchildren of those exposed. And we haven't learnt their lesson.
Humans have created a new class of chemicals, the perfluoroalkyl substances (PFAS), a group of nearly 5000 chemicals (eg PFOA, PFOS, GenX).They are referred to as the 'forever chemicals' because they never break down! They build up in our bodies and damage our immune system while we as women pass them onto our children in the womb and via breast milk.
Our whole agricultural system is still based on using dangerous combinations of pesticides linked to mental health, depression and neurological diseases.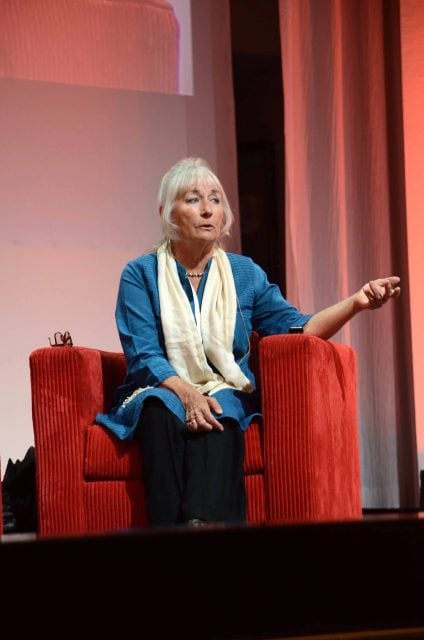 While the very toxic mercury is a ubiquitous endocrine disrupting contaminant of the marine environment.
Coal combustion and small-scale gold mining accounting for more than two-thirds of global anthropogenic mercury emissions. Mercury concentrations are predicted to double in the North Pacific Ocean by 2050.
And into this toxic mix we have thrown millions and millions of tons of microplastics, which now contaminate the oceans, the air we breathe, the water we drink and the environment we live in.
What about in Australia?
The Australian government has recently increased industry self-assessment for industrial chemical and are currently assessing recommendations for deregulation of agricultural and veterinary chemicals.
We've all seen how notoriously unsuccessful self regulation can be. NTN has actively opposed this weakening of Australia's chemical regulations.
Is there any hope?
There is always hope, but the toxic load we have contaminated the planet with is immense and so much needs to be done to both clean up past contamination and ensure we do not keep making toxic products that we have no way of handling when they become waste.
The false promise that we could somehow recycle our way out of this mess has been shown for what it really is, an 'industry myth' to avoid proper life-cycle management.
Why Ballina?
How long have you lived in Ballina and could you talk about why you chose this part of the world?
My partner and I came back to the north coast after twelve years in Canberra.
We settled in Ballina fifteen years ago, both having family in and around Ballina. It is a gorgeous place to live with a lovely climate. I adore the beaches and after a friend's very kind gift of a beach mobility scooter I can enjoy some of them with friends and family.
Beyond your work, could you talk about some of the things that bring you happiness in life?
I love my garden and spend lots of time pottering in it.
I find my mosaics a super way of turning off and aqua aerobics three times a week a wonderful way to get fit and relax.
What can ordinary people do to address the toxics issue?
Of course, there's the obvious actions, reducing your waste, avoiding pesticide use, eating low on the food chain and selecting the most environmentally sustainable products, but we must all urgently reduce consumption of pretty much everything.
I am aware of the difficult choices people are forced to make with so little information, and understand the many difficulties there are in living a more sustainable and less toxic life.
But in addition to what we do in our own home and community, we must address global toxins; chemicals that travel across the world via air and water currents and wildlife contaminating areas thousands of kilometres from where they were originally used or dumped.
To do this we must take on the fossil fuel and chemical industry in all countries and support the activists who lay their lives on the line.
So many pay the ultimate price for opposing powerful polluting industries.
Coal seam gas
Finally, could you talk a bit about your role in the Northern Rivers successful anti-CSG campaign?
NTN played a pivotal role early in the campaign to stop CSG, by consolidating information on the impacts of the chemicals used and released by this polluting industry.
By providing this information in an easily accessible form we hoped to empower those opposing the unconventional gas industry, including NGOs, local councils, and thebNational Farmers Federation.
We forced through an inquiry into the industry's chemical use, which highlighted how little we knew about their environmental fate and impacts. I hope this helped turn the tide against the gas industry's rapid expansion.
Yes it did. Thanks Mariann!
You can find out more about Dr Mariann Lloyd-Smith and support the important work of the National Toxics Network here. The NTN is also on Facebook.