Hans Lovejoy
The media unit attached to NSW Police have refused to say whether all tests conducted over the Nimbin Mardi Grass weekend, in early May, will be declared invalid, after breaches by a NSW Police Officer conducting drug tests were filmed on video.
According to the video, taken by a staff member of Cate Faehrmann, NSW Greens MP, the officer conducting the test was not wearing gloves while handling the testing device on Sunday, May 2, at approximately 9am.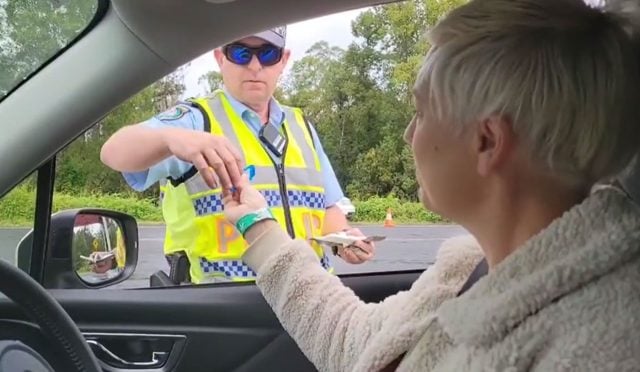 Ms Faehrmann says it is a breach of part 1-5 of the Standard Operating Procedures (SOP) for Random Oral Fluid Testing.
She said, 'All tests conducted over the Nimbin Mardi Grass weekend are now in doubt, and any court attendance notices or penalties issued as a result of a positive test must be withdrawn. The tests used are incredibly sensitive and can be easily contaminated, potentially resulting in false positives'.
The Echo asked the NSW Police Media Unit, 'Will these tests be considered invalid in light of Ms Faehrmann's claims/evidence of breaches by a NSW Police Officer conducting drug tests in Nimbin?'
They replied, 'Police are aware of an incident involving an officer conducting a Roadside Drug Test (RDT) at Nimbin in early May'.
'All officers conducting RDTs are required to wear gloves for hygiene purposes in accordance with NSW Police Force standard operating procedures (SOPS).
'The SOPS are based upon best practice for hygiene and do not affect the accuracy of testing or results'.
NSW Police reported that more than 1,500 RDT tests were conducted over that weekend, yet the operation only yielded 29 detections. 
False positives 
Ms Faehrmann says, 'We have no idea how many breaches by officers conducting the tests are going undetected and potentially causing false positives'. 
'That's why I've written to the NSW Police Minister and the Attorney-General asking them to put the brakes on this dodgy Roadside Drug Testing regime and allow for it to be independently reviewed'.
'While tests for blood alcohol levels are rigorous and can't be contaminated, the same can't be said for random drug tests. My experience shows that mistakes happen, and when it comes to something that can lead to a person losing their drivers licence and their career, this isn't good enough'.
She says, 'A recent study undertaken by researchers at the University of Sydney found that the two most common drug testing kits used by the NSW Police are substandard in terms of accuracy and specificity'. 
'The research showed that they failed to detect high concentrations of THC, up to 16 per cent of the time, and recorded positive results for THC when the actual presence was negligible'.