With a lineup including Grinspoon, Lime Cordiale, Paul and Dan Kelly, Sheppard, Jon Stevens and Daryl Braithwaite, Lismore's One from the Heart concert went ahead yesterday in patchy weather and mud, mud and more mud.
Around 15,000 people were expected to arrive through the gates of Lismore's showground yesterday and by 2pm there were already several thousand enjoying the music.
Many locals disappointed
The lead-up to the event had seen many locals disappointed as they missed out on an allocation. Within 12 hours of free entry becoming available on April 27, all 10,000 tickets had been exhausted, with a further 2,000 released the following day. These too were snapped up.
Many flood-affected people felt they been unfairly treated, as some still do not have access to the internet, let alone a device from which to claim a space. There were comparisons measuring how some had been affected more than others, with some residents forgetting that everyone had been affected by the catastrophic events of February and March.
But still, the show went on, and the punters coming through the gates looked very happy to be there.
Welcome to Lismore Country
Aunty Thelma James gave a Welcome to Country and finished by thanking her ancestors for their strength, wisdom, knowledge and the history that they have passed through.
'There is a tomorrow, there is survival and we'll all come out better than ever. And be one together.'
Aunty Thelma told The Echo that this type of event showed people it was ok to ask for help. 'I know a lot of people who haven't gotten to that point to say "I need help". Some might see it as a weakness but it's not – it's a strength, and if you feel like you haven't done anything in your life to pay back those people then it's always a good time to start volunteering.'
Fans were very happy to see artists perform across the ages with the likes of Darryl Braithwaite for Gen X and Lime Cordiale for Gen Z.
A massive day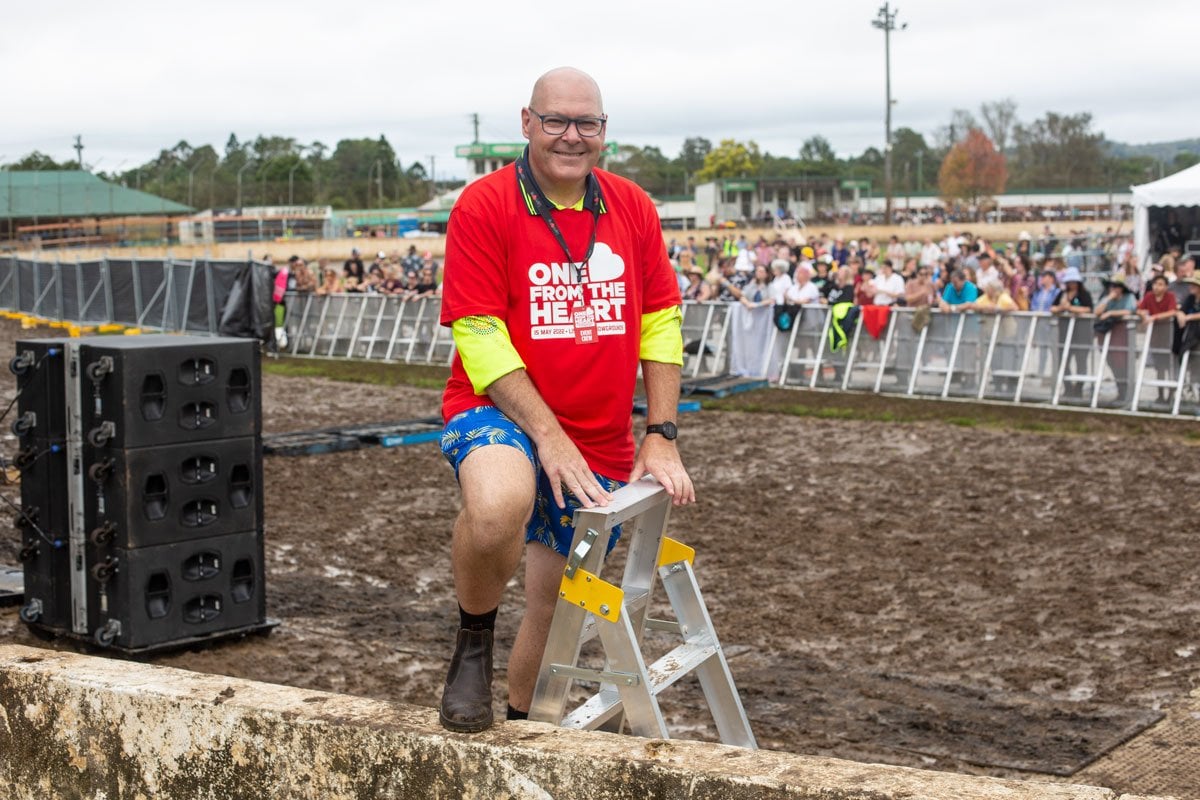 Mayor Steve Krieg thanked everyone for showing up. 'It's gonna be a massive day. I'm here to thank everyone that got this together.
'This is an event that normally takes about six months to pull together but Mark Pope and Michael Chugg put this together in six weeks. This is a real hero today – thank you Mark!
'On behalf of Lismore City Council, I'd like to thank the councillors who have attended today, also the staff who have worked double time and a half to get here to put this on, the National Recovery and Resilience Agency out of Canberra, Resilience New South Wales who have helped fund this for us today –  that's why it's free.'
Cr Krieg said Chugg Entertainment played a huge part in organising the event. 'Michael Chugg couldn't be here today, he's overseas but he sends his best to everyone. Everyone's put in a massive effort to make this happen today.'
A morale boost
Cr Krieg told The Echo that he hoped the event would be a morale boost. 'This is a chance for us to look forward – now we've mourned the loss of our town and our possessions, and hopefully after today, we can look forward to the rebuild and the reconstruction.'
Cr Krieg said he was counting on about 15,000 turning up. 'I know a lot of people have been a bit put off by the weather and the muddy ground but you know, what better day to come out to celebrate with everyone from the region. So you know, I'm hoping there's 15,000 people here.'
Cr Krieg said the artists were booked within hours of the event being conceived. 'Michael Chugg spent four hours on the phone and he had the lineup locked in. That's amazing!'
Cr Krieg, who lost his business and his home in the floods, said he and his family have lived through floods before. 'You get back as quick as you can – time is not as important – it is without an income and we want to do things as quickly as possible, but we're obviously changing the way we're doing things now.
'We're putting in flood-proofing measures like concrete floors, rather than timber floors, we're bricking up the walls rather than plasterboard. All of these changes take a long time to do. We'd rather do it now while we have the opportunity. We would rather take that extra six weeks or whatever it might take than to think two years down the track, "we've got to do it" and then shut your business again.'
Cr Krieg said that like many others, he was dealing with supplies and the shortage of tradies. 'We're hoping to be back in our home in the next two to three weeks. Opening the business [La Baracca] is very much weather dependent. The first of July is our target.'
Back to some sort of a normality
Cr Krieg said he hoped the big take way from the event was the feeling that we are getting back to some sort of a normality. 'It's almost like a reset. It's hard, and I've done it myself, you mourn your business, I was crying yesterday – but you really need to change your mindset from being down and out to being optimistic and saying, "right, we're going to rebuild". And we're going to get stuck into it.
'I'm hoping today is really that line in the sand moment where people say, well, people are backing us we have the backs of each other.'
It's going to be better
Aunty Thelma has strong views about Lismore's ability to recover from this catastrophe. 'When we're talking about recovery, are we talking about people? Because if we talk about people we know, it's going to be better. Because now, our children have gone through the same experiences as their parents – they're going to be empathic children,' she said.
'They've had to go to different schools, they've been really moved out of their comfort zone, and they've had to make new friends. You go to school with the same buddies all the way through, then you leave school, and you never see them again. Whereas now they know everyone.
'Some people didn't know the neighbours and now they do – we're going to be more united.'
Aunty Thelma said she feels like we need more events like One From The Heart. 'Barriers are going down and music is a great thing.'
Photos Tree Faerie