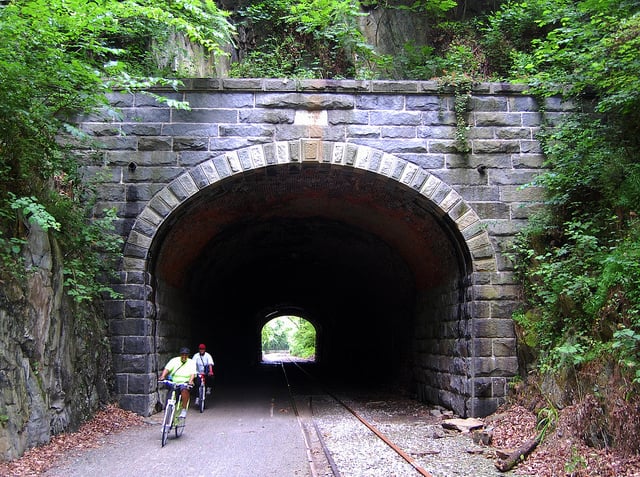 Melissa Hargraves
The plan to establish a rail trail on the disused Casino to Murwillumbah rail line has moved a step closer with a scoping study announced for the project.
Members of the Northern Rivers Rail Trail Inc (NRRT) recently presented a petition of almost 2,000 signatures to the minister for the north coast, Don Page, and member for Lismore, Thomas George MP.
Signatures have been collected since May this year when NRRT formed.
The petition was handed to Mr George and Mr Page at a meeting with NRRT attended by former CEO of the Queenstown Trails Trust, Kaye Parker, one of the driving forces behind a network of more than 110 kilometres of cycling and walking tracks throughout the Wakatipu region in New Zealand.
NRRT public liaison officer Marie Lawton said 'with our beautiful landscape and existing tourism industry, it's not hard to see how a northern rivers rail trail could be a great attraction for active tourists and provide business and employment opportunities for locals, as well as giving us a safer, healthier way to get around.'
Mr Page was impressed with the response of the community and said the rail trail will have enormous tourism, employment, social and health benefits for our region.
'Rail trails, which use existing rail corridors for walking and cycling, are becoming extremely popular both in Australia and overseas and I think there is the great potential for a rail trail on the Casino to Murwillumbah line to generate much needed income and jobs for the region's economy,' he said.
'The northern rivers currently attracts approximately 2.2 million visitors a year. A rail trail on the Casino to Murwillumbah line could attract thousands more tourists who want to experience the beauty and diversity of the northern rivers,' Mr Page said.
'Importantly the development of a rail trail would mean the rail corridor is maintained and preserved to allow for the future return of train services if required.'
Mr Page recently announced terms of reference for the Casino to Murwillumbah Rail Trail Scope Study which will: assess potential economic, social and environmental benefits and impacts; identify funding sources for development and maintenance; consult with stakeholders; ensure the corridor is preserved for a potential re-introduction of rail services; and investigate a light rail service in the Byron area.
Mr Page has said expressions of interest would be called soon from qualified companies.