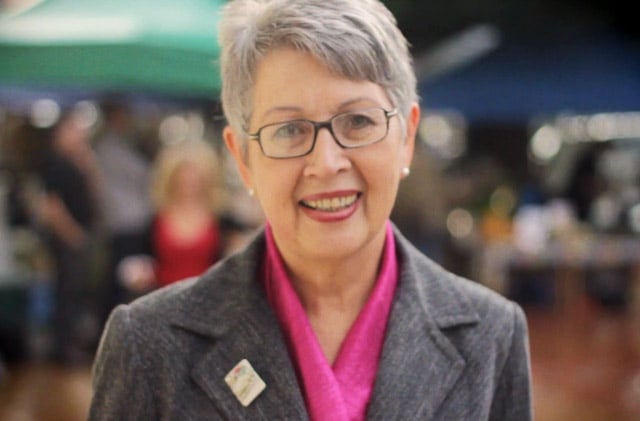 Darren Coyne
The state government should be looking at amalgamating Sydney councils before worrying about councils in country areas, according to Lismore's mayor Jenny Dowell.
'It's very top heavy down there in Sydney," Cr Dowell told Echonetdaily.
'Some city councils are very small with regards to their population size and geographic areas and they don't have the same growth and pressures on infrastructure so they are very top heavy.'
To put that in context, Cr Dowell said Brisbane city had one council while Sydney had 41 councils.
Cr Dowell was responding to reports that Kyogle council had decided not to take part in a preparing a joint application for the government's Fit for the Future program, but would concentrate on proving its own viability.
'We asked Kyogle about two months ago if they could have a decision to us by Christmas because there's a lot of work involved but Kyogle have said they will go down a different route and that's fine,' she said.
'We'll do our own Fit for the Future report and Kyogle, which has applied for a rate increase through IPART, will do its own.'
Cr Dowell said it would be difficult to meet the state government's timeframe of June next year if Kyogle eventually decided it wanted to pursue a merger with Lismore.
'It's not for us to ask for more time but I believe there will be councils throughout the state having that conversation with the office of local government,' she said.
Cr Dowell said it was hard to see benefits of amalgamating Lismore with Kyogle.
'It would be challenging for us,' she said.
'There is a $5 million incentive to merge but that wouldn't touch the sides of bringing the rating systems into alignment let alone dealing with all the wooden bridges and other challenges in the Kyogle area,' she said.
Kyogle mayor Danielle Mulholland told Echonetdaily that Kyogle's main focus at present was making the council sustainable for the future.
'We're not sustainable as we are so we're looking at a rates increase. There's two options, 22 per cent over five years, or 46 per cent,' she said.
'The 22 per cent option is a resolution of the council and if we get approval from the community and our submission is successful then we can look at whether we need to merge or can standalone.'
She also pointed out that federal government funding cutbacks of financial assistance grants to councils meant that 8 per cent of the 22 per cent proposed increase would be simply to cover those losses.
Cr Mulholland also questioned why the state government was prepared to spend $600 million supporting amalgamations when the money could be better spent dealing with dealing with infrastructure backlogs.
'We've got 213 timber bridges, which is the most in NSW, and I believe the southern hemisphere, and we've got a $40 million backlog, so when we are looking at merger issues we're going to have to look at their capacity to address that backlog.'
She said that community surveys on the amalgamation issue had shown that more than 70 per cent of the community was against merging with another council.
But the state government appears set on mergers.
'We're on the Titanic and the government is the orchestra,' she said.