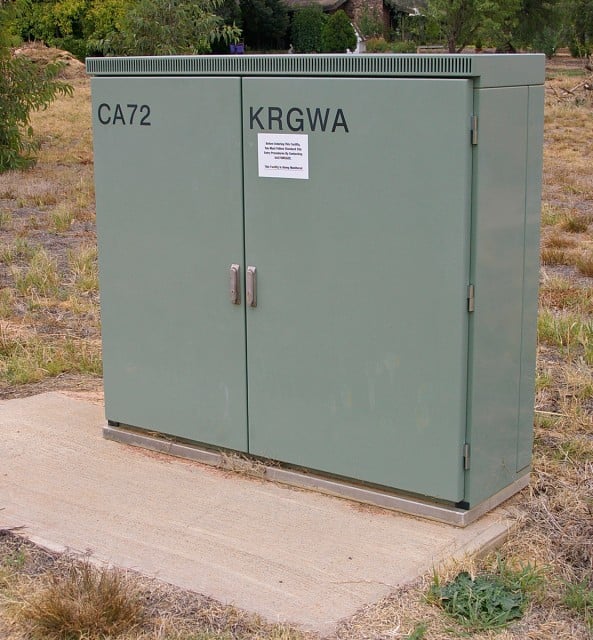 Chris Dobney
Businesses in the Byron Bay Arts and Industry Estate lost dial tone for the second time in three weeks on Tuesday and Telstra told at least one customer that it could take up to a fortnight to restore their services.
But after Echonetdaily inquired about the situation on Wednesday morning, we received an email from Telstra to say that services were restored at around 12.30pm.
Dale Steedman, managing director of DBS Medical Supplies, contacted Echonetdaily after not receiving any joy from Telstra from his request to divert the company's 1800 number to a mobile phone.
Mr Steedman said, 'I thought you may be interested that for the second time in three weeks Telstra's phone services have failed in the Byron Arts & Industry Estate leaving many businesses including ours with no phone or fax service.
'Last time it took them 3 ½ days to fix it and this time they are saying, and I quote 'A field technician will investigate this case; commitment schedule is on or before the April 23, 2015 until close of business due to mass service disruption in the area.'
He added he had reported the matter to Telstra, his main phone provider AAPT and the Telecommunication Ombudsman, all to no avail.
A Telstra spokesperson told Echonetdaily that customers in the estate and surrounding areas 'were recently impacted by a power issue that affected equipment in a roadside cabinet'.
'The equipment in the cabinet was replaced and services were subsequently restored,' he said.
'Yesterday [Tuesday], we received another report that some customers in the Byron Bay industrial estate were experiencing a loss of service.
'Our technician attended the roadside cabinet this afternoon [Wednesday] and replaced further hardware which restored these services at 12.45pm,' the spokesperson added.
Mr Steedman said while he appreciated the quicker than scheduled response, no one from Telstra ever called to say the issue had been resolved, 'and as the lines had been diverted the phones didn't ring' to alert him.
'It was only when picked up the phone at around 1.30pm and got dial tone that we realised we were back up and running,' he told Echonetdaily.
Mr Steedman said Telstra staff responding to his complaint were 'very polite just not very helpful'.
Telstra reminds customers if they are experiencing a fault or loss of service to report it by ringing 132 203.