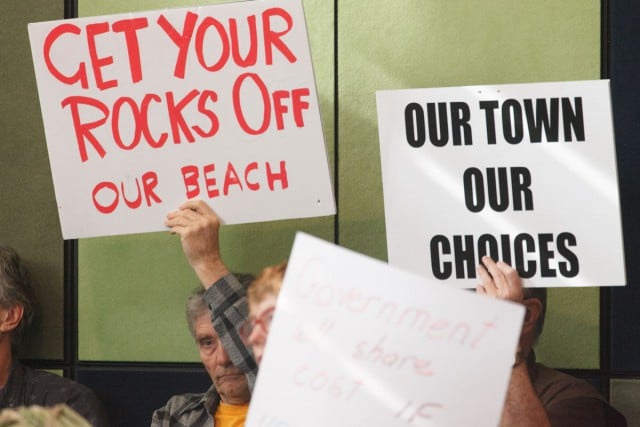 Chris Dobney
In an effort to mobilise people power against the construction of a rock wall at Belongil, two community groups have announced a rally on the beach in Byron Bay next Sunday
As well as the hoped-for people power, there will be music, film, speakers and food at a community event at the Byron Community Centre afterwards
The rally, organised by Byron Residents' Group and Positive Change for Marine Lifewill begin at 1pm on Sunday 7 June on Main Beach at the Wreck side of the car park and we will walk along the beach to Belongil.
Cate Coorey of Byron Residents' Group described the recent move by Byron Shire Council to build a rock wall at Belongil Beach 'essentially to prop up private property' as 'a shock to the community'.
'No one expected that "planned retreat", the preferred policy of 29 years' standing, would be overturned,' she said.
'Since 1986 the community has continued to support 'planned retreat' as a response to coastal erosion
'The NSW Coastal Panel, expert engineers and coastal scientists reject sea walls because they have seen the damage done elsewhere,' said Karl Goodsell of Positive Change for Marine Life
Ms Coorey added the community had been further disturbed by the news that sand pumping would be necessary 'to replace the sand loss that the walls will cause.'
'These are our beaches and our rates
'Since we were not invited to comment or provide input to this proposal we are going to show the members of this Council that the people of Byron will not tolerate our beaches being ruined – nor will we consent to pay for the privilege,' Ms Coorey said.